New York Times: Time To Grant Clemency to Edward Snowden
The "paper of record" joins the call for some kind of deal with Edward Snowden.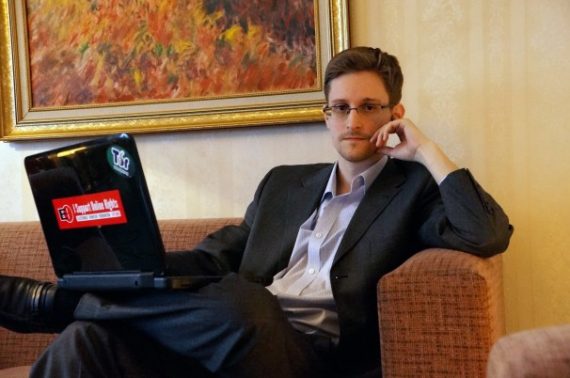 The Editorial Board of The New York Times has joined the side of those arguing that the United States Government should grant some form of clemency to former N.S.A. contractor Edward Snowden, who is currently residing somewhere outside Moscow under a one-year grant of asylum from the Russian Government. The Editors open their argument by making note of the fact that the revelations about N.S.A. data mining and related programs have set off a debate in the United States, and indeed around the world, about both the appropriate extent of government surveillance under the excuse of the "War On Terror" and the issue of what constitutes privacy in the era where shared information and personal data being stored in the cloud are becoming more and more ubiquitous. It has also resulted in a number of legal proceedings in open court, as opposed to the secret and largely unaccountable FISA Court, including two that have resulted in opinions from Federal Courts that are likely headed to the appellate courts and, eventually, to the Supreme Court itself. As the Times notes, none of this would be happening without Snowden:
All of this is entirely because of information provided to journalists by Edward Snowden, the former N.S.A. contractor who stole a trove of highly classified documents after he became disillusioned with the agency's voraciousness. Mr. Snowden is now living in Russia, on the run from American charges of espionage and theft, and he faces the prospect of spending the rest of his life looking over his shoulder.

Considering the enormous value of the information he has revealed, and the abuses he has exposed, Mr. Snowden deserves better than a life of permanent exile, fear and flight. He may have committed a crime to do so, but he has done his country a great service. It is time for the United States to offer Mr. Snowden a plea bargain or some form of clemency that would allow him to return home, face at least substantially reduced punishment in light of his role as a whistle-blower, and have the hope of a life advocating for greater privacy and far stronger oversight of the runaway intelligence community.
The Times also argues that Snowden's decision to flea the country with the information he obtained rather than going through so-called "official channels," which many have criticized him for was not necessarily unjustified:
In retrospect, Mr. Snowden was clearly justified in believing that the only way to blow the whistle on this kind of intelligence-gathering was to expose it to the public and let the resulting furor do the work his superiors would not. Beyond the mass collection of phone and Internet data, consider just a few of the violations he revealed or the legal actions he provoked:

■ The N.S.A. broke federal privacy laws, or exceeded its authority, thousands of times per year, according to the agency's own internal auditor.

■ The agency broke into the communications links of major data centers around the world, allowing it to spy on hundreds of millions of user accounts and infuriating the Internet companies that own the centers. Many of those companies are now scrambling to install systems that the N.S.A. cannot yet penetrate.

■ The N.S.A. systematically undermined the basic encryption systems of the Internet, making it impossible to know if sensitive banking or medical data is truly private, damaging businesses that depended on this trust.

■ His leaks revealed that James Clapper Jr., the director of national intelligence, lied to Congress when testifying in March that the N.S.A. was not collecting data on millions of Americans. (There has been no discussion of punishment for that lie.)

■ The Foreign Intelligence Surveillance Court rebuked the N.S.A. for repeatedly providing misleading information about its surveillance practices, according to a ruling made public because of the Snowden documents. One of the practices violated the Constitution, according to the chief judge of the court.

■ A federal district judge ruled earlier this month that the phone-records-collection program probably violates the Fourth Amendment of the Constitution. He called the program "almost Orwellian" and said there was no evidence that it stopped any imminent act of terror.

The shrill brigade of his critics say Mr. Snowden has done profound damage to intelligence operations of the United States, but none has presented the slightest proof that his disclosures really hurt the nation's security. Many of the mass-collection programs Mr. Snowden exposed would work just as well if they were reduced in scope and brought under strict outside oversight, as the presidential panel recommended.
Not surprisingly, those who have been most critical of Snowden's actions in the past, as well as generally supportive of what the N.S.A. has done under the data mining programs are strongly in disagreement with the Times. Max Boot at Commentary, for example, lays the anti-clemency position out fairly clearly:
What we have here is not a case of "whistle-blowing," as the Times disingenuously claims, but a case of a young, arrogant, headstrong techie with a libertarian bent and a taste for fame who has taken upon himself the responsibility of deciding which intelligence programs the U.S. government may carry out and which it may not. A true whistleblower, like Daniel Ellsberg, stays to face the consequences of his actions-he does not flee to hostile foreign capitals.

By his actions Snowden has placed the entire nation at risk. Even if terrorists and foreign enemies don't manage to take advantage of Snowden's disclosures to attack the U.S., the cost of repairing the damage he has caused will be steep-certainly amounting to billions of dollars because he has rendered some valuable collection programs useless.

Perhaps there is a prudential case, as an NSA investigator recently suggested, for offering Snowden amnesty in return for preventing the disclosure of even more highly classified information that he stole-but that is not what the Times is suggesting. It is instead granting its benediction to Snowden's activities, suggesting he should be considered a hero, not a traitor. That's a funny stance for a newspaper to take that, not so long ago, in the Valerie Plame case, was aghast at the notion of blowing any secrets-even though the Plame disclosure had an infinitesimal impact on national security compared to the Snowden disclosures.
There are at least a few flaws in Boot's argument. First of all, as the Times notes, there still isn't any evidence that the surveillance programs that Snowden revealed have een at all helpful in stopping any terrorist cast, or that they could have stopped past terrorism like the 9/11 attacks. Second, while Boot quite apparently does not agree. there are serious questions about whether or not the actions that the N.S.A is engaging in are Constitutional, as Judge Richard Leon has indicated, and without Snowden's public revelations there would be no Court in nation engaging in a public review of what the agency is doing. Third, as the Times notes, there is at least a plausible argument for why Snowden would not feel safe staying in the United States after the information he had obtained was made public. Finally, while there remain several reasons to distrust Snowden's judgment, such as his decisions to flea to places like Hong Kong and Russia, there are even more reasons to distrust the government acting in secret in our name and mining vast arrays of data for information whenever they feel justified in doing so. The fact that the American people had no idea that any of this was happening is something that should bother any American, and the response that we can trust the government not to misuse all this data ignores decades of history showing misconduct by the Executive Branch, law enforcement, and Intelligence Agencies.
Ed Morrissey, meanwhile, argues that Snowden had other options besides reporting this internally at N.S.A. or going on the run:
The editorial presents a false binary choice — NSA officers or going on the lam. There are other channels, including presenting the evidence of wrongdoing to members of Congress.Snowden shrugged that off as well in his interview last month with the Washington Post's Barton Gellman, claiming that Congressional intel chairs'  "softball questions" to NSA and other intel leaders showed they wouldn't do anything with the evidence if he provided it. That's a dodge, though, especially since Dianne Feinstein and Mike Rogers aren't the only two members of Congress. Senators Ron Wyden and Rand Paul were well-known opponents of domestic surveillance; why not go to them, or anyone else first before taking the cache elsewhere, especially to China and then Russia? The fact that the Times' editors never even address that channel shows how weak their argument is — which is why they don't really try to make the amnesty argument in the end.
This argument has been raised before, and at least on the surface it does make sense. After all, one of the functions of Congress is supposed to be oversight of the various agencies of the Executive Branch, and there is a specific standing committee in both the House and the Senate that were established in the 1970s to oversee the nation's Intelligence Community. These committees have the right to examine everything the Intelligence Agencies do, even if it's Classified, although dealing with classified material requires the Committee in question to go into Closed Session. Additionally, the members of both Committees are bound by the same rules that cover Intelligence Agency employees regarding keeping classified material secret. Quite often, this has frustrated Committee members who find themselves unable to discuss publicly matters disclosed in Closed Session without exposing themselves to liability for revealing secrets themselves. Ron Wyden in particular has expressed frustration about his inability to discuss what has been revealed to the Committee in Closed Session. As or Rand Paul, who would seem like a natural audience for information like this, it's worth noting that he is not a member of the House Intelligence Committee,although he is bound  by rules regarding sharing classified information like every other Member of Congress, so it's unclear what he would even be able to do with the information that Snowden had if Snowden had come to him, other than referring it to the House Intelligence Committee. While the existence of these Permanent Select Committees are an improvement over the world that existed before they were established, the fact that there are severe limitations on what they can do with the information provided to them makes one wonder whether they are really providing proper oversight of agencies like the N.S.A. In short, had Snowden gone to someone like Rand Paul or Ron Wyden it's still unlikely we'd be having the long overdue debate on government surveillance and privacy that we've been having since the summer.
Boot makes one final argument in the article linked about that needs to be addressed, namely that granting Snowden amnesty, or clemency or whatever you want to call it, would permanently damage our ability to gather intelligence:
If Snowden is allowed to get away with his crimes, it is hard to see how the intelligence apparatus of the U.S. can function. Successful intelligence, after all, is premised on secrecy-and that secrecy will not last long if every intelligence community employee feels free to disclose whatever secrets he knows simply because he disagrees with what his superiors are doing. Yet that would be the logical consequence of the Times's risible suggestion to rehabilitate Snowden.
While not directly responding to Boot, Conor Friedersdorf points out how wrong that argument is:
Where this goes wrong is imagining that a plea bargain or some form of clemency (or even a presidential pardon) for Snowden would set a precedent or legitimize a general rule of any kind. It would not. The concepts of pardon and clemency are part our system precisely because there are instances when applying rules we've generally decided upon would be unjust and counterproductive. They are meant to be used judiciously, on an ad hoc basis, in what are clearly exceptional circumstances.

Snowden's leak meets those tests. Urging clemency for Snowden is not a radical case against our existing system of rules—it is an acknowledgment that, like all rules, ours are imperfect. One of the finest presidents, George Washington, pardoned farmers who took up arms against the federal government (!) to protest a tax on whiskey. He wouldn't have granted those pardons had he thought that he was making a radical case against the legitimacy of the U.S. government or setting a precedent for anti-tax insurrections. And it is difficult to argue that any such precedent was set, even at the dawn of the federal republic when norms were still being established.

Today, it is even more difficult to imagine that a pardon for Snowden, or one of the lesser forms of forgiveness the Times advocates, would cause other federal employees to imagine that they'd avoid punishment if, say, they made public the identities of American spies abroad or secret codes from the U.S. nuclear program. As a political matter, the fallout would be dramatically different. And it isn't as if plea bargains, grants of clemency, or pardons given to one man impose any sort binding precedent in the fashion of a Supreme Court ruling. In the unlikely event that forgiveness for Snowden caused anyone to start leaking other secrets, correcting the problematic "precedent" would be one swift prosecution away.
Friedersdorf also draws up a list of the rough criteria for when plea bargaining, or clemency, might be appropriate for someone who leaked classified information:
When should a leaker of government secrets be forgiven rather than jailed? Here are some possible standards:

When the leak reveals lawbreaking by the U.S. government
When the leak reveals behavior deemed unconstitutional by multiple federal judges
When a presidential panel that reviews the leaked information recommends significant reforms
When the leak inspires multiple pieces of reform legislation in Congress
When the leak reveals that a high-ranking national-security official perjured himself before Congress
When the leak causes multiple members of Congress to express alarm at policies being carried out without their knowledge
Edward Snowden arguably meets all of these criteria, and for that reason alone talking about something like clemency or, more likely, a plea bargain, seems to me to make complete sense.
There is, of course, one final point to keep in mind. Edward Snowden is currently beyond the reach of U.S. Law Enforcement and Intelligence Agencies for the foreseeable future. This means that we will remain unaware of what else it is that he might be in possession of that could be made public someday? Wouldn't it make more sense to discuss making some kind of deal with him, in exchange for his full cooperation in exploring (1) what data he was able to obtain, (2) How he was able to obtain it even in cases where he apparently didn't have the proper Security Clearances, and (3) How Intelligence Agencies could make their systems more secure in the future, rather than just leaving him hanging out there, apparently happy with his current living conditions, wondering when the next shoe is going to drop?