New Yorker Cover Features Bert & Ernie Celebrating Gay Marriage Decisions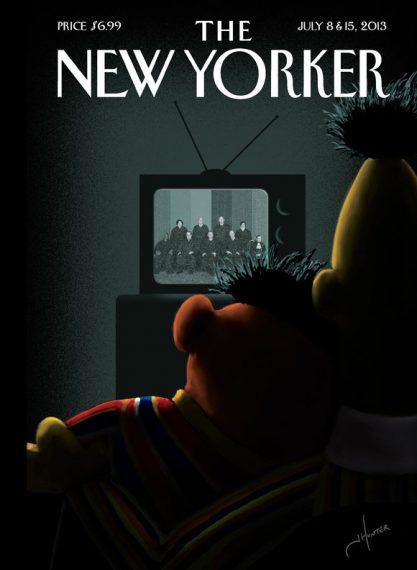 The new cover of The New Yorker features Sesame Street characters Bert & Ernie watching coverage of the Supreme Court's same-sex marriage decisions:
"It's amazing to witness how attitudes on gay rights have evolved in my lifetime," said Jack Hunter, the artist behind next week's cover, "Moment of Joy." Hunter, who originally submitted his image, unsolicited, to a Tumblr, continued, "This is great for our kids, a moment we can all celebrate."
Not everyone is thrilled about this cover. Indeed, even people on the left are criticizing it. Here's how June Thomas put it at Slate:
It's a cute image. Everyone loves Bert and Ernie. But it's a terrible way to commemorate a major civil-rights victory for gay and lesbian couples.

You see, Bert and Ernie aren't lovers. Back in 2007, the president of the Children's Television Workshop said that they "do not exist beneath the waist." Then, two years ago, the Children's Television Workshop declared:

Bert and Ernie are best friends. They were created to teach preschoolers that people can be good friends with those who are very different from themselves. Even though they are identified as male characters and possess many human traits and characteristics (as most Sesame Street Muppets™ do), they remain puppets, and do not have a sexual orientation.

That's not the only lesson Bert and Ernie have to impart. You see, straight America, there's a difference between same-sex friends and gay lovers. Does America contain households in which lovers pass themselves off as best pals? No doubt. And as prejudice against gays and lesbians fades, more of these ambiguously gay couples will declare themselves. But that doesn't mean that every pair of cohabiting friends is madly making out on a nightly basis.
Given how aggressive CTW generally has been in guarding their copyrights, I have to wonder how they feel about this.  There's nothing wrong with saying that what happened at the Supreme Court on Wednesday was a good thing, indeed I absolutely believe that it was, but utilizing someone else's copyrighted characters to do it when they've emphatically stated that those characters don't have any political/social meaning beyond the messages they impart to children? That seems like a bridge too far. I wouldn't be surprised to see a strongly worded letter, at the very least, from CTW in the near future.