Newsmax Gaining on Fox
The information bubble is getting smaller.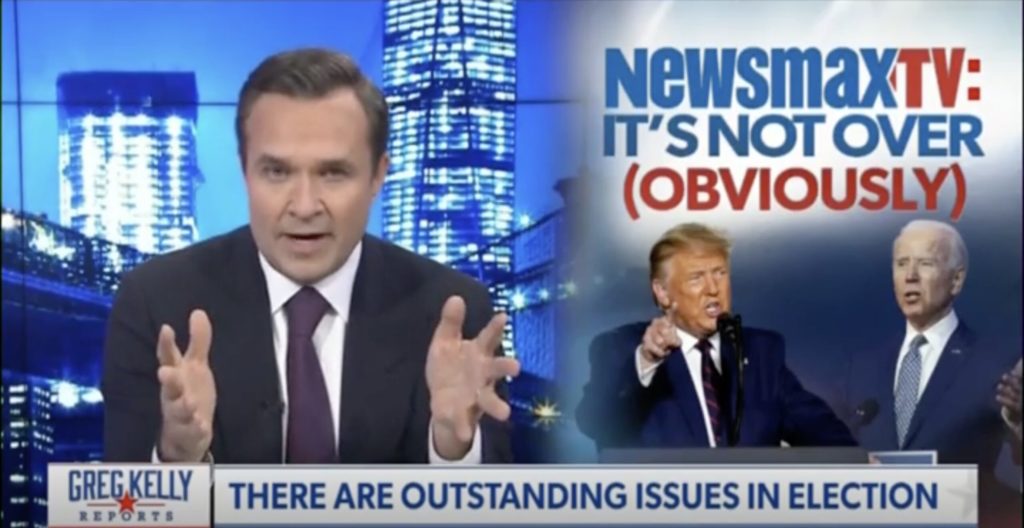 CNN Business ("Newsmax TV scores a ratings win over Fox News for the first time ever"):
Newsmax TV has notched a ratings win over Fox News Channel for the very first time.

The win, fueled by conservative viewers who are disappointed by the election results, happened Monday evening. In the key 25- to 54-year-old demographic prized by advertisers, "Greg Kelly Reports" on Newsmax out-rated "The Story with Martha MacCallum" on Fox. The margin was narrow — Kelly averaged 229,000 viewers in the demo and MacCallum averaged 203,000 — but it is still a milestone in the cable news industry.

Before the election, Newsmax was not regarded as a formidable competitor to Fox; it was mostly dismissed as one of a handful of wannabe challengers.

But President Trump's loss on November 3 changed the cable TV calculus. Viewers who were frustrated when Fox admitted the truth of Trump's loss sought other options. Trump encouraged them to try Newsmax.

Newsmax — and Kelly in particular — offered a safe space in which Biden was not called president-elect and Trump was not yet defeated.
Through the post-election weeks in November, as Trump's legal team suffered dozens of losses in court in its attempt to overturn the results, Kelly insisted that he believed Trump would still prevail.

His 7 p.m. program consists of long, pro-Trump, anti-media commentaries of the type typically found later in the evening on Fox. And a certain subset of viewers are rewarding him for it. Kelly's show is usually Newsmax's highest-rated show of the day.

"We're here to stay," Newsmax CEO Christopher Ruddy said Tuesday evening. "The ratings are showing that."

Fox News is still four times higher-rated than Newsmax at any given time of day, according to Nielsen. Among viewers of all ages, Fox averaged 1.36 million viewers around the clock on Monday, while Newsmax averaged 316,000 viewers. But Fox is down from its pre-election highs while Newsmax is way up.
To offer some perspective, these are tiny, tiny numbers. 229,000 viewers in a nation of 330 million is a rounding error. The top-rated show on television last season, Sunday Night Football, had 7.8 million viewers. The lowest-rated show listed, something called "Bluff City Law," had 1.1 million viewers.
Still, it's rather distressing that a significant number of people are abandoning an intentionally-partisan news outlet that nonetheless reports the actual news for one that is willing to just tell them what they want to hear.