Newsweek Sold Yet Again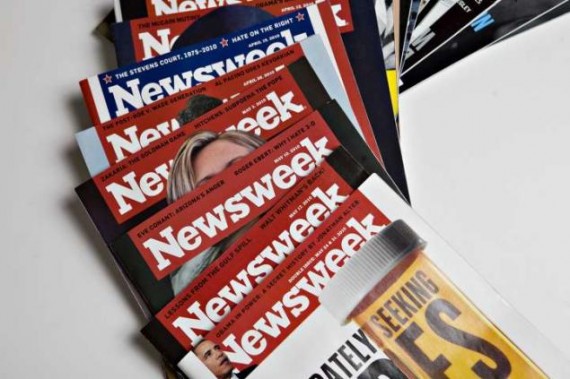 Less than three years after famously being purchased from The Washington Post, and seven months after going all digital, Newsweek has once again been sold:
Seven months after killing its print publication, Newsweek is being sold to IBT Media, the publisher of the International Business Times.

"We are thrilled to welcome this iconic brand and global news property into our portfolio. We believe in the Newsweek brand and look forward to growing it, fully transformed to the digital age," Etienne Uzac, the co-founder and CEO of IBT Media, said in a statement over the weekend.

"We respect the brand's long history of delivering high-quality, impactful journalism and believe this aligns well with IBT Media's culture and mission," Uzac said. "We look forward to working together to create a profitable and successful enterprise."

The sales comes after a many months of high-level departures, some blunt statements from a disappointed owner, Barry Diller, and finally the formal announcement in May that Newsweek was eyeing a sale.

Newsweek, long a Washington Post Company property, was sold to Sidney Harman for $1 plus liabilities in 2010, upon which Harman joined forces with Tina Brown's online publication, "The Daily Beast," which is owned by Diller's IAC/InterActiveCorp. Despite generating some controversy, Brown was never able to bring the magazine back to life. After the print edition folded at the end of 2012, top staff started heading for the exits.
This doesn't come entirely as a surprise, back in May it was reported that IAC was looking to sell the publication, an announcement that came soon after IAC  head Barry Diller had said that he regretted purchasing Newsweek at all. The terms of the sale aren't be disclosed, but one cannot imagine that there's a lot of money changing hands considering both that Newsweek was purchased less than a year ago for $1 and the assumption of existing liabilities and the fact that Newsweek is not exactly a growing business product at this point in time. Indeed, it will be a wonder if Newsweek is still around five years from now.