Newt Gingrich Flunks History
Newt Gingrich gets his Civil War history very wrong.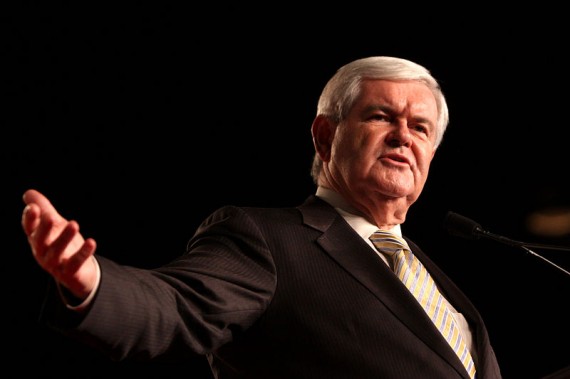 In his ongoing rant against the Judiciary, Newt Gingrich has repeated made reference to Abraham Lincoln's alleged decision to refuse to comply with the Supreme Court's decision in the infamous Dred Scott case, which held that runaway slaves were not citizens of the United States. As it turns out, though, Gingrich pretty much gets history wrong here. Law Professor Jonathan Turley cites a number of factors that Gingrich gets wrong here, all of which pretty much make his assertion about Lincoln's position, or its legal import completely incorrect:
Lincoln never refused to comply with the ruling — even the controversial aspect of striking down federal prohibitions on slavery in the territories. The ruling was actually handed down during the term of President James Buchanan— just two days into his term. We now know that Buchanan not only complied with the law but inappropriately pressured the Court to render it. Buchanan wrote to U.S. Supreme Court Associate Justice John Catron to push for a ruling before his inauguration to reduce tensions in the country and later pressured Associate Justice Robert Cooper Grier to join the majority of Southerners in their ruling. The decision as fully enforced by the Executive Branch and Lincoln was not president at the time.

Finally, Lincoln actually honed his policy close to what he understood to be the line set by the Court. For example, he expressly countermanded the order of Union general John Frémont freeing slaves in Missouri and asked "Can it be pretended that it is any longer a government of Constitution and laws, wherein a General, or a President, may make permanent rules of property by proclamation?"

The point is simple: Gingrich is wrong on both the law and history.
Turley also takes note of Lincoln's First Inaugural Address where he specifically makes note of the Dred Scott decision without specifically naming it:
I do not forget the position assumed by some that constitutional questions are to be decided by the Supreme Court, nor do I deny that such decisions must be binding in any case upon the parties to a suit as to the object of that suit, while they are also entitled to very high respect and consideration in all parallel cases by all other departments of the Government. And while it is obviously possible that such decision may be erroneous in any given case, still the evil effect following it, being limited to that particular case, with the chance that it may be overruled and never become a precedent for other cases, can better be borne than could the evils of a different practice. At the same time, the candid citizen must confess that if the policy of the Government upon vital questions affecting the whole people is to be irrevocably fixed by decisions of the Supreme Court, the instant they are made in ordinary litigation between parties in personal actions the people will have ceased to be their own rulers, having to that extent practically resigned their Government into the hands of that eminent tribunal. Nor is there in this view any assault upon the court or the judges. It is a duty from which they may not shrink to decide cases properly brought before them, and it is no fault of theirs if others seek to turn their decisions to political purposes.
As Turley notes, Lincoln's words are not an assault on the right of the judiciary to make decisions in the cases brought before it, but a criticism of their usurpation of legislative authority. This is a common theme in American politics that continues to this day. At no point does Lincoln say that he considers the decision non-binding, nor does he say that he would refuse to comply with it, or instruct Federal employees to refuse to comply with it. As Turley notes, the decision was handed down nearly 4 years before Lincoln became President and its implementation was moved forward by his predecessor. As the nation tumbled blindly toward Civil War, due in no small part to Buchanan's inattention and incompetence regarding the chaos clearly visible around him, the Dred Scott decision was fully enforced.
By the time Lincoln took the oath of office, it was arguably the case that Dred Scott was effectively a nullity, on the other hand. It was 151 years ago today, just a month and a half after Lincoln had been elected President, that South Carolina became the first state to secede from the Union. By the time of this Inauguration on March 4, 1861,  seven states had seceded from the Union. Within two months, four more states had seceded and the Civil War had begun. At that point, issues concerning the Fugitive Slave Act and the expansion of slavery into the Western territories were largely moot. Escaped slaves encountered by the Union Army were treated as contraband of war and given their freedom, usually by being sent North where some ended up fighting in or serving the Union Army eventually. Additionally, the Southern states took the position that they had broken away from the Union and were thus no longer bound by Federal Law.  When Lincoln issued the Emancipation Proclamation, he was explicit in declaring it to be an exercise of his powers as Commander in Chief and applied it only to slaves in areas still being controlled by the Confederacy as as January 1, 1863. In other words, contrary to Gingrich's claim, Lincoln never refused to comply with the Supreme Court's ruling in Dred Scott v. Sanford. 
Gingrich may have a Ph.D. in modern European history, but it looks like he needs some refresher courses when it comes to American history.