Newt Gingrich Gets Confronted Over His Personal Morality, Or Lack Thereof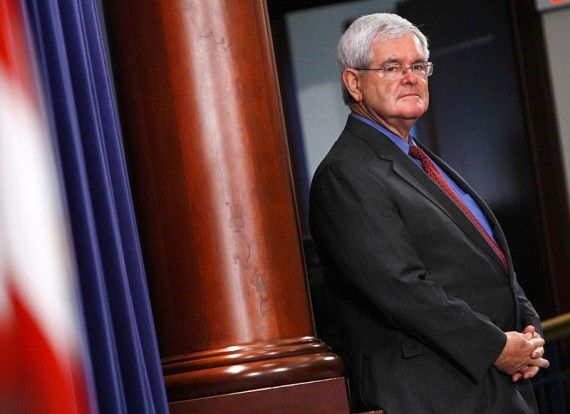 In a public forum last night, someone finally asked Newt Gingrich the question that's been on everyone's mind for years now:
Newt Gingrich's speech at the University of Pennsylvania on Tuesday quickly took a turn for the dramatic when the first student to question him brought up his admitted extramarital affair and accused him of being "hypocritical" for espousing moral values.

"You adamantly oppose gay rights … but you've also been married three times and admitted to having an affair with your current wife while you were still married to your second," Isabel Friedman, president of Penn Democrats, said to Gingrich. "As a successful politician who's considering running for president, who would set the bar for moral conduct and be the voice of the American people, how do you reconcile this hypocritical interpretation of the religious values that you so vigorously defend?"
Newt responded:
"I'll bet almost everybody here can gather the thrust of your question," he said. "I appreciate the delicacy and generosity in the way it was framed. … I hope you feel better about yourself."

"I've had a life which, on occasion, has had problems," he added. "I believe in a forgiving God, and the American people will have to decide whether [that's] their primary concern. If the primary concern of the American people is my past, my candidacy would be irrelevant. If the primary concern of the American people is the future … that's a debate I'll be happy to have with your candidate or any other candidate if I decide to run."
Friedman is a Democrat and she obviously wanted to embarrass Gingrich. Nonetheless, the number of social conservatives who I've met, both at CPAC and online, who've said that they will not support Gingrich in part because of his personal morality is quite large. Fiscal conservatives have similarly lost patience with Gingrich over his support for this like Medicare Part D, No Child Left Behind, and TARP. Without support from those two wings of the party, I can't see how Gingrich's run for office is anything other than an exercise in vanity.