Newt Gingrich Now Clear Iowa Frontrunner
Newt Gingrich is looking really good in the Hawkeye State right now.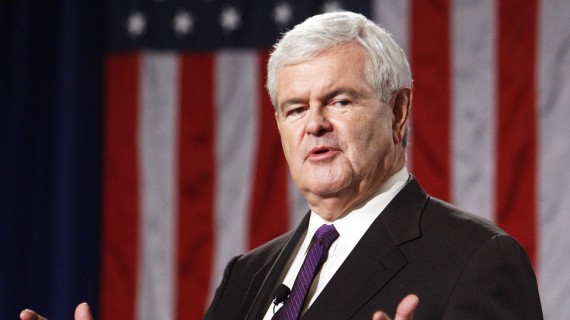 Three new polls out today make it clear that Newt Gingrich is now in the driver's seat in the Hawkeye State, and seem to suggest that, absent a major gaffe on his part or a particularly effective torrent of negative campaigning by his rivals, he stands ready to go into caucus night on January 3rd in a very comfortable position. Assuming this poll support translates into people willing to go out and support him that night, Gingrich stands to stage what would have been an astounding win just a few weeks ago, and give himself considerable momentum going into New Hampshire, South Carolina, and Florida.
First up, we've got the new poll from ABC News and The Washington Post:
Newt Gingrich has leapt to a sizable lead in preferences for the Iowa Republican caucuses, drawing on a rally from conservatives, positive views of his political experience and a sense he best represents "core Republican values" to push Mitt Romney into a trailing tie with Ron Paul.

Gingrich also scores evenly with Romney as the candidate best able to defeat Barack Obama, a mantle Romney long has sought. And this ABC News/Washington Post poll finds Gingrich ahead of the GOP field in trust to handle the economy, the top issue in Iowa, as it is nationally.

Given these views, 33 percent of likely Republican caucus-goers currently favor Gingrich for the GOP nomination, with 18 percent apiece for Romney and Paul. Rick Perry garners 11 percent support; Michele Bachmann, 8; Rick Santorum, 7; and Jon Huntsman, 2 percent.

There's room for movement. Just over half of likely caucus-goers, 52 percent, say there's a chance they may yet change their minds before the Jan. 3 event. Indeed, about one in four, 27 percent, say there's a "good chance" they'll switch their first preference — more than enough to shift the standings if the bulk of them were to move in the same direction.
Underneath the topline numbers, there's further signs that Gingrich's rise is for real and not just another temporary infatuation among the voters:
Gingrich, meanwhile, walks away with views that he's got the best experience to be president: 43 percent say so, followed by a vastly lower 16 percent for Romney, 13 percent for Paul. And 29 percent pick Gingrich as having the best chance to defeat Obama. Twenty-four percent give Romney the best shot; Paul lags badly here, with just 8 percent.

Gingrich, as noted, leads in trust to handle the economy, selected by 31 percent of likely caucus-goers, with Paul and Romney running essentially evenly behind him, at 21 and 20 percent, respectively. Gingrich also leads in trust to handle immigration, perhaps surprisingly, given his less orthodox views on the issue.
In addition to leading among likely caucus goers, Gingrich also has a lead among "potential caucus goers," a smaller population of people who still on the fence about attending the caucuses. If Gingrich can motivate even a small portion of this group to attend, then it will quite obviously enure to his benefit. Of course, the problem that he faces in this regard is that he lacks the on-the-ground organization that lesser candidates like Bachmann and Perry have, or the committed supporters that Ron Paul has. This could hamper his ability to turn this massive poll lead into a similarly large victory on a Tuesday night in January. Moreover, as detailed at the link, polling caucuses is difficult because its more difficult to determine who's a likely caucus goes, rather than a likely voter.
Gingrich has a similar lead in the new Public Policy Polling survey, although this poll shows a Ron Paul inching a head of Mitt Romney by an amount just inside the margin of error:
Newt Gingrich has taken the lead in PPP's newest poll of Iowa Republican caucus voters with 27% to 18% for Ron Paul, 16% for Mitt Romney, 13% for Michele Bachmann, 9% for Rick Perry, 6% for Rick Santorum, 4% for Jon Huntsman, and 1% for Gary Johnson.

Gingrich has gained 19 points since PPP's last poll of the race in early October.  Also showing momentum are Paul whose support is up 8% and Bachmann whose support is up 5%.  Romney has dropped 6 points since then with the other candidates mostly standing in place.

Gingrich's rise to the top is being fueled by strong support from seniors and the Tea Party.  With voters over 65 he's at 37% leading Romney's 18% and Paul's 11% by 19 and 26 points respectively. With Tea Party voters Gingrich is at 35% with Bachmann actually coming in at second with 23%, Paul in third at 14%, and Romney all the way back at just 4%.
Romney's original game plan was to play it low key in Iowa and concentrate on New Hampshire and, for a time it seemed to be working. Even though he wasn't spending much time in the state and skipped the Ames Straw Poll, he was able to maintain a lead in the state, at least until Herman Cain, and now Newt Gingrich, came along. More recently, the Romney campaign seems to have changed strategies in Iowa, but there are signs that it may not be worthwhile for them to be seen as actively contesting the state:
When PPP polled Iowa for the first time this year in January 57% of voters had a favorable opinion of Romney to 26% with an unfavorable one.  Now he's at only 49/45, representing a 27 point decline in his net favorability over the course of the year. Perhaps most troubling for Romney, only 48% of those who voted for him in 2008 say they're planning to do so again this year.
Though not directly responding to this poll, Reid Wilson coincidentally writes today at National Journal that the Romney campaign should give up on Iowa and go back to their initial strategy of concentrating on Iowa:
Romney's team needs to figure out how to keep expectations as low as McCain did in 2008. It doesn't help him that the media now portrays the race as a two-man fight, which guarantees a winner-loser story no matter how much Romney downplays Iowa. But perhaps he should take a page from McCain's playbook, one that has informed his 2012 decision-making so far, and retrench in the Granite State.

The temptation to deliver a knockout blow in Iowa must be strong for Romney's team. But if he swings too hard and misses, Iowa could punch back and cost Romney the aura of the front-runner that big polling leads in New Hampshire have thus far afforded.
It's always a risky thing for a candidate to skip a state, but Epstein is probably right here. McCain finished near the back of the pack in Iowa, but it was his victory a week later in New Hampshire that set his campaign on the road to victory. Moreover, as I've noted before, the Iowa Caucuses have never been a good indicator of the final outcome of a Republican nomination fight. That distinction belongs to New Hampshire and South Carolina.
Epstein's advice seems all the more prescient given that Gingirch's lead is confirmed in yet a third Iowa poll, this one from CBS and The New York Times:
A month before the Republican nominating contest opens here, former Speaker Newt Gingrich holds a substantial lead among voters who say they are likely to participate in the Iowa caucuses, according to the latest New York Times/CBS News poll.

Mr. Gingrich, whose presidential candidacy has steadily surged in recent weeks after a series of televised debates, won the support of 31 percent of Republicans and independents who say they will definitely or probably attend the Iowa caucuses on Jan. 3.

His Republican rivals are trailing significantly, with 17 percent supporting former Gov. Mitt Romney of Massachusetts, 16 percent backing Representative Ron Paul of Texas and 11 percent choosing Gov. Rick Perry of Texas. The rest of the party's candidates are in single digits, with Representative Michele Bachmann of Minnesota at 9 percent and former Senator Rick Santorum of Pennsylvania at 4 percent.
We don't have the crosstabs on this poll yet, they'll be released tonight, but it's pretty clear that this poll is picking up the same phenomenon as the other two. Gingrich has skyrocketed to a lead in Iowa, and it's unclear how anyone would be able to slow him down. Just take a look at the RCP chart as of today: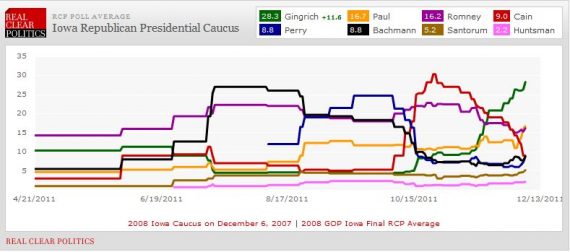 There's nobody even close to Gingrich right now and, while Paul continues to rise and  these polls suggest that Bachmann and Perry may  be getting a second wind, the trend right now seems pretty clear. As I've noted before, it's likely that the race will be frozen to some degree during the holiday period, although the apparent presence of the Newsmax/Trump debate may be a bit of wildcard here. However, for the moment, it seems that Gingrich will have momentum going into January 3rd, unless he does something significant to truly mess things up for himself.