Newt Gingrich Rents Out Donor List
Further cementing his reputation as a sleaze bag, Newt Gingrich is now renting out the private information of his donors.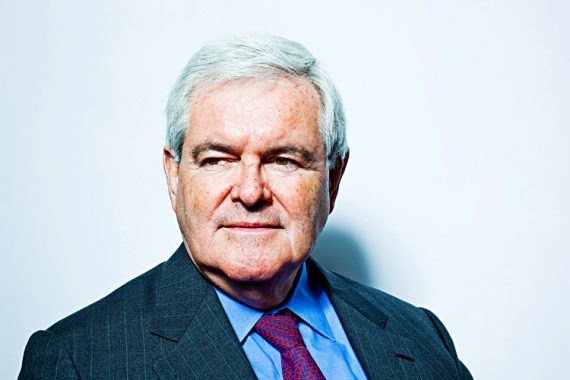 Further cementing his reputation as a sleaze bag, Newt Gingrich is now renting out the private information of his donors.
Politico ("Newt Gingrich rents donor list to raise cash"):
Desperate times in the Newt Gingrich camp have called for desperate measures.

Scrambling to dig himself out of a $4.5 million hole, the former House speaker has resorted to renting his presidential campaign's most valuable asset – its donor list – for as much as $26,000-a-pop.

It's a risky move for an active presidential campaign to give outsiders access to his best supporters and possibly donors who could be easily turned off — just as he says he's trying to mount a comeback. Diminishing his best asset looks more like a sign of surrender, rather than a genuine effort to challenge Mitt Romney for the GOP nomination.
Oh, please. Nobody thinks Newt is making a comeback. Everyone had, correctly, declared the race over even before Rick Santorum dropped out. Wisconsin ended any glimmer of hope of a brokered convention, much less another candidate winning outright.
Campaign insiders attribute the problems partly to Gingrich and his wife Callista's, asserting that the couple was unwilling to downgrade from private jets and security details even as the campaign floundered. Insiders say Callista Gingrich required an entourage of at least two staffers – including one who dressed in an elephant costume to promote her children's book – and a contracted security guard who followed her even on non-campaign trips.

The scramble to retire debt comes as Newt Gingrich is loaning his campaign thousands of dollars to keep him out on the trail, and he's eying an uncertain political and financial future, since "Newt, Inc." – the network of companies and non-profits that made his fortune – has crumbled.

"They overspent to keep up the appearances of being a top-tier candidate," asserted Greg Fournier, a Central Florida consultant who chaired Gingrich's effort in Daytona Beach's Volusia County. "If you have a campaign bus and you're flying in on a chartered jet, but you do not have the money for that, you end up sacrificing your ground game," he said.

R.C. Hammond, a spokesman for the Gingrich campaign, rejected suggestions that the campaign had misspent on overhead, asserting "we've done more with less, if you look at total spending, compared to the other candidates." And he brushed off a question about whether renting the list diluted its value or signaled an end to the campaign. "No, it demonstrates the campaign is pursuing new sources of revenue," he said. Gingrich has loaned the campaign "thousands, primarily toward travel and lodging expenses," Hammond said, but he added "the campaign intends to reimburse" the loans.
My sense all along was that Gingrich was using the campaign as a platform to raise his profile as an author of schlock books and speech tour huckster. That he briefly became a plausible contender after South Carolina probably came as a bigger shock to him than to us.
"His ability to move forward after this, if he is not the nominee, is certainly enhanced, because right now he is even more of a national brand than he was before," said campaign chairman Bob Walker, a former Pennsylvania congressman. "We're doing what we can to pay off the debt and we feel confident that we will be able, in the course of the campaign, to get much of that debt paid off."
Prior to this campaign, Gingrich's brand was "big thinker with a side of sleaze." Now, the first part of that is gone and the second is magnified. He's become a national punch line and not in the endearing way that Rick Perry has. I can't imagine that he's got a political career left.