Newt Gingrich: Trump Is Right To Call The Press The "Enemy Of The People"
Newt Gingrich has endorsed President Trump's use of the rhetoric of Josef Stalin to attack the American news media.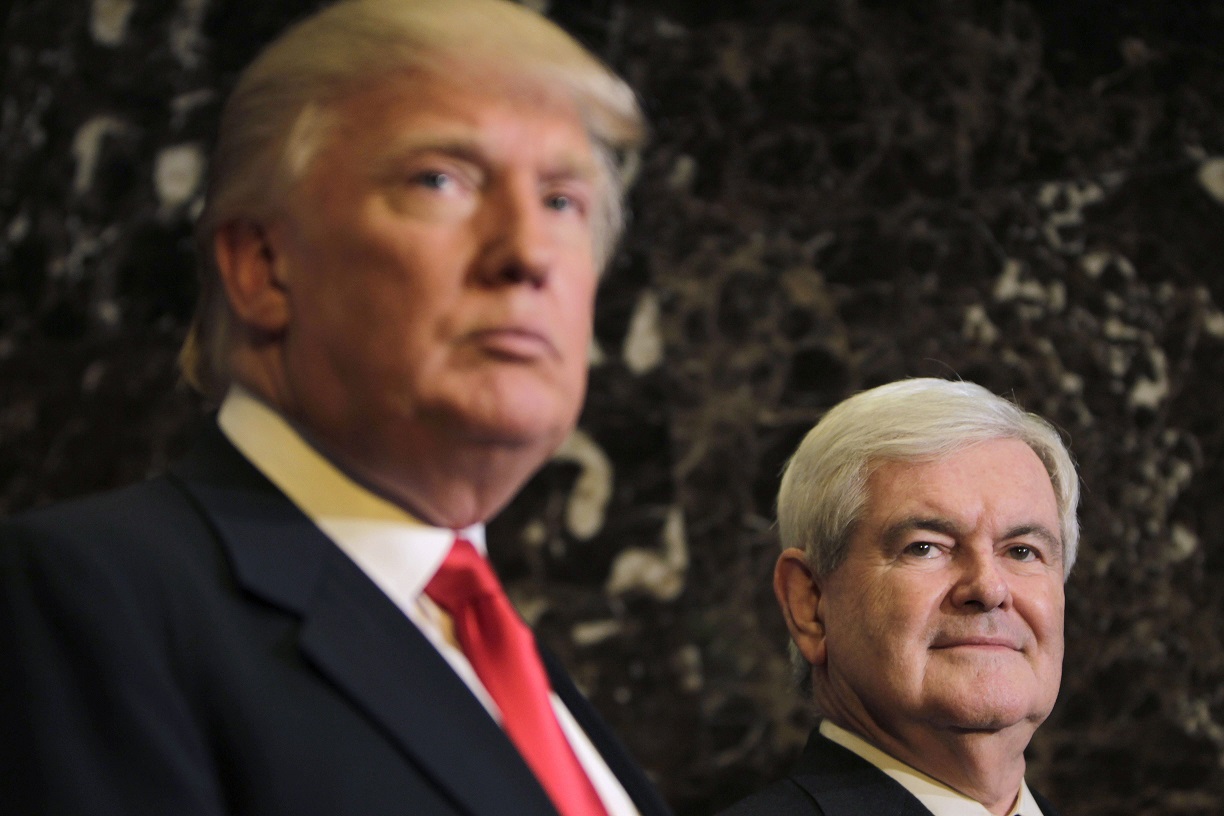 Adding his voice to the chorus of people commenting in the wake of the bombing attacks that have been targeted at the President's critics, former House Speaker and Presidential candidate Newt Gingrich said that the media has earned the President's label of "enemy of the people":
Newt Gingrich said one day after explosive devices were sent to high-profile Democrats and CNN that he believes the media has "earned" President Trump's label of the "enemy of the people."

Gingrich, speaking Thursday morning at an event hosted by Axios, said he doesn't believe Trump's description is helpful, but added that he thinks some news outlets' coverage is hostile. The Republican former Speaker of the House from Georgia, a contributor to Fox News, highlighted CNN International, in particular, during his remarks.

"There's no more anti-American network than CNN International," Gingrich said.

Trump also tweeted earlier Thursday that "a big part" of the anger in society is created by "purposely false and inaccurate reporting" from mainstream media.

(…)

When Gingrich was asked why some conservatives were claiming without evidence that the devices were sent as part of a Democratic conspiracy, he replied, "because it's October."

"And they so deeply dislike the left," he continued, citing former Attorney General Eric Holder's comment that when Republicans "go low," Democrats should "kick them" and Hillary Clinton's statement about not being civil with the GOP for driving conservatives' anger.

Gingrich said, however, that he disagreed with that view, and that whoever sent the explosive devices should be prosecuted.
You can watch the video of Gingrich's remarks at Axios, but they should hardly come as a surprise given his history.
From the day he entered Congress, through his time in Republican leadership that eventually led to him becoming Speaker of the House, to the years that followed that have included becoming another far-right voice on Fox News Channel and candidate for President, Gingrich has demonstrated where his politics truly lie. While he claims to be rooted in the same sort of intellectual conservatism that arose with the likes of William F. Buckley, Jr, Russell Kirk, Barry Goldwater, and Ronald Reagan, the reality is that Gingrich was and remains representative of the forces that took hold of the conservative movement in the 1990s, beginning the process that turned conservatism into the mindless, idol-worshiping populist nonsense that gave us the Tea Party movement, the idiotic worship of unqualified candidates like Sarah Palin, Michele Bachmann, Herman Cain, Allen West, and so many others, and which ultimately led to the rise and nomination of none other than Donald John Trump as the 2016 Republican nominee for President. He didn't do it alone, of course, because there was help from the likes of Rush Limbaugh and Matt Drudge, along with the rise of the so-called alternative conservative media and Fox News Channel. However, he was one of the main architects of the political culture we're living in today. Given that it isn't at all surprising that he agrees with Donald Trump's adoption of a Stalinist phrase like "enemy of the people" to attack the one segment of society that dares to question the President, call his words and actions into question, and point out when he is lying. After all, in many respects, Newt Gingrich is the intellectual and political father of Trumpism.
All that being said, there is quite obviously something considerably outrageous about the fact that Gingrich made these remarks at a time when media figures critical of the President are quite literally under attack and in a context where vile rhetoric directed at the press has become commonplace among so-called conservatives online and at venues such as the President's political rallies. As I said earlier today, we don't know for sure who is responsible for the attempted bombing attacks that we've seen this week but the fact that they have been directed at people and media organizations that the President, and his obsequious fans in the prime time line up at Fox News Channel, have attacked on a regular basis is a fact that cannot be denied. At the very least one would think that a person like Gingrich who has such a wide platform for expressing his views would be more circumspect at a time like this. Doing so, though, would be entirely out of character for a man who has been an irresponsible demagogue for more than thirty years. The fact that he has fallen in line with the Demagogue In Chief is not at all surprising.