Next Charlie Hebdo Cover Has Muhammad Saying 'Je suis Charlie'
Their editor and nine colleagues dead, their offices destroyed, the newspaper is not missing a beat.
Their editor and nine colleagues dead, their offices destroyed, the newspaper is not missing a beat.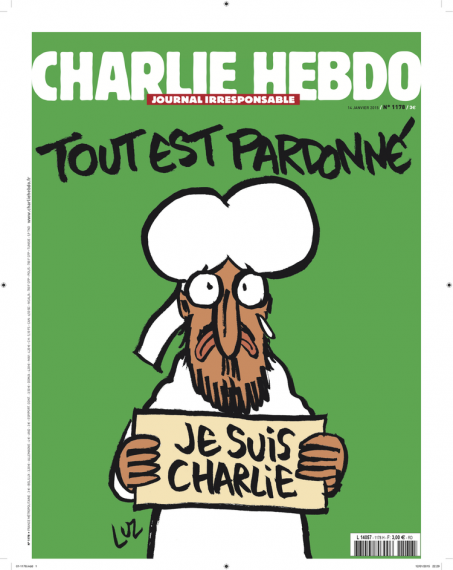 NYT ("Muhammad on the Cover of Charlie Hebdo's New Issue"):
Around 9:10 on Monday evening, laughter and a round of applause broke out among the surviving staff members of Charlie Hebdo, followed shortly by cries — joyous if ironic — of "Allahu akbar!"

The group was cheering Rénald Luzier, a cartoonist known as Luz, who on the umpteenth try had produced what the editors thought was the perfect cover image for the most anticipated issue ever of this scrappy, iconoclastic weekly, which will appear on Wednesday. It showed the Prophet Muhammad holding a sign saying, "Je suis Charlie" ("I am Charlie"), with the words "All is forgiven" in French above it on a green background.

"Habemus a front page," Gérard Biard, one of the paper's top editors, said with a smile, emerging from the staff's makeshift newsroom and deploying the phrase used to announce a new pope. To find the right image, he said: "We asked ourselves: 'What do we want to say? What should we say? And in what way?' About the subject, unfortunately, we had no doubt."

Since Friday, just two days after gunmen had slaughtered 12 people at the paper, about 25 members of the staff had been huddled in the offices of the leftist daily Libération, under heavy police protection, to work on the next issue. They were still in shock, and confounded to have suddenly become heroes of free speech to the same political and religious establishments they had long mocked.

[…]

"We decided that we would do a normal edition, not a memorial issue," Mr. Biard said on Friday, where an emotional three-hour staff meeting had just ended. Caterers brought in trays of smoked salmon, sandwiches and cream-filled desserts. A row of plainclothes police officers stood watch outside. Journalists hovered. Five desktop computers from Le Monde were set up on a round glass table. Since the attacks, donations have been pouring in, and a fund has been set up, jaidecharlie.fr ("I help Charlie").

As the newsroom sprang to life on Friday afternoon, Mr. Biard reflected. "They killed people who drew cartoon characters. That's it. That's all these guys do. If they're afraid of that," what's their god?, he asked, inserting an expletive for emphasis.
A remarkable story of resilience and stubbornness. The cover is, in retrospect, obvious but still brilliant. And, frankly, much a classier way to make their point than has been the paper's norm.