NFL Settles Colin Kaepernick Collusion Suit
A confidential agreement has ended a collusion suit filed against the National Football League in 2017.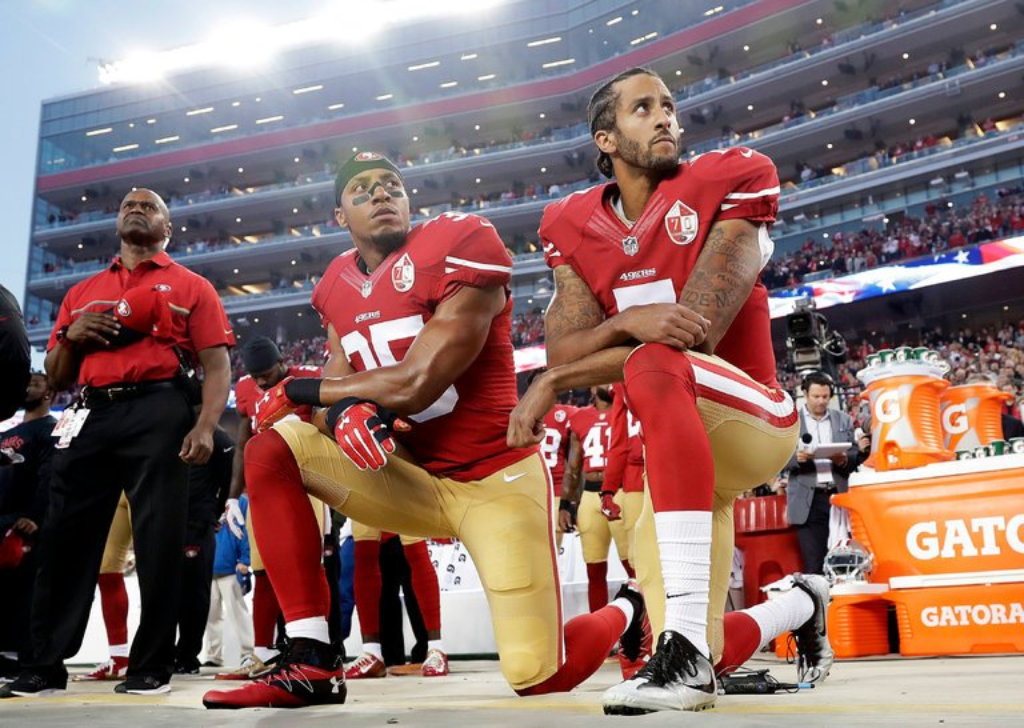 A settlement has been reached in a collusion suit filed against the National Football League in 2017. Details are scant.
ESPN ("Colin Kaepernick, Eric Reid settle grievances against NFL"):
Former San Francisco 49ers quarterback Colin Kaepernick and current Carolina Panthers safety Eric Reid have reached a settlement with the NFL concerning their collusion grievances against the league, it was announced Friday.

"For the past several months, counsel for Mr. Kaepernick and Mr. Reid have engaged in an ongoing dialogue with representatives of the NFL," attorney Mark Geragos and the NFL said in a joint statement issued Friday. "As a result of those discussions, the parties have decided to resolve the pending grievances. The resolution of this matter is subject to a confidentiality agreement so there will be no further comment by any party."

Kaepernick filed a grievance in October 2017 under the collective bargaining agreement, alleging collusion against signing him to an NFL contract.

The filing, which demanded an arbitration hearing on the matter, said the NFL and its owners "have colluded to deprive Mr. Kaepernick of employment rights in retaliation for Mr. Kaepernick's leadership and advocacy for equality and social justice and his bringing awareness to peculiar institutions still undermining racial equality in the United States."

NFL commissioner Roger Goodell, along with several owners and at least two other NFL executives, were selected to be deposed and asked to turn over all cellphone records and emails in relation to Kaepernick's case against the NFL.

[…]

Kaepernick and Reid faced a difficult challenge to meet the burden of proof for collusion as defined in the league's CBA. The statute makes clear that unemployment alone does not mean collusion occurred.

According to the CBA: "The failure by a club or clubs to negotiate, to submit offer sheets, or to sign contracts with restricted free agents or transition players, or to negotiate, make offers, or sign contracts for the playing services of such players or unrestricted free agents, shall not, by itself or in combination only with evidence about the playing skills of the player(s) not receiving any such offer or contract, satisfy the burden of proof set forth …."

To prove collusion, according to the CBA, Kaepernick and Reid would have had to show that a "club, its employees or agents" had "entered into an agreement" to restrict or limit whether to offer them a contract.
Jason Reid, writing for ESPN's African American-geared subsite The Undefeated takes the early prevailing position when he declares, "Colin Kaepernick won. Period."
Make no mistake: Colin Kaepernick won.

Facing the most formidable foe of his career, Kaepernick stood his ground — and the NFL backed down. Although the terms of the league's settlement with Kaepernick and Eric Reid — close friends and former San Francisco 49ers teammates who, in collusion grievances, alleged owners conspired to keep them unemployed because of their political activism — announced Friday are cloaked in a confidentially agreement, Kaepernick's victory is as clear as his talent as a quarterback.

The NFL finally admitted as much, ending its lame arguments about why Kaepernick remains unsigned after last playing for San Francisco in 2016. That was the year Kaepernick sat and then kneeled to draw attention to police brutality and systemic oppression. Reid was the first player to kneel alongside him.

At the Super Bowl in Atlanta last week, NFL commissioner Roger Goodell continued to push the company line, essentially saying no teams believe that Kaepernick is capable of helping them win. It's one thing to offer that tripe to the media. It's quite another, however, to convince an arbitrator that none of the league's 32 teams could use a passer who has made 58 career starts, helped a team reach a Super Bowl, is only 31 years old and has the fourth-best touchdown-to-interception ratio of all time.

Kaepernick's grievance was expected to go to a full hearing sometime this year, and the NFL was facing the possibility of massive financial liability if it lost. Without a winning hand, the NFL decided to fold, said Stanford Law School professor William B. Gould IV.

An expert in labor law, Gould has closely monitored the developments surrounding the Kaepernick and Reid grievances. He wasn't surprised by the league's exit strategy.

"The NFL had to have some measure of concern about substantial liability," said Gould, who served as chairman of the National Labor Relations Board from 1994-98. "The damages [awarded to Kaepernick] could have been considerable. For Kaepernick [to settle], it seems to me this has to be [financial] compensation. And I would think substantial compensation. Kaepernick certainly comes out of this a winner."

The NFL is the most powerful sports league on the planet. It has virtually inexhaustible financial resources. It has top-notch lawyers. And it is fiercely protective of its image — the whole thing about not tarnishing the shield and all.

For the NFL to have settled with Kaepernick and Reid, who alleged that the owners attempted to ruin their careers because they chose to shine a light on racial injustice, well, that's a horrible look for Goodell and the billionaires whom he serves. And the fact that the league found this option more palatable than continuing its fight reveals the level of its long-running palpable concern about the Kaepernick-Reid situation.
But I tend to side with ESPN's Kevin Seifert ("Everything we know about the NFL's joint collusion grievance settlement with Colin Kaepernick, Eric Reid"):
So did the NFL think it would lose? Or did it want to avoid discovery?

The latter, most likely. It's also likely that the NFL viewed a settlement as an important milestone in moving past a controversy that drew the ire of President Donald Trump, among others. But the facts are eye-opening. Kaepernick began taking a knee during the national anthem in 2016 to protest police brutality and system racism. In a league that is in perpetual need of quarterback depth, Kaepernick isn't known to have received a single firm contract offer since he parted ways with the San Francisco 49ers in May 2017.
The NFL, like most multi-billion dollar industries, is incredibly secretive about its inner workings and extremely sensitive about its public image. The whole kneeling controversy started by Kaepernick has been bad for its image. And, while it's highly unlikely that discovery would have produced a "smoking gun" definitely proving collusion against Kaepernick and others, it's almost a certainty that it would have revealed private conversations among owners and League officials that would have proven embarrassing.
My own guess is that there was no according-to-Hoyle collusion here but quite likely some informal pressure among the owners against signing Kaepernick. While he had a few stellar months as 49ers quarterback after he replaced Alex Smith, carrying the team all the way to the Super Bowl before losing the big game, he was at best mediocre after that. By the time he started kneeling during the anthem, he was already a backup quarterback. Few owners would have been interested in taking on the media circus that would accompany a Kaepernick signing given his low ceiling. Further, most of the owners are old and conservative and most NFL cities are rather conservative as well. Jerry Jones would never in a million years have signed Kaepernick as a backup for the Cowboys.
Still, Kaepernick is certainly better than quite a few guys holding down a job as a backup in the NFL. And there have been teams, like the Washington Redskins this season, who had catastrophic injuries at quarterback and wound up with starters considerably less talented than Kaepernick. Under true free market conditions, somebody would have bought low on him and taken on the risks. Clearly, there was something else going on.
Right now, we have no idea what the settlement terms are and we won't unless and until someone breaks the confidentiality agreement. One imagines Kaepernick got a decent settlement, though, to make this go away. (Reid's continued presence in the case is stranger still, in that he was ultimately resigned by the Panthers on a short-term deal and recently signed a three-year extension. One presumes he got very little if anything from the settlement.)