NFL to Play 'Black National Anthem' Before Games
"Lift Every Voice and Sing" will reportedly precede the "Star-Spangled Banner" in the opening week.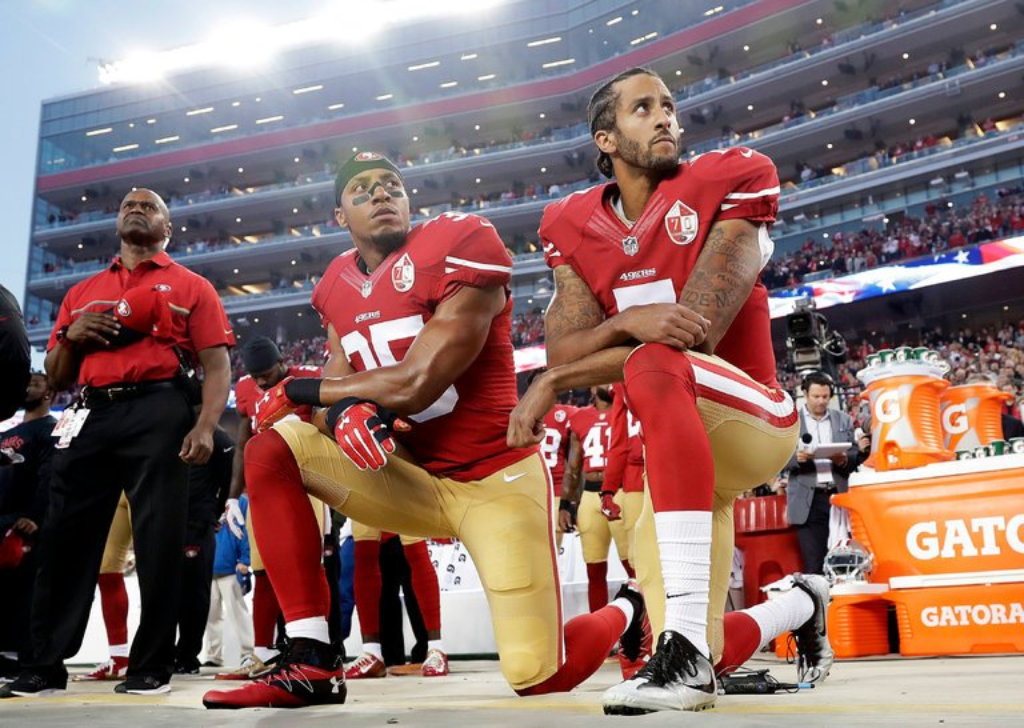 When the furor over then-San Francisco 49er backup quarterback Colin Kaepernick refusing to stand for the 'Star Spangled Banner' hit, the National Football League and its owners bowed to public outrage. Now, it's bending over backwards to support the movement Kaepernick championed.
WaPo ("NFL plans for black national anthem to be played at Week 1 games"):
The NFL is considering allowing players to wear helmet decals or jersey patches this season with the names of victims of systemic racism and police brutality, according to a person familiar with the deliberations.

The league, in its latest step amid the national unrest and protests since the May 25 death of George Floyd while in police custody in Minneapolis, also plans to have the song "Lift Every Voice and Sing" performed live or played before kickoff at each Week 1 game of the 2020 season, according to the person, who spoke on the condition of anonymity because the league made no official announcement of its plans.

The song was originally written as a poem and is traditionally known as the black national anthem. It will be played before "The Star-Spangled Banner" at each opening week game, beginning with the Sept. 10 regular season opener in Kansas City, Mo., between the defending Super Bowl champion Chiefs and the Houston Texans.

The league has been working with players to identify methods of recognizing victims of racism and police violence, the person familiar with the discussions said. The NFL Players Association also is involved in the deliberations. Other measures being discussed include educational programs and public service announcements about victims and their families.
The NFL has been notorious tight in regulating player expression as long as I've been paying attention—going back more than four decades now. The League has been known to fine players for failing to tuck in their jerseys or having a too-long towel for wiping sweat off their hands between plays. In my youth, then-commissioner Pete Rozelle famously fined then-Chicago Bears quarterback Jim McMahon for wearing headbands with personal slogans. More recently, they denied then-Indianapolis Colts quarterback Peyton Manning permission to wear black shoes to honor his predecessor, Johnny Unitas, who had just died.
While whole teams have worn armbands, logos, and other symbols on their uniforms to honor owners, coaches, and teammates who were sick or had recently died, the League frowned upon individual players doing so. They take the idea of "uniform" seriously.
So, allowing players to use the NFL's platform to call attention to people killed by police is a big, big deal. And, surely, one that will be controversial. Police unions and their supporters will see it as an anti-police gesture, not support for a grieving community.
The "black national anthem" thing is interesting as well. It, too, will doubtless be seen as outrageous by many. After all, they'll argue, the NFL would never play a "White National Anthem."
But, negotiated deftly, this could help heal the wounds of the Kaepernick fight. "Lift Every Voice and Sing" could be a time for players, black and white, to display camaraderie and support for racial justice and then the "Star-Spangled Banner" could play without protest.
If, however, players stand respectfully for the former and kneel for the latter, the flames of outrage will have been fanned.