NFL's Most Popular Teams
The Pittsburg Steelers and the Green Bay Packers are the 2nd and 5th most popular teams in the NFL. The Dallas Cowboys are number one and the St. Louis Rams bring up the rear at 32.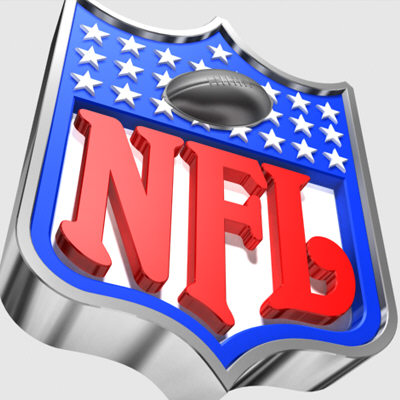 Dallas, home of the most popular franchise in American team sports, had hoped to host its beloved Cowboys in the Super Bowl this year.  Alas, the team stunk up the joint so much that its head coach got fired at mid-season. As a consolation prize, though, they get the second and fifth most popular teams in the NFL:
To N.F.L. executives, networks, sponsors and others who make millions of dollars off the Super Bowl, Packers-Steelers may be one of the game's most compelling matchups: two of the league's oldest and most storied franchises with star quarterbacks, hard-hitting defenses and flashy offenses.

Both teams have rabid followings in their home states, Wisconsin and Pennsylvania, and beyond. With Cheeseheads and Terrible Towel wavers in all 50 states, and many of them spending heavily to get to the game, this Super Bowl will most likely be the most watched sporting event ever, and perhaps the most lucrative one as well.

[…]

The Dallas Cowboys are the most popular football team in America, but the Steelers are second and the Packers are sixth, according to Luker on Trends, Powered by the ESPN Sports Poll.
I knew that the Cowboys were number one and would have guessed the Steelers were number two.  They're the two most successful teams of the Super Bowl era and were the dominant franchises in the 1970s, when the NFL catapulted to its current status as easily the most popular American spectator sport.    Here's how all 32 teams rank: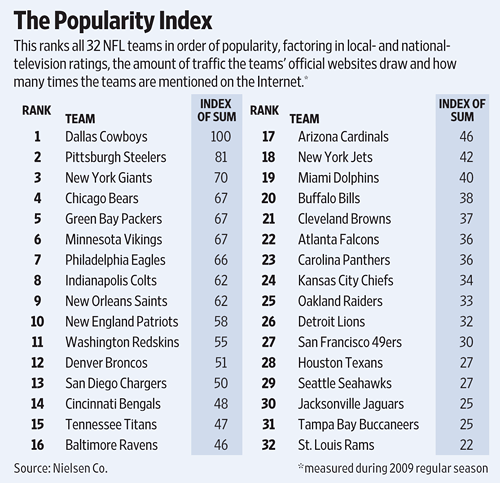 For the most part, the rankings seem reasonable:  The teams that have done well in recent years and those from the biggest cities dominate the rankings. (Which, it should be noted, were compiled before the current season kicked off; I suspect the New York Jets would be higher now.)
How the woeful Cincinnati Bengals can be ranked so high is a mystery; they've been awful for two decades.  And, while they'd been awful for several consecutive seasons before a nice resurgence this season, the Rams won a Super Bowl and appeared in another a mere decade ago.  Then again, they haven't been in St. Louis all that long, relocating there from Los Angeles for the 1996 season.