Nick Saban Tests Positive
Alabama's head football coach and athletic director have both tested positive for COVID-19.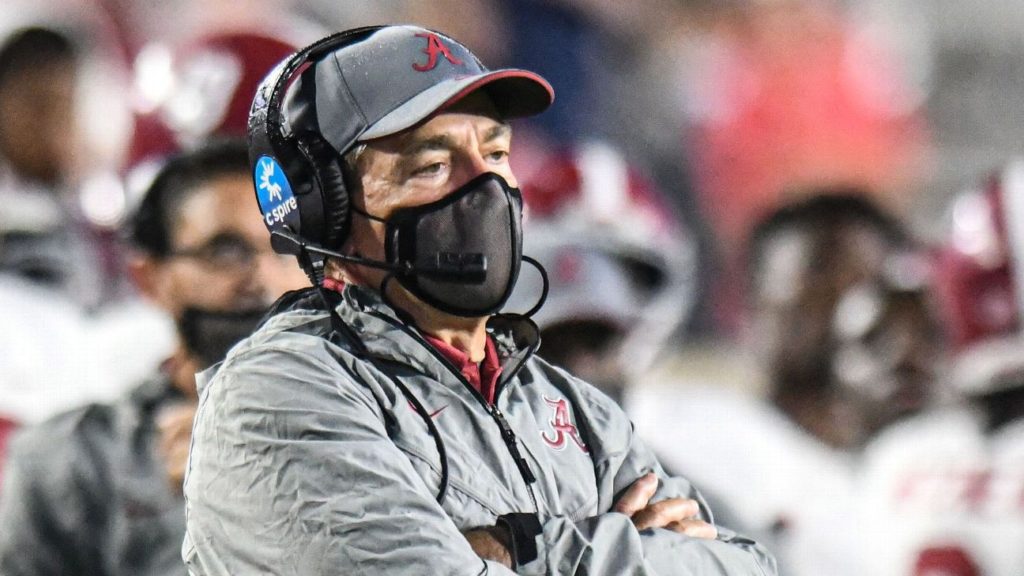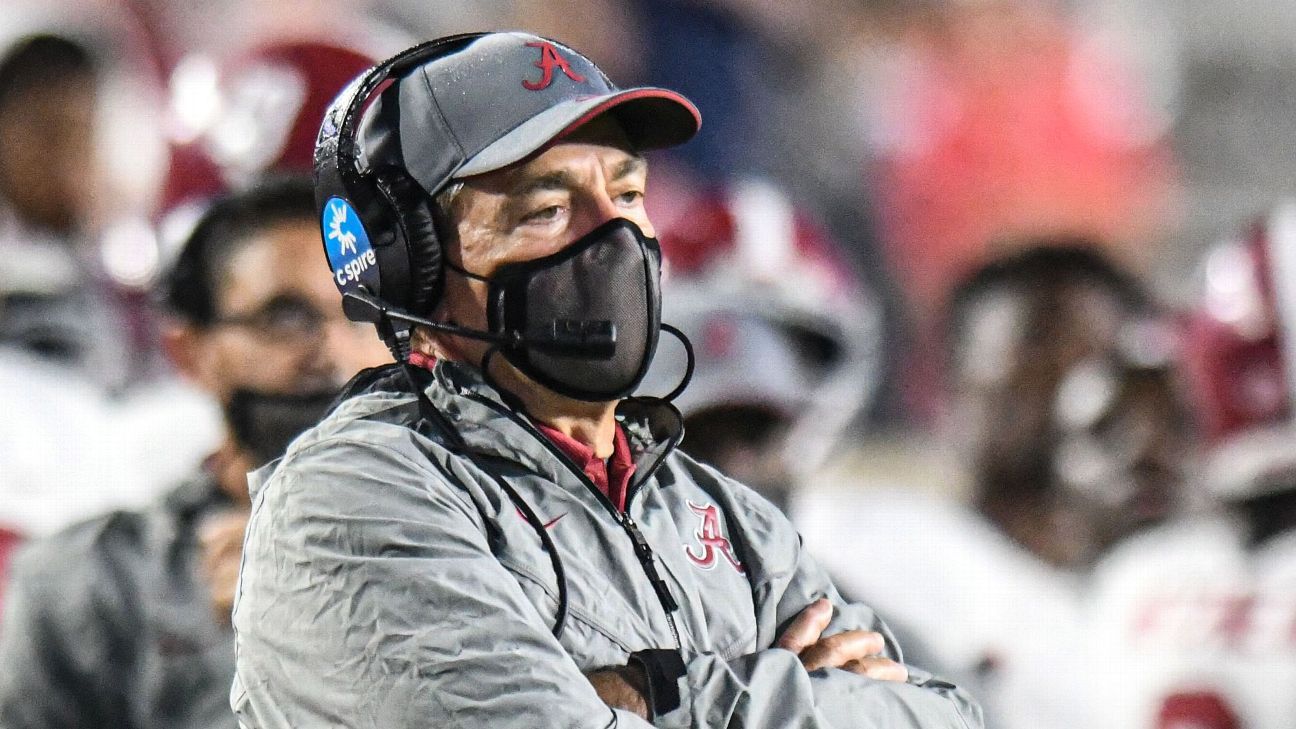 The news broke yesterday afternoon that the winningest active coach in college football is positive for the novel coronavirus and taking the appropriate precautions.
Michael Casagranda for AL.com ("Nick Saban tests positive for COVID-19"):
The growing COVID-19 outbreak in the SEC reached Tuscaloosa and it hit the top of the pyramid.

Nick Saban, just weeks from his 69th birthday, tested positive for the coronavirus. Alabama also announced athletics director Greg Byrne also tested positive, the school announced. Offensive coordinator Steve Sarkisian "will oversee operations" in Saban's absence, he said in a statement.

"I found out earlier this afternoon that I had tested positive for COVID-19," Saban said. "I immediately left work and isolated at home. At this time, I do not have any symptoms relative to COVID, and I have taken another PCR test to confirm my diagnosis. I informed our team of my positive test at 2 p.m. today on a Zoom call."

Saban is still scheduled to speak with reporters around 6 p.m. CT Wednesday via video conference.

Byrne also said he immediately left his office to isolate after getting his positive test. He also said he was not showing symptoms of the virus.

Alabama team doctor Jimmy Robinson said Saban and Byrne were the only two around the program who tested positive "at this point in time." Alabama has been testing its players daily since September.
One certainly hopes these are false positives and that, in any case, Saban and Byrne remain symptom-free and are able to get back to work in a full capacity soon. Saban, in particular, is worrisome simply because of his age—although he is by all accounts unusually healthy and energetic for 68.
I chose a photo of him in a mask from last weekend's game at Ole Miss because he has so exemplified leadership on mask-wearing and social-distancing, which sadly is rather courageous given both the culture of college football and the politics of Alabama.
Indeed, he's become something of a meme for his many public service announcements on these matters.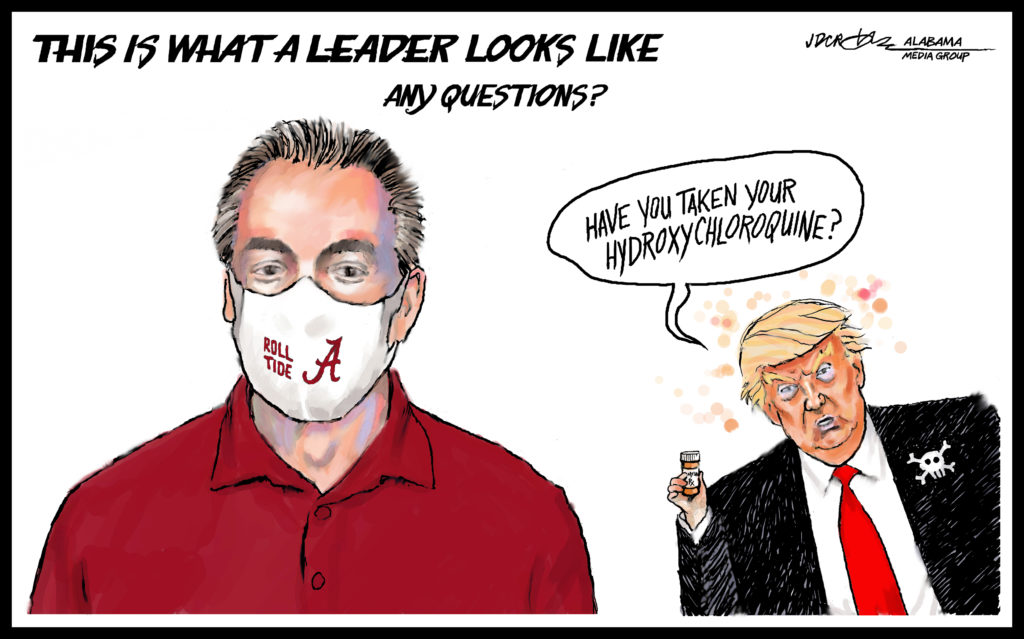 This, incidentally, is in stark contrast to his former offensive coordinator who coached against him Saturday: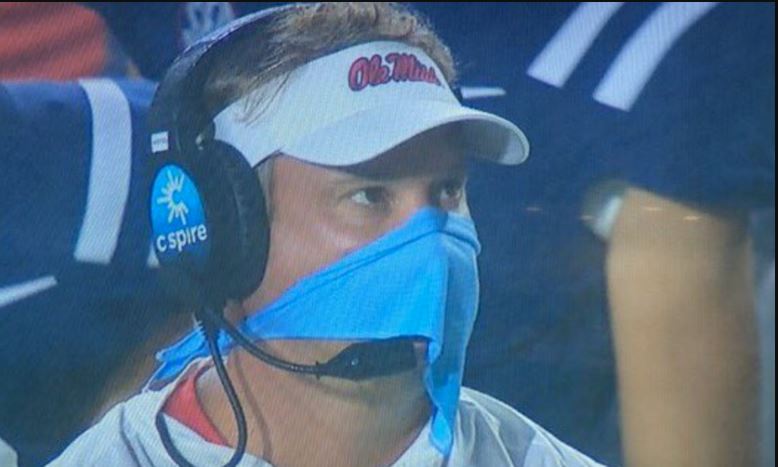 Not only is the bandana-like thing over his face a mockery of the protocols, he had it pulled down to his neck virtually every time the camera turned to him. By contrast, I haven't seen Saban without his firmly in place in three games—and he typically wears it for in-person television appearances as well.
Thus far, Saban is symptom-free and was quite surprised by the positive test. AL.com's Mike Rodak:
"I feel fine, so I'm not really concerned that much about my health, but you never know," he said.

[…]

Saban has not experienced symptoms and was not expecting his positive result as part of the Alabama football program's daily testing.

"This was routine every day," he said. "We test our players every day. I get tested every day. I feel fine. I felt fine. I was very surprised by this when we got the results back at one o'clock today."

[…]

Saban, perhaps the most influential voice in the state of Alabama, appeared in a PSA in March urging hand-washing and social distancing. He was part of another PSA produced in May in which mask-wearing was urged for the generic public.

Saban believes he followed his own advice.

"Well, I personally think I did a pretty good job of trying to manage my personal space, and that would be what I've informed our players to try and do," he said Wednesday. "Because you have to respect this disease and the spread of this disease.

"So I guess my message would be adhere to protocol of what people are informing us to do. Wash our hands, wear a mask, social distance. All those things I think are important. You know, I always tell our players just assume everyone you come in contact with might be infected, and you might be infected and not know it and actually bring harm to them.

"I would be concerned for my own personal family. That's about the only people I've been around other than the coaches and the players. I mean, I'm pretty isolated in terms of what I do, so I'm just hopeful that none of them have an issue or problem because of this."
All of which is to say it's possible for even people who are being responsible to contract the virus (or, certainly, to test positive). That the Ole Miss team is dealing with a huge outbreak suggests to me that they're the culprit.
Casagrande's colleague, Joseph Goodman, tries to add some perspective ("Health of Nick Saban puts football's importance on hold"):
Nick Saban, who never tires, and never fatigues, must now self-isolate and quarantine and stay away from his football team before the "biggest game of the season." He wants a national championship so badly this year, but what does that even mean anymore. It means nothing for the next few days. That goal feels so small right now, and will remain that way until Saban and his doctors know for sure that he and Miss Terry are OK.

I'm comfortable writing that I'm going to lift my heart in prayer this week for the coach of the Alabama football team, Miss Terry and their entire family. They are such wonderful people. Saban's work on the football field makes everything possible, but the Sabans use that platform in dozens of different ways to help make this state a better place.

This virus doesn't care who you are, though, and this pandemic is not going away anytime soon. Like Saban said on Wednesday, be vigilant and be responsible for your own "personal bubble."

"I think as soon as you travel, you get exposed to a lot more things and a lot more people, if that makes any sense, even though I've worn a mask all the time: in the hotel, on the bus, in the plane," Saban said. "So nobody really knows how this occurs, but I know that our medical staff has done a really good job."

Everyone has been affected by COVID-19, but some of us more directly than others. I had the virus between March and April, and my stomach wasn't right for weeks. My wife suffered with lingering symptoms for months, and to this day works with COVID-19 patients every day at the hospital.

Most everyone knows somebody who has had it by now, but Saban? It doesn't make it any more significant or concerning because we are way beyond that. It just makes it more. He's the most high-profile celebrity in Alabama. He's the greatest college football coach of all time, and not just because of his winning percentage and process. We're only a couple months removed from him standing in the schoolhouse door on Alabama's campus and denouncing racism.

Saban has COVID-19, so the question needs to be asked, is it really that safe to be doing this?

The good news is that treatment for the coronavirus has improved since the beginning of the pandemic. No matter how tough the man is, however, Saban's age puts him at higher risk of complications due to the coronavirus than the people he is around. That's a fact. He got the virus doing a job that requires late nights and long hours and travel surrounded by college kids living on a college campus. Under those circumstances, coaches are risking their health for their jobs and putting themselves in danger.

People will say that's an overreaction because that's what they've said about every single thing during this pandemic since the beginning of it. They're wrong. It is not an overreaction to evaluate priorities and organize the world during a time of confusion and doubt. It is human nature. It is normal to be more concerned for people than for anything else. Anyone who says otherwise is just trying to sell you something.

And we have been sold big-time college football during a pandemic despite all other sports postponing their championships, and the lower football divisions moving to the spring. This week, people in SEC country will say and write that this season is more important now than ever before. It's not. It has always been about the money.

I had my doubts about college football, but I bought into the idea of this season just like everyone else. I'm a sportswriter who primarily covers college football. Go figure.

They're testing every day at Alabama. They are all being so vigilant across the league, or at least that's what they claim. And now? Florida at LSU is canceled this weekend, and so is Vanderbilt at Missouri. Lane Kiffin reported on Wednesday that he's running out of players, and now Saban is in quarantine.

This season was already an asterisk in the history books. It's turning into a disaster.
While I understand the desire to play the games—and it's more than just the money, but that's a huge part of it—the risks are indeed off the charts. It's hard to get college kids, even disciplined scholarship athletes with significant adult supervision, to practice social distancing and other protocols. And it's much, much harder when they're constantly being asked to travel, stay in hotels, eat in restaurants, and the like. It is indeed a recipe for disaster.
But, games are being played and this weekend's contest against the Georgia Bulldogs is likely the hardest one Alabama will face on their quest for the SEC West crown and then the SEC and National Championship. And they're likely going to have to do it without their leader.
In a separate story ("NCAA rules ban coaching from home for COVID-isolated coaches like Saban"), Casagrande reports that the rules are not favorable.
While he could handle practice duties from home on Zoom on Wednesday, the NCAA rules interpretations prohibit remote coaching on game day.

"Rule 1-4-11-b is very specific and allows only voice communications between the press box and the team area, therefore in (a) the coach could not call into the press box or the sideline for anything related to coaching purposes," read an NCAA rules interpretation regarding coaches in COVID-19 related isolation written by Steve Shaw, the national coordinator of football officials.

Another rule prohibits the use of technology for coaching that would ban any virtual communication on game day.

"This prohibition would begin at 90 minutes before the scheduled kickoff when the officiating crew assumes jurisdiction of the game and would include the time between periods until the end of the game when the Referee declares the score final," Shaw's rule interpretation reads.
This seems like the sort of thing the rules committee should have anticipated and made accommodations for given the nature of this season. But, while they have postponed several games because of massive COVID outbreaks on one or both teams, they are otherwise treating the loss of star players to positive tests like any other injury.
Meanwhile, Saban is still being Saban:
The Georgia game is still a few days off. The Wednesday practice was the first priority and it began less than two hours after his diagnosis and returning to his Tuscaloosa-area home.

The Alabama video team had a plan for Saban to watch the entire practice from his home office via Zoom.

"I got to see a lot more because when you look at it wide angle you see a lot more than when you're just standing on the field, but I thought the intensity was good, the focus was good, the players were trying to get it right. So I didn't really see anything any different."

He started chucking at the end of the final answer of Wednesday's press availability talking about practice.

"I can tell you, we've had a lot worse practices when I'm there," Saban said, "so maybe it was a good thing that I wasn't there."
Get well, Coach.