No DOMA + No DADT = ?
Can gay soldiers now get married and receive the same federal benefits as heterosexuals?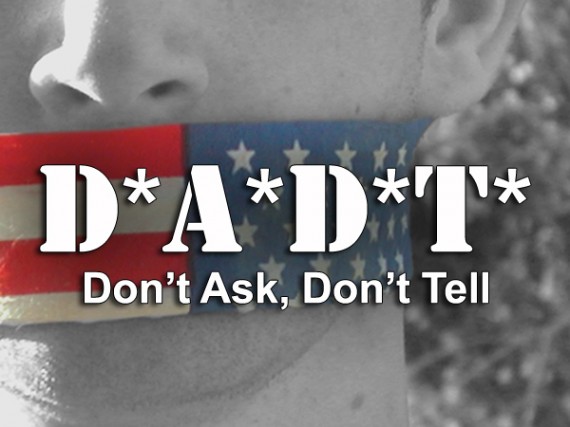 Reacting to news that a federal bankruptcy court has ruled Defense of Marriage Act unconstitutional, Mark Safranski tweeted, "DOMA plus repeal of DADT puts military CO's in an impossible position re: gay military personnel demanding their benefits."
It's an interesting point.
One presumes that the repeal of Don't Ask, Don't Tell will mean that military personnel are not only free to declare their homosexuality but to be homosexual. Which means, the right to consensual sex with adults under the same limitations that apply to heterosexual troops. And, in states that allow it, the right to marry someone of the same sex.
Married servicemen are entitled to various benefits: dependent supplemental pay, bigger housing on base, survivor benefits, and so forth. Their spouses are entitled to be issued a dependent ID card, entrance onto post, use of the commissary and exchange, and various medical privileges including enrollment in TRICARE.
But, under DOMA, the Federal government didn't recognize same-sex marriage. If this ruling and its rationale holds up, that option will no longer exist:
[R]ecent governmental defenses of the statute assert that DOMA also serves such interests as "preserving the status quo," "eliminating inconsistencies and easing administrative burdens" of the government. None of these post hoc defenses of DOMA withstands heightened scrutiny. In the court's final analysis, the government's only basis for supporting DOMA comes down to an apparent belief that the moral views of the majority may properly be enacted as the law of the land in regard to state-sanctioned same-sex marriage in disregard of the personal status and living conditions of a significant segment of our pluralistic society. Such a view is not consistent with the evidence or the law as embodied in the Fifth Amendment with respect to the thoughts expressed in this decision.
Presumably, this means that commanders will have to recognize same-sex couples who have been married in some state equally with other married soldiers. Or, perhaps not. Maybe it would only apply in states that recognize same-sex marriages. If so, it would mean a Permanent Change of Station move could render a couple no longer married in the eyes of the military. To call that "untenable" would be an understatement. Eliminating that kind of inconsistency always struck me as the legitimate rationale for DOMA; there were also plenty of illegitimate ones. It would be bizarre for the federal government to recognize a couple as married (say, for income tax purposes or Social Security survivorship) depending on what state they were living in.
There's also a twist: President Obama recently ordered that federal agencies, including the Defense Department, to extend a variety of benefits to same-sex domestic partners of federal employees. So, we may have the ironic position that homosexual couples will actually be in a favorable position, getting benefits unavailable to heterosexual couples who aren't married.