No, Repealing Obamacare Will Not Increase the Deficit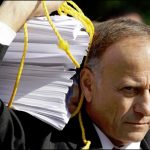 Asked by Rep. Paul Ryan to score the health care reform repeal bill, the CBO found that it would reduce net spending by $540 billion over ten years:
The Congressional Budget Office, in an email to Capitol Hill staffers obtained by the Spectator, has said that repealing the national health care law would reduce net spending by $540 billion in the ten year period from 2012 through 2021. That number represents the cost of the new provisions, minus Medicare cuts. Repealing the bill would also eliminate $770 billion in taxes. It's the tax hikes in the health care law (along with the Medicare cuts) which accounts for the $230 billion in deficit reduction.
In short, once the accounting gimmicks and taxes that kick in long before the 'benefits' are removed, the illusion of deficit reduction goes with it. That was obvious all along, but it's nice to see that, when not forced to pretend Congressional sleight-of-hand is real, the CBO confirms it.