No, The Race Is Not Tied
Unless something changes, Obama remains the odds-on favorite to win.
Two more national polls have been released showing President Obama and Mitt Romney within the margin of error, leading to a raft of commentary about the race being tied. But it's simply not the case. Unless something changes, Obama remains the odds-on favorite to win.
The RealClearPolitics average gives Obama a slight 1.2 point edge. And none of the recent polls in its index shows anything but a very close race: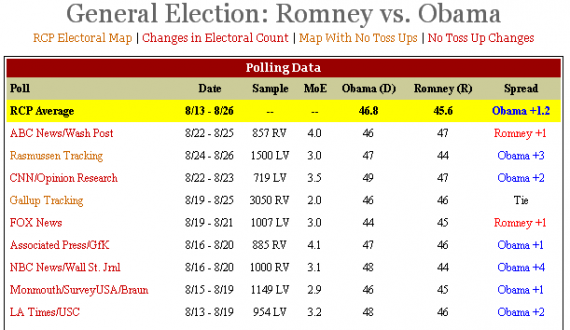 So, at first blush, it's easy to see why smart reporters like Dan Balz and Jon Cohen are calling the race neck-and-neck:
The Republican National Convention opens this week with President Obama andpresumptive nominee Mitt Romney running evenly, with voters more focused on Obama's handling of the nation's flagging economy than on some issues dominating the political debate in recent weeks.

A new Washington Post-ABC News poll shows Romney at 47 percent among registered voters and Obama at 46 percent — barely changed from the deadlocked contest in early July.

The findings continue a months-long pattern, with neither the incumbent nor the challenger able to sustain clear momentum, despite airing hundreds of millions of dollars in television ads — most of them negative — and exchanging some of the harshest early rhetoric seen in a modern presidential campaign.

Romney's selection of Rep. Paul Ryan (R-Wis.) as his running mate also did not fundamentally reshape the race, although the GOP's conservative base has grown more enthusiastic about the ticket — but no more so about the chances of beating Obama in November.

Enthusiasm — or a lack thereof — will be on display as Republicans and Democrats hold their conventions over the next two weeks. The two parties will make their pitches to an electorate stuck in a deeply pessimistic mood. More than eight in 10 give the economy negative marks and nearly seven in 10 see the country as seriously off track — an assessment that has not changed significantly all year.
The problem with this is that, while this has been a steady state election since April, when Romney wrapped up the Republican nomination, focusing on the national numbers ignores the fact that the object of the game is to pass the 270 Electoral Vote threshold. And, as we've been pointing out for going on a year now, Obama's path to that is much easier than Romney's.
Indeed, while it's poll of polls is what made it famous, RCP also has several Electoral College maps. None of them look great for Romney.
The most hopeful one has Obama with 221 Electors, Romney with 181, and 136 toss-ups: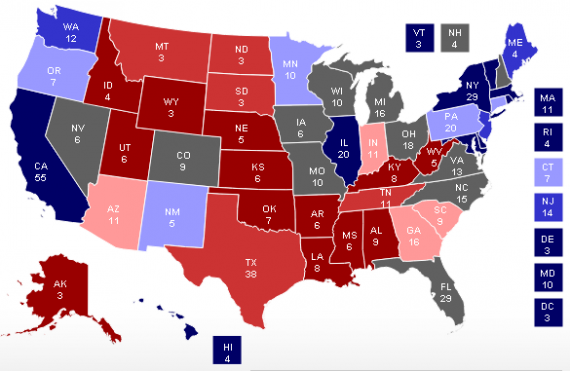 And, frankly, I'm skeptical that several of the "toss-up" states are actually tossups. Most polling I've seen gives Obama the edge in Colorado, Ohio, Virginia, Michigan, and Florida.
Indeed, RCP's "no toss-up" map, which goes ahead and assigns the states as they're leaning, shows the race as an Obama blow-out:
Nate Silver, whose formula includes other variables as well as poll numbers, currently has it 298-240 in favor of Obama. He finds an inordinately low "vice presidential bounce" following the announcement of Paul Ryan as Romney's running mate but does see some good news on that front:
The Republicans do seem to have made some headway in Mr. Ryan's native state of Wisconsin, however. And their last few polls in Florida have been been reasonably strong, defying the conventional wisdom that suggested Mr. Ryan's views on entitlement programs could be damaging among the senior population in that state.
Getting Wisconsin's 10 Electors would be a nice bonus; getting Florida's 29 is all but essential if the GOP ticket is to have a chance to win.
Barring some game-changing breaking news event, Obama's story is pretty much set with the voters at this point. Their opinion of the economy is baked into the results and unlikely to change; voters either think Obama is doing as well as could be expected given the hand he was dealt or think he's a failure.
That means it's up to Romney and Ryan to persuade such voters that are still persuadable—and indications are that it's an unusually small number this cycle—that they've got the answers. Thus far, Romney hasn't managed to get the job done despite months of free media.  The convention, which was to have started today, now starts tomorrow and is a day shorter than it was supposed to be. So, they've really got a handful of speeches, most notably Romney's, to generate a bounce and shake up the race.
Next week, Obama gets his shot. And, while I don't think he's got the ability to change minds much at this point, he'll likely be able to do enough to get us back to today's numbers.
And then it's on to the advertising wars.  Those of us in the key battleground states are in for a long few weeks.