No, Trump is Not 'Authoritarian'
The President is an ignoramus and a blowhard and a petulant child but he's operating within the Constitutional limits of his office.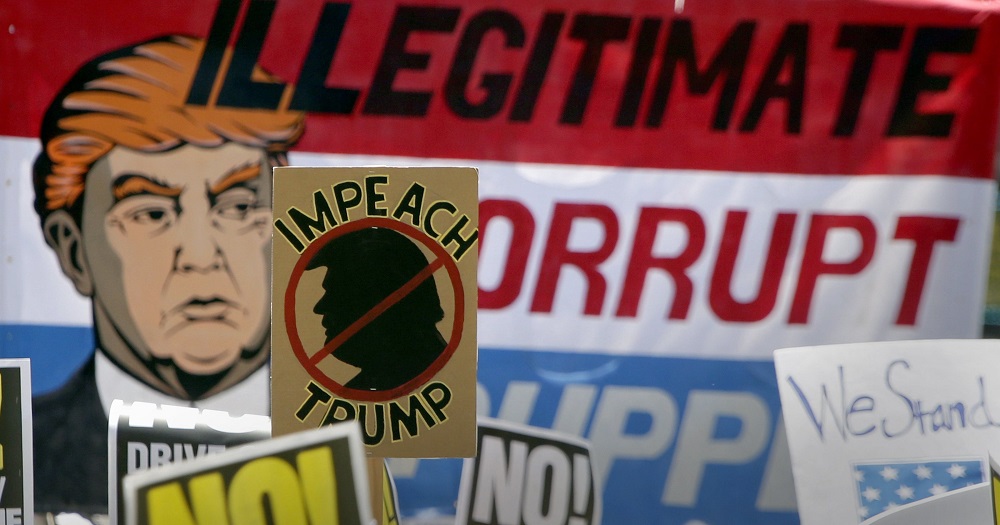 Historians Federico Finchelstein and Pablo Piccato take to the op-ed pages of the Washington Post to argue against United States-directed regime change in Venezuela. I'm in concurrence that such would be a bad idea. I dissent, however, from a bizarre and unnecessary line of argument used to advance their case:
As a populist who uses, and abuses, democratic rules to undermine democracy, Trump is incapable of leading a transition to democracy in Venezuela.

[…]

The authoritarian nature of the current leadership in Venezuela and the United States militates against that solution, however.
Dave Schuler finds the second of those quoted lines outrageous:
That is so stupid, fatuous, destructive, and vile I can hardly express it. The last time I checked Nancy Pelosi was not in jail, Jim Acosta had not been assassinated, and Robert Mueller's investigation of whether Donald Trump and the Trump campaign had "colluded with Russia" was still proceeding in its methodical, plodding way as it has for two years. Were the Trump Administration authoritarian things would be very different. By comparison the Chavez and now the Maduro government have murdered hundreds of their own citizens, engaged in arbitrary arrests and prosecutions, and imprisoned and tortured its political opponents.

Just because you disagree with someone's actions, opinions or rhetoric does not make them an authoritarian. To be an authoritarian you've got to, you know, do authoritarian stuff and to date the Trump Administration has not.

The editors and publisher of the Washington Post should be ashamed of themselves for publishing such tripe.
Quite.
Make no bones about it: Trump is an ignoramus and a blowhard and a petulant child. He chafes at the Constitutional constraints on his power more publicly and frequently than his predecessors and frequently threatens to unilaterally take actions which would be plainly illegal.
Yet, repeatedly, he has bowed to the institutional powers of the coordinate branches.
He has, to the best of my knowledge, complied with each and every judicial order to cease and desist carrying out policies that even the lowest-level Federal judges have ruled outside the scope of his powers. Oh, sure, he's done so without grace.
Likewise, he has been repeatedly thwarted in achieving his political aims by the Congress. Aside from a tax cut, he got essentially none of his policy agenda passed in his first two years in office. ObamaCare still lives. The wall remains unbuilt. He's intimated that he'll simply declare a national emergency to get his way but, presumably because he has been advised that such declaration would swiftly be struck down as illegal by the courts, he hasn't actually done it.
Yes, he's fired an FBI Director and an Attorney General, and some number of more junior appointees,  for failing to be sufficiently loyal to him in the matter of the Russia probe.  It's possible that a case will be made by Mueller or the now-Democratically controlled House Judiciary Committee that one or more of these instances constitute obstruction of justice and used to bring impeachment charges. But, until then, firing Executive branch appointees is manifestly within his powers under Article 2 of the Constitution.
Any comparison to Hugo Chavez or  Nicolás Maduro is simply absurd and offensive. So, yes, the editors of the Washington Post should have rejected the piece or demanded a tighter argument.
UPDATE: Judging from some of the early commentaries on the post, we have confusion over definitions here. I'm viewing the question based on common political science definitions of regime type and leadership styles (for a recent primer, see Marlies Glasius's "What authoritarianism is … and is not: a practice perspective"), whereas readers (and, upon reflection, possibly Finchelstein and Piccato) are using lay definitions. In terms of the former, the question of whether Trump is authoritarian is practically absurd. At best, he's engaging in illiberal democratic practices but is highly constrained by liberal democratic institutions. I happen to think he's pushing the bounds harder—and in more dangerous ways—than his predecessors but they have all pushed them.
To me, the more interesting question is the degree to which Republican Members of Congress have a duty to constrain Trump's illiberal impulses more aggressively than they have.