NOAA Back Trump Over Scientists
The parent organization of the National Weather Service issued a statement Alabama and Dorian.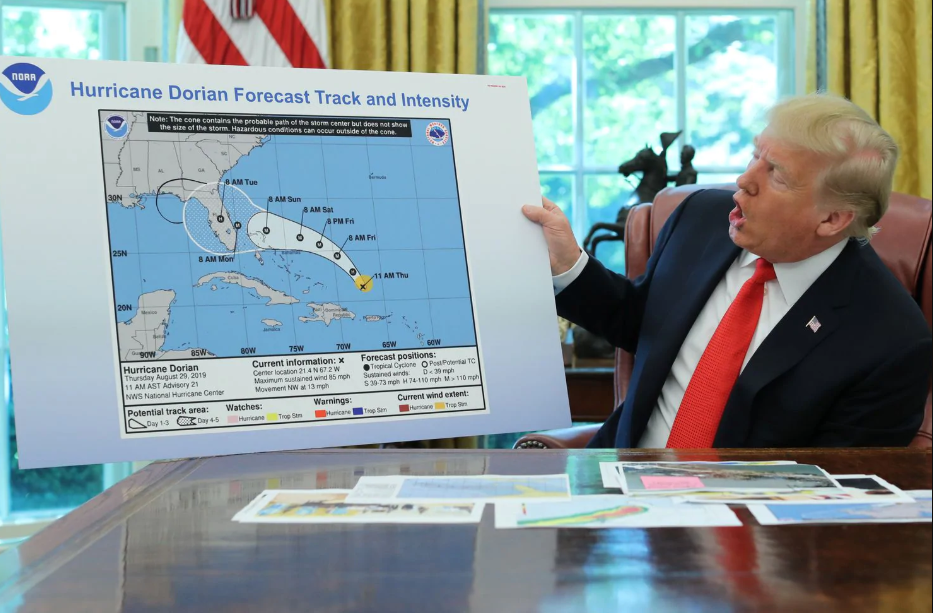 In a bizarre move, a federal agency has stepped in to defend an absurd tweet from the President, sacrificing its own credibility. The Washington Post:
The federal agency that oversees the National Weather Service has sided with President Trump over its own scientists in the ongoing controversy over whether Alabama was at risk of a direct hit from Hurricane Dorian.

In a statement released Friday afternoon, the National Oceanic and Atmospheric Administration (NOAA) stated Alabama was in fact threatened by the storm at the time Trump tweeted Alabama would "most likely be hit (much) harder than anticipated."

Referencing archived hurricane advisories, the NOAA statement said that information provided to the president and the public between Aug. 28 and Sept. 2 "demonstrated that tropical-storm-force winds from Hurricane Dorian could impact Alabama."
The problem is that it just ain't so:
The NOAA statement Friday makes no reference to the fact that when Trump tweeted that Alabama was at risk, it was not in the National Hurricane Center's "cone of uncertainty," which is where forecasters determine the storm is most likely to track. Alabama also had not appeared in the cone in days earlier, and no Hurricane Center text product ever mentioned the state.
The NOAA statement was unsigned, so it's unclear who exactly issued it.
Altering official government weather forecasts is actually illegal. Per 18 U.S. Code 2074, which addresses false weather reports: "Whoever knowingly issues or publishes any counterfeit weather forecast or warning of weather conditions falsely representing such forecast or warning to have been issued or published by the Weather Bureau, United States Signal Service, or other branch of the Government service, shall be fined under this title or imprisoned not more than ninety days, or both." (The Weather Service is the modern version of the Weather Bureau.)
No one will be fined, much less imprisoned for this. Still, while this seems merely bizarre and silly on its face, it's actually quite dangerous. We've now politicized the most basic of governmental functions, providing basic information necessary to protect public safety. Regardless of the personality or party of the occupant of the White House, the American people had every reason to believe government weather forecasts represented the best professional estimates available. No more.
And for what? Covering up a bizarre tweet from a narcissist?