Norah O'Donnell Latest to Fill Walter Cronkite's Chair
Anchoring of CBS Evening News is not what it used to be.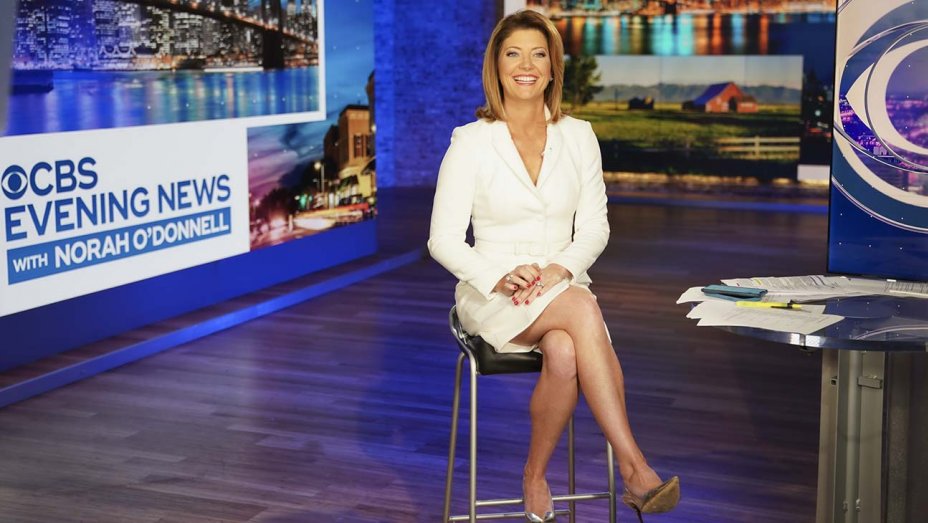 Another attractive morning show host is getting a shot at what was once the biggest job in television news.
On July 15 at 6:30 p.m., Norah O'Donnell becomes the next anchor of the brand-defining CBS Evening News. It's still a heady perch — one once occupied by Walter Cronkite during seminal moments in history (the assassination of John F. Kennedy, Vietnam). But it's also one with many challenges in the always-on Trump-tweet fueled news cycle.

CBS News president Susan Zirinsky entered the top job at the news division with an unshakable belief that O'Donnell, an aggressive and insightful broadcaster who has an instinct for news-making interviews, was the right person for the job. And so it is the second big anchor shake-up at the division, with Gayle King now the linchpin of CBS This Morning alongside co-anchors Anthony Mason and Tony Dokoupil.
O'Donnell has recounted a congratulatory phone call from Oprah Winfrey who told her the Evening News is O'Donnell's "supreme destiny."
"There are so few women who get to speak about the world to the world," Winfrey told her, according to O'Donnell. "And you are now one of those people."

With the 50th anniversary of the Apollo 11 lunar landing on July 20, the timing of the premiere installment of the CBS Evening News With Norah O'Donnell offers an opportunity to remind viewers of the division's legacy. This week's broadcast will included O'Donnell's sit-down with Caroline Kennedy and Amazon founder Jeff Bezos, whose company Blue Origin is working to send humans to the moon. And on Tuesday, O'Donnell will anchor the program live from the Kennedy Space Center, the same location where Cronkite broadcast 50 years ago. On that day, the show will also include O'Donnell's interview with three female pioneers of Apollo 11; engineers Joann JoAnn Morgan and Poppy Northcutt and MIT scientist Margaret Hamilton, who helped program the Apollo 11 lunar module for landing anticipating some of the problems that would occur and did occur just before landing. At 10 p.m, O'Donnell will also anchor a one-hour primetime special Man on the Moon, which weaves together Cronkite's coverage of the moon landing along with Neil Armstrong's narrative in an experiential film.

Despite its storied history, the CBS Evening News has been mired in the third place in the nightly news race for more than 20 years. This season, the show is averaging 6 million viewers each night while ABC's World News Tonight With David Muir is the most-watched newscast with 8.7 million, followed by NBC's Nightly News With Lester Holt at 8.1 million. Clearly improving the show's ratings is a goal, says Zirinsky, a four-decade veteran of CBS News. "But the most important part to me is the strength of the journalism."

O'Donnell's broadcast will have new music and graphics, while relying heavily on the network's corps of correspondent. O'Donnell also will take the Profiles in Service franchise — which highlights the work of armed services members — that she originated on CBS This Morning to the Evening News. (Her father was a military doctor and her sister Mary also serves as a military physician.) 

O'Donnell's CBS Evening News will originate from the CBS News broadcast center in New York until late fall when it moves to its permanent home, Washington, D.C. O'Donnell, 45, will live in D.C. with her husband, chef Geoff Tracy, and their three children, 12-year-old twins and an 11-year-old. Kim Godwin, executive vp CBS News and Zirinksy's number two, will serve as the show's executive producer until the show moves to Washington. O'Donnell, who is also managing editor of the broadcast, will have a say in choosing her executive producer, says Zirinsky.

—Hollywood Reporter, "Norah O'Donnell Takes on the Mission of the 'CBS Evening News'"
When I saw the news of O'Donnell's ascension, I literally had to Google to see who it was she was replacing. It turns out: nobody.
I last paid any real attention to the newscast when Katie Couric debuted and posted a few times about the sagging ratings that ultimately led to Couric's departure. That was way back in 2011.
I was vaguely aware that Scott Pelley succeeded her (2011-2017) but the model of a nightly newscast was already dead by that point.
Pelley was briefly followed by someone called Anthony Mason (presumably not the former Knick) and someone else called Jeff Glor (2017-2019). They were followed by a series of interim anchors, some of whom I'd heard of, including John Dickerson, Major Garrett, Margaret Brennan, Anthony Mason (again!), David Begnaud, Jim Axelrod, and Maurice DuBois.
I'm sure O'Donnell, who's been around a long time, will be a perfectly competent and perhaps more stable replacement. But she'll never be Dan Rather, much less Cronkite.
That's not a knock on O'Donnell. Rather, it's just a radically different time.
When I was a kid, everyone turned to a nightly newscast because it's just what people did. There were essentially only the three channels and we weren't flooded with news all day.
The proliferation of television news, which eventually segmented to cater to partisan interests, not to mention the Internet and non-news offerings on cable/satellite simply rendered the nightly newscast an anachronism. I can't imagine why anyone under 65 would still be watching.