North Korea Billed The United States $2,000,000 For Otto Warmbier's "Medical Treatment"
The United States agreed to pay North Korea $2 million for "medical treatment" for Otto Warmbier. Did the Trump Administration actually pay the bill? They aren't saying.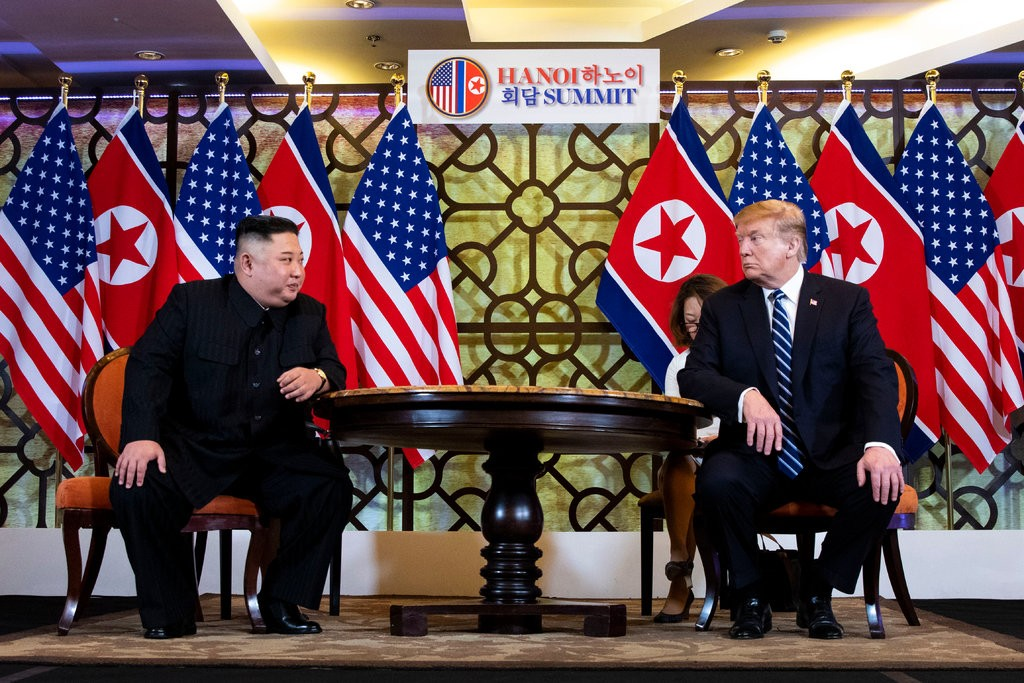 The Washington Post reported this morning that the North Korean government presented the United States with a bill for $2.000,000 for "medical services" for the treatment of Otto Warmbier, the American citizen who was arrested during a visit to North Korea for tampering with a propaganda poster and returned to the United States in a comatose condition from which he never recovered:
BEIJING — North Korea issued a $2 million bill for the hospital care of comatose American Otto Warmbier, insisting that a U.S. official sign a pledge to pay it before being allowed to fly the University of Virginia student from Pyongyang in 2017.

The presentation of the invoice — not previously disclosed by U.S. or North Korean officials — was extraordinarily brazen even for a regime known for its aggressive tactics.

But the main U.S. envoy sent to retrieve Warmbier signed an agreement to pay the medical bill on instructions passed down from President Trump, according to two people familiar with the situation. They spoke on the condition of anonymity because they were not authorized to discuss the matter publicly.


The bill went to the Treasury Department, where it remained — unpaid — throughout 2017, the people said. However, it is unclear whether the Trump administration later paid the bill, or whether it came up during preparations for Trump's two summits with Kim Jong Un.

The White House declined to comment. "We do not comment on hostage negotiations, which is why they have been so successful during this administration," White House press secretary Sarah Sanders wrote in an email.


Trump, as recently as Sept. 30, asserted that his administration paid "nothing" to get American "hostages" out of North Korea.


Warmbier, who was 21, fell into a coma for unknown reasons the night he was sentenced to 15 years in prison with hard labor in March 2016.


He was convicted on charges stemming from pulling down a propaganda sign in a Pyongyang hotel in the early hours of Jan. 1, 2016. Such an infraction would be minor in almost any other country, but in North Korea it was considered a "hostile act against the state."


Fred Warmbier, Otto's father, said he was never told about the hospital bill. He said it sounded like a "ransom" for his late son.

After his sentencing, the North Koreans held onto the comatose student for another 15 months, not even telling American officials until June 2017 that he had been unconscious all that time. News of his condition sparked a frantic effort led by Joseph Yun, the State Department's point man on North Korea at the time, to get Warmbier home.

Yun and an emergency medicine doctor, Michael Flueckiger, traveled to Pyongyang on a medical evacuation plane. They were taken to the Friendship Hospital in the diplomatic district, a clinic where only foreigners are treated, and found Warmbier lying in a room marked "intensive care unit," unresponsive and with a feeding tube in his nose.
Flueckiger examined Warmbier and asked the two North Korean doctors, who bore a thick pile of charts, questions about the lab work, scans and X-rays they had done.


Afterward, they went to a meeting room where the talks to free Warmbier began.


"I didn't realize what a negotiation it was going to be to secure his release," said Flueckiger, who is medical director of Phoenix Air Group, an aviation company based in Cartersville, Ga., that specializes in medical evacuations.

North Korean officials asked the doctor to write a report about his findings. "It was my impression that if I did not give them a document that I could sign off on, that would cause problems," Flueckiger said in an interview.

But the American said he did not have to lie in his report. Whatever had happened to put Warmbier into that state, it was "evident" that he had received "really good care" in the hospital, he said. The doctors had done "state-of-the-art resuscitation" to revive Warmbier after he suffered a catastrophic cardiovascular collapse, and it was "remarkable" that he had no bedsores, Flueckiger said.


"Would I have lied to get him out of there? Maybe I would have," he said. "But I didn't have to answer that question."


Yun, however, was faced with a more difficult predicament.


The North Korean officials handed him a bill for $2 million, insisting he sign an agreement to pay it before they would allow him to take Warmbier home, according to the two people familiar with the situation.

Yun called then-Secretary of State Rex Tillerson and told him about the bill. Tillerson called Trump. They instructed their envoy to sign the piece of paper agreeing that he would pay the $2 million, the two people said.
This report obviously raises serious questions about what the White House may have done to get the comatose Warmbier. who died when he was taken off artificial life support shortly after arriving back home in the United States, back home. If Yun was instructed to sign the agreement to pay the bill for the "services" provided to Warmbier after he slipped into a coma for reasons that remain shrouded in mystery but the bill was never actually paid then that's one thing. If, however, the United States actually did pay the bill that Pyongyang presented for treatment for Warmbier for injuries that he most likely suffered as a result of his detention then that would be outrageous to say the least. So far, the White House isn't commenting on this matter but given the circumstances of what happened and what the President has said about the Warmbier case in particular this is clearly not an acceptable response.
Specifically, it's worth noting that during the summit meeting in Vietnam with North Korean leader Kim Jong Un earlier this year, President Trump appears to have accepted Kim's claim that he had no idea what happened to the American:
HANOI — President Trump on Thursday defended North Korean leader Kim Jong Un over the death of American college student Otto Warmbier, whose family says he was "brutally tortured" while imprisoned in North Korea and died in 2017 after being flown back to United States in a coma.

The president condemned the "brutality of the North Korean regime" following Warmbier's death at 22, but he took a softer stance toward Kim at the conclusion of their second summit.

"I don't believe he would have allowed that to happen," Trump said. "It just wasn't to his advantage to allow that to happen."

Trump said that he spoke to Kim about the death of Warmbier — whose family has called it a murder — and that Kim "feels badly about it." He said the North Korea leader, who rules the country with an iron grip, knew about the case but learned about it only after the fact because, Trump suggested, "top leadership" might not have been involved.

"He tells me he didn't know about it, and I take him at his word," Trump said.


Richard Cullen, the attorney for Fred and Cindy Warmbier, who in December won a $501 million judgment against North Korea for the death of their son, said the couple probably will not say anything publicly about the president's comment.
As I noted at the time, Trump's statement is fundamentally absurd. From the moment Warmbier came home, it was obvious that his condition was due to something that had happened to him at the hands of his North Korean captors. Most likely that he was either beaten to the point where he was injured beyond the point of recovery or he was experimented on medically and injected with drugs that put him into a comatose state that North Korean doctors could not get him out of before his return to the United States. Whatever the cause, though, it's simply implausible to believe that what happened to him was not due to actions and/or omissions on the part of the North Koreans and it is equally implausible to believe that Kim Jong Un would not have any knowledge at all about what happened. Notwithstanding this, and notwithstanding the assessment of American doctors and American intelligence agencies that the Kim regime was indeed responsible, though, President Trump stood up in front of a group of reporters at the conclusion of the summit and accepted the word of a ruthless dictator who has sent tens of thousands of people to prison for phony crimes because they challenged the power of the state somehow, killed family members and political rivals in all kinds of brutal and horrible ways, and had his own half-brother killed as he walked through a busy airport in Malaysia over common sense and logic.
This isn't the first time that the President has dismissed atrocious behavior by dictators, of course. During the campaign, Trump was asked several times why he was so obsequious in his praise for Vladimir Putin given the reports about how he has had political opponents and reporters murdered. In response, Trump dismissed the question and essentially said that we've done worse things than Putin has been accused of in the past. Last year, at the conclusion of his summit in Helskini during a joint news conference the President said that Putin had denied that Russia had interfered in the 2016 elections and that he accepted that denial. Of course, that denial flies in the face of the evidence uncovered by all of America's top intelligence officials and by the investigation by Special Counsel Robert Mueller, who has already indicted two separate groups of Russian officials, companies, and government agencies in indictments handed down last February and again later in the year. In addition to Putin, Trump has also rejected the conclusions of intelligence agencies regarding the role of Saudi Crown Prince Mohammed bin Salman in the death of Washington Post journalist Jamal Khashoggi and accepted the utterly implausible explanation for Khashoggi's death offered by the Saudi government. He has repeatedly brushed aside questions regarding the human rights records of people such as President el-Sisi of Egypt and President Duerte of The Philippines. With regard to Kim Jong Un, the President has specifically dismissed concerns about North Korea's human record, which is, of course, consistently among the worst in the world. Therefore, the fact that he's now absolving Kim of responsibility for the death of Otto Warmbier should surprise nobody because it is consistent with his long-standing habit of cozying up to dictators while spitting in the face of long-standing democratic allies. The lesson could not be clearer, Trump stands up for these dictators because he believes he has more in common with them than he does people like Angela Merkel, Emmanuel Marcon, Theresa May, or Justin Trudeau. If nothing else, it speaks volumes about just how perverted his values are.
Now we are presented with the question of whether or not the United States effectively paid a ransom for the release of an American citizen who, for reasons unknown, was in a comatose state for more than a year after being sentenced for his "crime" in a North Korean "court." If we did, then that raises even more questions about the diplomacy of the Trump Administration and what impact all of this will have on America's relationship with the world going forward. Congress needs to open an investigation into this matter as soon as possible, and the Administration should be pressed to respond until they have a given a coherent and truthful response.