North Korea Conducts Sixth Nuclear Test
More provocative action from North Korea, and another reminder that there are no easy answers to the problems represented by the Kim regime.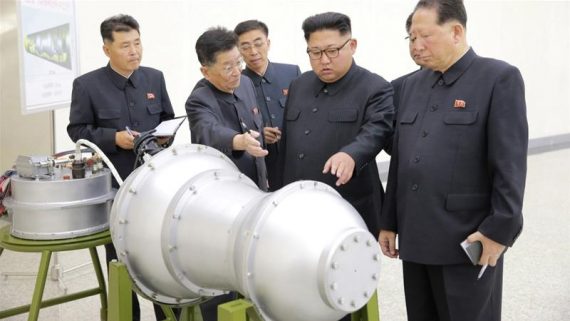 Just one day after making the public claim that it had developed a thermonuclear warhead capable of being mounted on one of its ballistic missiles, the world woke up to the news that North Korea has apparently conducted its sixth and most powerful nuclear test yet:
SEOUL, South Korea — North Korea carried out its sixth and most powerful nuclear test in an extraordinary show of defiance against President Trump on Sunday, saying it had detonated a hydrogen bomb that could be mounted on an intercontinental ballistic missile.

The test, which the North called a "complete success," was the first to clearly surpass the destructive power of the bombs dropped on the Japanese cities of Hiroshima and Nagasaki in World War II.

Mr. Trump threatened last month to bring "fire and fury" to North Korea if it continued to threaten the United States with nuclear missiles, but the country and its leader, Kim Jong-un, has appeared unmoved, with the test on Sunday preceded by the launch last week of a ballistic missile over Japaninto the north Pacific.

(…)

The announcement from North Korea came hours after the country declared that it had developed a hydrogen bomb that could fit into the warhead of an intercontinental ballistic missile.

Still, it was unclear whether the North had in fact detonated such a weapon, a far more powerful type of nuclear device than the atomic bombs it has tested in the past. And analysts were skeptical that Pyongyang had really developed the capability to mount one on an ICBM.

The United States Geological Survey estimated that the tremor set off by the blast, detected at 12:36 p.m. at the Punggye-ri underground test site in northwestern North Korea, had a magnitude of 6.3.

The South Korean Defense Ministry's estimate was much lower, at 5.7, but even that would mean a blast "five to six times" as powerful as the North's last nuclear test, a year ago, said Lee Mi-sun, a senior analyst at the South Korean Meteorological Administration.

The tremor from the North was strong enough to be felt by some people in South Korea. The South's National Fire Agency, which operates an emergency hotline, said it had received 31 calls about buildings and the ground shaking, the first time that South Koreans had reported tremors after a North Korean nuclear detonation.

The blast was so powerful that the first tremor was followed by a second, weaker one minutes later, which the United States Geological Survey called a "collapse." The second tremor was detected in China but not in South Korea; officials in the South said that would be consistent with a cave-in at the North's underground test site.

Condemnation of the test came from around the world. In Asia, President Moon Jae-in of South Korea, a proponent of dialogue with North Korea, called the test "utterly disappointing and infuriating."

China, the North's main ally and biggest trading partner, expressed "strong condemnation" of the test, according to Xinhua, the state news agency. Japan requested an emergency meeting of the United Nations Security Council.

In Europe, the Russian Foreign Ministry said that North Korea "deserves absolute condemnation," and a joint statement from Chancellor Angela Merkel of Germany and President Emmanuel Macron of France said "the most recent provocation from Pyongyang reaches a new dimension."

The International Atomic Energy Agency said the test amounted to a "complete disregard of the repeated demands of the international community."

Just last week, North Korea fired a ballistic missile over Japan, sharply escalating tensions in the region. Pyongyang recently launched an intercontinental ballistic missile capable of reaching the American mainland, and it responded to Mr. Trump's "fire and fury" rhetoric by threatening to fire missiles into waters around Guam, a United States territory that is home to military bases.

The timing of the test on Sunday was almost certainly no coincidence: It came during the American Labor Day weekend, and the anniversary of the founding of the North Korean government is Saturday.

The North has often tried to catch its enemies in Washington off guard by conducting major weapons tests around American holidays — Mr. Kim called his country's first ICBM test, conducted on July 4, a "gift package for the Yankees" — or timed them to coincide with its own holidays for domestic propaganda uses.

On Sunday, North Korea gave its people and the outside world notice of "an important announcement" to come, followed hours later with confirmation of the test and Mr. Kim's handwritten order to conduct it. In the coming days, the government is expected to organize huge rallies to celebrate the bomb test and Mr. Kim's leadership.

"Pyongyang has a playbook of strategic provocations, throws off its adversaries through graduated escalation, and seeks maximum political impact by conducting weapons tests on major holidays," said Lee Sung-yoon, a Korea expert at the Fletcher School of Law and Diplomacy at Tufts University.
Not surprisingly, the first official response from the United States Government appears to have come via President Trump on Twitter in the form of a series of early-morning Tweets:
North Korea has conducted a major Nuclear Test. Their words and actions continue to be very hostile and dangerous to the United States…..

— Donald J. Trump (@realDonaldTrump) September 3, 2017
..North Korea is a rogue nation which has become a great threat and embarrassment to China, which is trying to help but with little success.

— Donald J. Trump (@realDonaldTrump) September 3, 2017
South Korea is finding, as I have told them, that their talk of appeasement with North Korea will not work, they only understand one thing!

— Donald J. Trump (@realDonaldTrump) September 3, 2017
In addition to sending a message to the United States on a holiday weekend, the test also appeared to be aimed at sending a message, and perhaps even attempting to embarrass, North Korea's Chinese benefactors. This weekend President Xi of China is hosting a summit meeting of the so-called BRIC nations, a group consisting of rising second-world nations that includes Brazil, Russia, India, China and South Africa and an event such as this could be seen as yet another attempt by the North Korean government to take slaps at the Chinese, something we've seen happen many times during the time that Kim Jong Un has been in power. Most importantly, though, the test is clearly yet another message to the world that Pyongyang remains committed to its goal of constructing what it considers to be a necessary nuclear deterrent to any effort by the United States and its allies in South Korea, Japan, and elsewhere in the region to overthrow the Kim regime. Arguably, this is the result of the lessons that the North Koreans have learned from observing what has happened to regimes in nations that abandoned their nuclear programs for one reason or another such as Iraq and Libya.
There's no doubt, of course, that a North Korea with an effective nuclear deterrent would be a real danger to both the peninsula and to the broader region. While it seems unlikely that the Kim regime would launch a first strike against the United States or its allies due to the fact that doing so would obviously lead to retaliation that would ultimately destroy the regime and lay waste to the nation itself, the consequences of a North Korea armed with nuclear weapons capable of reaching far into the mainland United States, as well as hitting targets closer by in South Korea, Japan, China and Russia cannot be understated. In such a situation, it would be unlikely that the Kim regime would fall or that it would agree to any kind of negotiated peace that didn't come with guarantees that the regime will not be attacked. This would make a diplomatic solution to the tensions on the peninsula pretty much impossible and would embolden the North's long-standing practice of engaging in provocative acts what it wants from the West whether it is relief from sanctions or aid in the form of food and other assistance.
All that being said, we're left with the same problem we've had for decades when it comes to the regime in Pyongyang, namely the fact that there is very little that we can realistically do about the situation in North Korea, or about its pursuit of a nuclear deterrent. Notwithstanding the bellicose rhetoric we've seen from President Trump, it's clear that a military solution is most emphatically not the first or best option in this situation. Even leaving out the possibility that any such confrontation could result in the first use of nuclear weapons in war since August 9, 1945, a military confrontation with North Korea has the potential to have a disastrous impact on both South Korea and Japan, both of which would be within range of North Korea's expansive reserve of non-nuclear rockets and artillery that could result in death and injury for tens of thousands of civilians and soldier as well as billions of dollars of property damage that would have a significant impact on two of the world's most important economic powers. Additionally, such a confrontation poses the risk of putting the United States and China on opposite sides of a trip wire that could result in direct conflict in much the same way that the Korean War did more than sixty years ago. While the use of force can of course never be taken off the table, it should always be the last option considered rather than being anywhere near the top of the list as President Trump's rhetoric would seem to indicate he is considering.
This leaves sanctions and other pressure as the best available option in trying to either bring the North Koreans to the table to engage in some kind of talks about their nuclear program that would be similar or bring other pressure on them to divert themselves from the path they've chosen. As always, though, the only nation that seems capable of doing that is China, and it's not entirely clear whether Kim Jong Un is all that interested in listening to Beijing at the moment. Certainly, it is possible for the Chinese to put more pressure on the North Koreans, though. They could take further steps to cut the economic aid that they provide to the regime, for example, both in the form of trade across the border and in purchases of North Korean raw materials such as coal and other minerals. So far, Beijing has proven reluctant to do this in no small part due to their concerns about creating chaos on their southern border that would lead to a wave of refugees or a political crisis that would lead to a collapse of the regime and the potential of American and South Korean forces on the Korean-Chinese border. Toward that end, it's been suggested that the United States needs to put more pressure on China in the form of sanctions or the threat of sanctions against Chinese institutions that continue to deal directly with Pyongyang. This would appear to be the best option we have left, but it also risks increasing tensions with China at a time that we need them on our side. As an additional step, perhaps it would be advisable for the United States to pledge that it would not permanently station American forces north of the 38th parallel in the event the DPRK collapses unless such forces were part of an international peacekeeping force that China would be a part of if not the principal member.
In any case, this latest test is yet another reminder of just how complicated the situation on the Korean peninsula is and how crucial it is that we have leaders who are capable of responding to these events with the calm and seriousness it deserves. Unfortunately, that means hoping that President Trump listens to advisers such as James Mattis, H.L. McMaster, and Rex Tillerson rather than relying on his own ill-informed whims and passions.
Update: Secretary of Defense Mattis delivers the Administration's non-Twitter response to the test:
US Pentagon chief warns North Korea any threat will be met with a 'massive' and 'overwhelming' military response https://t.co/pXgpVhPYIG pic.twitter.com/wg5iHg87FC

— ITV News (@itvnews) September 3, 2017