North Korea Shells South Korean Island, Tensions Rise
Tensions are on the rise again on the Korean Peninsula after North Korea shelled a South Korean island.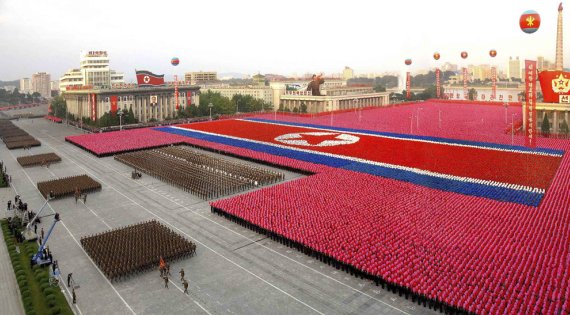 Eight months after it sank a South Korean ship and killed more than 40 sailors, the world woke up this morning to news that North Korea and lobbed artillery shells onto a South Korean island:
SEOUL, South Korea — North and South Korea exchanged artillery fire on Tuesday after dozens of shells fired from the North struck a South Korean island near the countries' disputed maritime border, South Korean military officials said. Two South Korean soldiers were killed, 15 were wounded and three civilians were injured, said Kiyheon Kwon, an official at the Defense Ministry.

The military went to "crisis status," and fighter planes were put on alert but did not take off. South Korean artillery units returned fire after the North's shells struck South Korea's Yeonpyeong Island at 2:34 p.m., said Mr. Kwon, adding that the North also fired numerous rounds into the Yellow Sea. News reports said dozens of houses were on fire, and TV footage showed large plumes of black smoke spiraling from the island.

The official North Korean news agency said in a brief statement Tuesday night that the South had started the fight when it "recklessly fired into our sea area."

The clash appeared to have been the most serious in recent years.

A spokesman for President Lee Myung-bak said Mr. Lee gathered his security-related ministers and senior aides at a crisis meeting in the underground situation room at the Blue House, the presidential office and residence.

"We will not in any way tolerate this," Mr. Lee's chief spokesman, Hong Sang-pyo, said after the meeting. "Any further provocation will get an immediate and strong response and the South Korean military will strongly retaliate if there is anything further."

The United States condemned the attack and demanded the action cease, news reports said. "The United States strongly condemns this attack and calls on North Korea to halt its belligerent action," the White House said in a statement.

Chinese officials said they were "concerned" and called on both sides to resume six-party talks. "We hope the relevant the parties will do more to contribute to the peace and stability of the Korean peninsula," a Foreign Ministry spokesman, Hong Lei, said at a regular briefing in Beijing.

Officials gave the impression, however, that China was in the dark about the attacks. "The situation needs to be verified," Mr. Hong said, adding that "China is willing to stay close communication with the relevant parties concerning the Korean nuclear issue."

A Russian Foreign Ministry official, who was not identified by name, urged calm. "It is important that this not escalate tensions on the Korean peninsula," he told the Interfax news agency.

British Foreign Secretary William Hague condemned the "unprovoked attack" and urged Pyongyang to refrain from hostilities. The attack on the island came as 70,000 South Korean troops were beginning an annual nationwide military drill called Safeguarding the Nation. The exercise has been sharply criticized by Pyongyang as "simulating an invasion of the North" and "a means to provoke a war." The drill includes some United States forces, but a defense official said no American military personnel were on the island when it was hit.

A spokeswoman for the Unification Ministry in Seoul said Tuesday night that the South Korean Red Cross had indefinitely postponed a Thursday meeting with North Korean officials on further reunions between family members separated since the Korean War. She also said the ministry was "reviewing the security situation" for several hundred South Korean workers at the Kaesong Industrial Park, a jointly operated facility in North Korea.
As for what North Korea's motives might be, that seems to be as much as engima as the nation itself:
Analysts were quick to see the shelling as a deliberate North Korean provocation.

"Deliberate, yes, and it's a sign of North Korea's increasing frustration," said Choi Jin-wook, a North Korea expert at the Korea Institute for National Unification, a research institute in Seoul.

"Washington has turned a deaf ear to Pyongyang and North Korea is saying, "Look here. We're still alive. We can cause trouble. You can't ignore us."

Mr. Choi said North Korea had become frustrated over the Obama administration's refusal to remove a broad range of sanctions against the regime for its continuing nuclear efforts.

"They see that they can't pressure Washington," he said, "so they've taken South Korea hostage again."

Mr. Choi said North Korea's first and most urgent priority is for food aid, which has been largely denied by South Korea and strangled by international and United States sanctions.

"They're in a desperate situation and they want food immediately, not next year," he said.

"I can't think of recent event in the past five or 10 years that approaches this magnitude," said John Swenson-Wright, an expert with the Royal Institute for International Affairs, also known as Chatham House, a private policy organization in London. "Symbolically and practically, this is a serious escalation in provocation," he said in a telephone interview.
Indeed, but as always the question is, to what end ?
Some would say that the sinking of the Chonsen in March was the most serious provocation in decades, and yet it now seems clear that it was related more to the internal succession issues going on inside North Korea than any desire to reignite a war that has been dormant for 57 years. That may be what's behind today's incident as well.
More importantly, though, there's the simple face that there don't seem to be any easy answers here. Military retaliation would seem to be unwise for many reasons, not the least of them being the tens of thousands of artillery pieces and rockets withing striking distance of metropolitan Seoul. In general, though, the idea of re-fighting the Korean War is one that should appeal to nobody. Ultimately, solving the North Korea problem is going to happen when the Chinese finally decide that they are through with propping up an erratic regime that seems to be trying to turn itself into the modern world's first hereditary dictatorship. When that happens, I think we'll find things will change dramatically, and quickly, on the Korean peninsula.