North Koreans Reportedly Being Punished For Insufficiently Mourning Kim Jong-il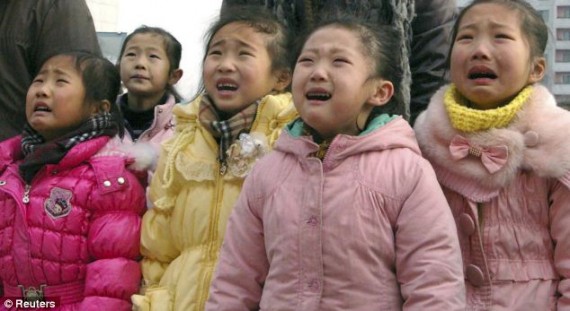 The Daily Mail reports that Kim Jong-Un and his underlings are punishing citizens perceived not to have sufficiently mourned the death of his father:
North Korea's hardline regime is punishing those who did not cry at the death of dictator Kim Jong-il, according to reports.

Sentences of at least six months in labour camps are also apparently being given to those who didn't go to the organised mourning events, while anyone who criticised the new leader Kim Jong-un is also being punished.

Those who tried to leave the country, or even made a mobile phone call out, were also being disciplined, it has been claimed.

Daily NK says a source has claimed that 'criticism sessions' – which began after the official period of mourning – have now finished and tough sentences are being given out.

The informant from North Hamkyung Province told the website: 'The authorities are handing down at least six months in a labour-training camp to anybody who didn't participate in the organised gatherings during the mourning period, or who did participate but didn't cry and didn't seem genuine.'

The source claimed the criticism sessions created a 'vicious atmosphere of fear', which meant the new leader, Kim Jong-un, was being accused of preying on the people now that he has taken power.

It is unclear how many people face incarceration but the figure could be many thousands.

Along with criticism sessions, the regime is also ramping up its efforts to enforce the cult of personality of the new leader.

The source told Daily NK: 'Every day from 7am until 7pm they have vehicles for broadcast propaganda parked on busy roads full of people going to and from work, noisily working to proclaim Kim Jong-un's greatness.'

Intensive sessions, to teach groups including the Union of Democratic Women and workers in factories and schools about the greatness of the new leader, were leaving people 'exhausted', the source added.
It all sounds insane, unbelievably so. This is North Korea, however. Insane has been a way of life there for 60 years.
Photo of "mourning" North Korean children via The Daily Mail and Reuters