Not Surprisingly, Olympics Mostly A Bust For London Retailers
Once again, we learn that hosting the Olympics doesn't carry nearly the economic benefit the IOC wants host cities to believe it does.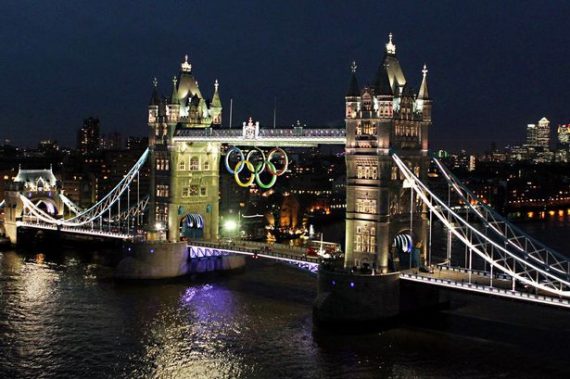 Despite promises that the Summer Olympics would bring them a crush of customers, most London retailers are finding reality to be quite the opposite
LONDON — After a week of unusually quiet streets, idling cabs and easily navigated shops, fears of the Gridlock Games have transformed into complaints about the Ghost Town Olympics

Experts say tens of thousands of foreign tourists without tickets to the Olympic Games appear to have decided to skip London, bowing to official warnings of stifling overcrowding — a forecast that ignored the lessons of other Olympic host cities that have emptied out during the Games over the past 20 years. In even larger numbers, these experts say, Britons themselves, including tens of thousands who normally commute to work in London, have heeded official appeals and stayed home.

With the Games nearing the end of their first week, and 10 more days to go, there has been no sign of the normal tourist-inflated crush at this time of the year — much less the no-room-to-move congestion officials warned would come with huge throngs of Olympic visitors competing for space on London's notoriously overcrowded roads and transit systems, and in its shops, theaters, museums, galleries and restaurants. Three years ago, the Olympics minister at the time, Tessa Jowell, promised that the Olympics would "provide economic gold at a time of economic need."

(…)

Jeremy Hunt, the culture and sport minister in the Cameron cabinet, said Thursday that people who saw the Olympics as an economic body blow were premature and taking too narrow a view. The government now acknowledges that there is unlikely to be any short-term boost from the Games. It has reassured those nervous about its outlay on the Games — put at about $15 billion by government officials and as high as $20 billion by some experts, with road, railway and other improvements factored in — that the expense will be recouped in the long term by a $20 billion boost in Britain's trade.

"Having the Olympics in London is the best possible gift you could ask for because it has given London a profile on the global stage," Mr. Hunt said, to the surprise of those who might have thought that London was already well established as one of the world's major cities.

Mayor Boris Johnson, one of the Games' biggest boosters, has made a midcourse correction of his own. He has admitted that the instant Olympic bounce he once forecast for London's economy has evaporated, replaced by a "patchy" performance across many important sectors. But holding out for a turnaround, he has said things could improve as people realize that London without the crowds has become an unusually inviting place to go.
No matter how the politicians spin it, though, the signs of an Olympic bust are all over the place:
Normally crowded sidewalks in areas like Knightsbridge, Oxford Street, Bond Street, Piccadilly and Soho have looked much as they do when the city empties for summer weekends. Tables at sidewalk cafes have gone begging, and tickets to the West End's normally sold-out hit shows are readily available, often at 20 percent discounts.

Cabdrivers complain that business is down 30 percent from normal at this time of year. "Where are the million extra visitors that we were promised?" asked Steve McNamara, a spokesman for the Licensed Taxi Drivers' Association. He coupled this with a palpable absence of the national pride Mr. Cameron has urged on a nation hosting its first Olympics since 1948. "I'm looking forward to the closing ceremony," on Aug. 12, Mr. McNamara said.

Hundreds of West End hotels that had advertised rooms at premium prices, in some cases five times the normal rate, have dropped prices back to the usual level or even offered heavy discounts. One of the few places that is doing a roaring trade is the campsite at the Lea Valley Waterworks Center, a golf course and nature reserve within sight of the Olympic Park. Angie Oliver, general manager of the center, said Friday that she expected a full house of 1,600 campers this weekend. "People just don't want to pay extortionate prices for hotels," she said.

Stores in the upscale West End shopping district have said sales are down by 10 percent and more, and restaurants used to turning people away are desperate for trade. Ricky McMenemy, managing director of the Rules restaurant in Covent Garden, popular with Americans for a menu specializing in traditional British foods, said that after a "disaster" last Friday, when diners stayed away to watch the opening ceremony, the restaurant was "seeing a 50 percent downturn" in diners this week.
Perhaps business will pick up the last week of the games as people realize that the predictions of crushing crowds didn't come true. However it's unlikely that it come in enough time for foreign tourists to change their plans, and Londoners may as well just be inclined to stay away until the whole thing is over with.
None of this should be all that surprising. As the article notes, going back at least 20 years at least, you can find that hosting the Olympics rarely benefited the economy of the host nation or the host city, and if you want to find an Olympics that turned into a total fiscal disaster then Montreal in 1976 fits the bill nicely. Indeed, with rare exceptions like Los Angeles 1984 an Atlanta 1996, it's become a rarity for them to break even on all the expenses incurred over the course of four or more years to build venues and upgrade infrastructure. Nobody should be surprised that it's happening again in London, and that it's likely to happen again in Rio De Janeiro in 2016. Much like the stadiums that sports teams here in the United States continually sucker taxpayers into paying for, there's just no evidence that hosting this massive two-week long spectacle brings any tangible benefits to the host.
That's why I've always thought that Chicago actually dodged a bullet by losing out on the 2016 Olympics. The expenses they would've had to incur to be ready for the Olympics clearly never would've been recovered, and it's quite likely that Chicagoans would do the same thing Londoners have and get the heck out of town for two weeks rather than deal with the crush of international media, athletes, and tourists actually attending the games. Let Rio deal with the problems and Chicago will have a much more pleasant August 2016.
Photo via The Mirror