Not Will Rogers' Democratic Party
The case of Katie Porter's committee assignments.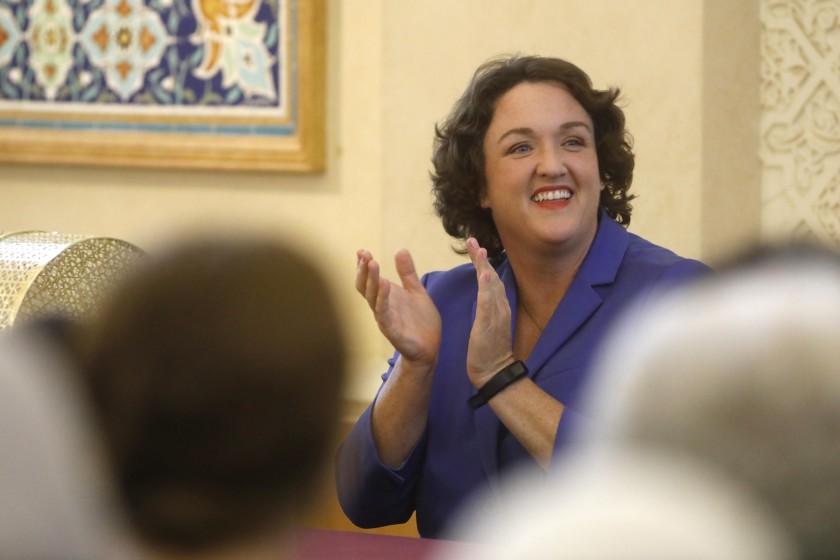 The humorist and social commentator Will Rogers famously quipped, "I'm not a member of any organized political party…. I'm a Democrat." While Democrats still like to complain that they're less organized and ruthless than their Republican counterparts, the opposite may actually be true.
The LA Times ("Democrats loved Katie Porter when she bashed Trump. Now she is making them squirm"):
Democrats loved watching Orange County Rep. Katie Porter skewer Trump administration appointees and corporate executives in congressional hearings.
But it felt different when Porter's progressive passion and impatience for convention turned to them.

Just as she wielded a whiteboard and sharp questioning to expose the flaws and outdated thinking she saw in Postal Service management or the nation's COVID-19 testing system, Porter recently took aim at House Democrats' rules and traditions for what is usually a behind-the-scenes competition to determine which lawmakers sit on which coveted committees.

It was a calculated high-stakes gamble that resulted in Porter not returning this year to sit on the Financial Services Committee, one of the House's most sought-after panels and one for which the former bankruptcy and consumer law professor was highly suited.

Her sharp-elbowed maneuvering and willingness to publicly confront party leaders like Speaker Nancy Pelosi (D-San Francisco) and Los Angeles Rep. Maxine Waters underscored the brash determination that made Porter the surprise national standout of California's 2018 House freshman class — and a strong contender for the U.S. Senate someday.

But in an institution fueled by seniority and relationships — especially within one's own party — Porter's tendency to ruffle feathers could cost her the allies she will need in the future in order to get legislation approved.

In an interview, Porter expressed no regrets that her actions might have cost her support. In some ways, she may have felt she had nothing to lose. None of her progressive bills made it through the Democratic-controlled Financial Services Committee in her first term, a factor in her decision to focus more on oversight.

"That was a big concern for me as a front-liner," she said, using the Democrats' term for a politically vulnerable member, "and as somebody who's very committed to governance and to doing the work."
POLITICO's Playbook observes,
This story is another reminder of how different the Democratic Party is from the GOP — not merely on ideals but in terms of how they operate on Capitol Hill. Congressional Republicans routinely cause problems for their leadership; it's almost expected. But Democratic members can be punished for stepping out of line.
This may seem an odd observation, especially given the degree to which Mitch McConnell has managed to hold his caucus in near-lockstep for more than a decade in the body that's notoriously harder to manage. Still, the House Republican leadership has not really figured out to handle disputes, whether it's Liz Cheney's independence on Trump while being part of said leadership team or what to do with kooks like Marjorie Taylor Greene.
Still, while Pelosi is demonstrably better than recent Republican counterparts in managing her caucus, even she doesn't rule with an iron fist:
Though she will no longer serve on one of the House Democrats' four "exclusive" committees, Porter did not walk away empty-handed. She will continue to be on the House Oversight Committee, the body's top investigations panel, where her knack for cutting to the chase and simplifying complex issues will come in handy.

Porter also picked up a subcommittee oversight gavel on the House Natural Resources Committee, and she's already announced plans to go after polluters and oil and gas companies.
So, a message was sent but she left with her pride intact.
Hat tip: Taegan Goddard