Noted Historian Rick Santorum Retcons The Crusades
Former Pennsylvania Senator Rick Santorum thinks we've been too hard on the Crusaders.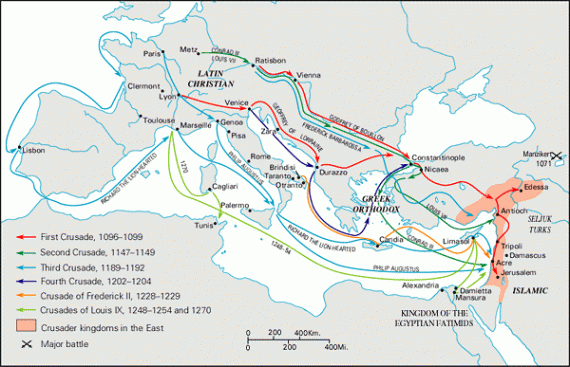 Former Pennsylvania Senator Rick Santorum thinks we've been too hard on the Crusaders:
"The idea that the Crusades and the fight of Christendom against Islam is somehow an aggression on our part is absolutely anti-historical," Santorum said. "And that is what the perception is by the American left who hates Christendom. They hate Christendom. They hate Western civilization at the core. That's the problem."
There is a narrow sense in which one could make this argument with a straight face: The Crusades began in response to requests for help by the Christian Byzantine emperor Alexios I in defending against incursions into Anatolia by Muslim Seljuk Turks. A century of fighting such advancement along the borders of Christian Europe certainly created the conditions for Pope Urban II to agree. But that's about as far as it goes.
Over the course of two centuries and nine crusades, Catholic forces launched campaigns not only to "defend Christendom," but also for purely economic and political reasons. Crusaders not only fought Muslims in Palestine, but "pagan Slavs, pagan Balts, Jews, Russian and Greek Orthodox Christians, Mongols, Cathars, Hussites, Waldensians, Old Prussians, and political enemies of the various popes." Even leaving aside the depredations within Europe (not to mention without) that Crusaders committed from the very start, by the time they were petering out, they'd long since stopped being primarily about defending Christendom in any but the purely rhetorical sense.
Taking or retaking Jerusalem was often, though not always, a factor in ginning up support and troops for a Crusade. One might even convince oneself that Christian Europe was trying to hold the line against Islamic expansionism. But that rationale doesn't extend to Germans and Swedes launching Crusades to convert their neighbours by the sword, attempts to establish commercial supremacy, or bringing fellow Roman Catholic Stedingers to heel with the blessing of the Pope.
The context of Santorum's remarks are not given, so it's possible that the apparent revisionism isn't as dramatic as it seems. But it's hard to imagine how more detail could redeem an attempt to cast two centuries of intermittent waves of warfare in almost every direction, against almost every conceivable enemy, as a purely defensive struggle from being what it appears to be: Nonsense of the first order.