NPR Downsizing to Survive
A significant cut to staff and programming to stay afloat.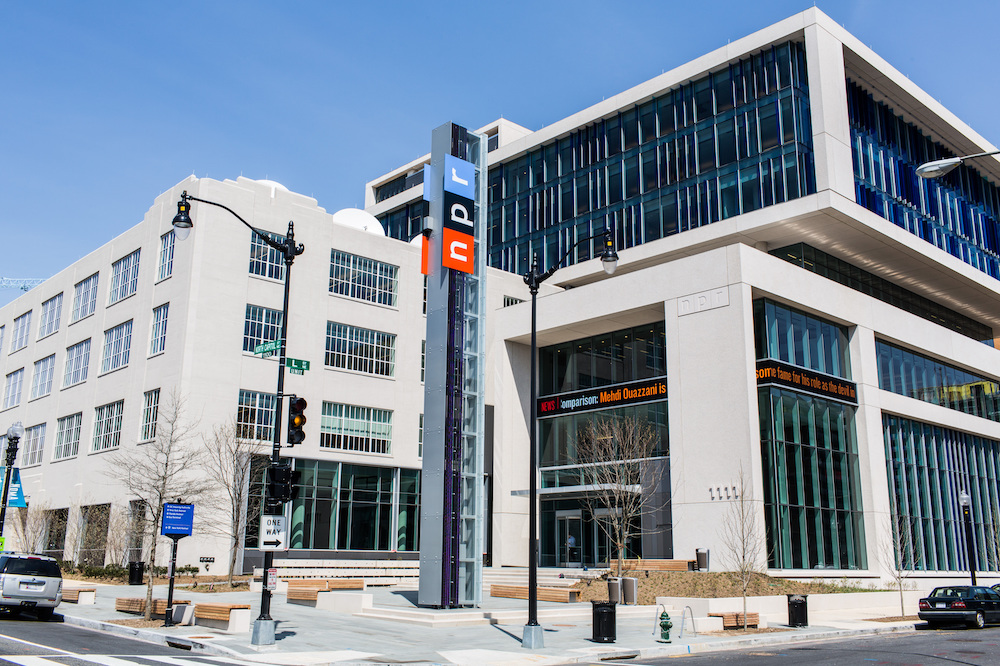 NPR ("NPR cancels 4 podcasts amid major layoffs"):
NPR moved this week to cut 10 percent of its staff and stop production of a trio of acclaimed seasonal podcasts — Invisibilia, Louder Than a Riot and Rough Translation — as it seeks to close a yawning budget gap that stands in excess of $30 million.

The network also canceled a comedy podcast unveiled just a year ago called Everyone & Their Mom, a spinoff of the mainstay radio program Wait Wait Don't Tell Me.

"We literally are fighting to secure the future of NPR at this very moment by restructuring our cost structure. It's that important," NPR chief executive John Lansing said in an interview. "It's existential."

Lansing said the network sought to protect its core public service mission of journalism while preserving what he calls its "North Star." Since joining NPR four years ago, Lansing has pushed to ensure the network has a bigger and broader audience base, rooted in younger and more diverse listeners, readers and consumers who will serve as the next generation of NPR supporters.

A number of long-time NPR staffers have chosen to leave. Some familiar voices are among them, including Senior European Correspondent Sylvia Poggioli, who has been with NPR for 41 years. The network has not made any specific announcements, however, choosing instead to let those departing decide how to share the news.

The layoffs also affect people who work behind the scenes to produce the shows and podcasts, design visual elements for the web, conduct audience research, and do the myriad other functions required of a major news network. National Public Media, NPR's ad-services arm owned jointly with PBS and WGBH in Boston, is not included in this round of layoffs because it went through its own downsizing earlier this year, Lansing said.

Lansing said that executives moved quickly as the scope of the problems became more evident — NPR in November froze most vacant positions and sharply reduced travel — so a full strategic overhaul was not possible. But the network is unifying its newsroom and programming division, which makes most of NPR's podcasts. Lansing said the current separation artificially cleaved NPR's journalism and editorial creations.
In the grand scheme of the US federal budget, $30 million isn't even a rounding error, much less a "yawning gap." But, despite being created (along with PBS) by an act of Congress more than half a century ago, it's organized as a non-profit and is expected to be mostly self-sustaining, relying on licensing fees for its programming, corporate sponsorships, pledge drives, and the like to stay in business. It gets essentially no money from the Corporation for Public Broadcasting.
While I became a fairly regular NPR listener more than three decades ago, when I was in graduate school, I was long skeptical of the need for government subsidy. After all, the free market was providing a near-infinite supply of news content, increasingly free to anyone with an Internet connection and included the deal for anyone with a cable or satellite subscription. The steady race to the bottom in the news industry, with all but a handful of brands prioritizing clicks over quality, ultimately changed my mind on that front.
At the same time, the nature of these layoffs demonstrates that NPR has, to some degree, lost its "North Star." While I find shows like Wait Wait Don't Tell Me and the old Car Talk entertaining, it's not obvious why they need to be on public radio. The canceled podcasts seem, similarly, to be things that other outlets can do. The podcast space is incredibly crowded as it is.
There's a need for high-quality journalism that isn't under pressure to fan the flames of outrage or otherwise jump on stories that have natural viewer appeal. Shows like Morning Edition, All Things Considered, or the NPR Politics Podcast are worth saving. Alas, they're widely assailed from the right as "hopelessly biased," leading to constant calls to strip their meager public subsidy.