NWS Revised Forecasts to Smaller Snowstorm But Didn't Tell Public
The National Weather Service didn't want to confuse the public by changing the forecast at the last minute.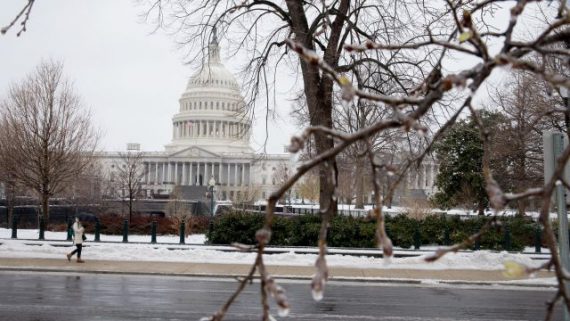 Interesting from AP: "WEATHER SERVICE DECIDED LAST MINUTE NOT TO CUT SNOW FORECAST"
Before the first snow fell, U.S. meteorologists realized there was a good chance the late-winter storm wasn't going to produce giant snow totals in big Northeast cities as predicted.

But they didn't change their forecasts because they said they didn't want to confuse the public.

National Weather Service meteorologists in Boston, New York, Philadelphia and Washington held a conference call Monday afternoon about computer models that dramatically cut predicted snow amounts. They decided to keep the super snowy warnings.

"Out of extreme caution we decided to stick with higher amounts," Greg Carbin, chief of forecast operations at the Weather Prediction Center in suburban Maryland, told The Associated Press. "I actually think in the overall scheme that the actions (by states and cities) taken in advance of the event were exceptional."

On Monday, the weather service predicted 18 to 24 inches of snow in New York City. By late Tuesday afternoon, Central Park was covered with a little more than 7 inches of snow with rain and sleet still falling. Other areas, including upstate New York and Connecticut, received more than a foot and a half of snow. Swaths of Pennsylvania were walloped by 20 to 30 inches of snow.

Carbin said a last-minute change downgrading snowfall totals might have given people the wrong message that the storm was no longer a threat. It still was, but real danger was from ice and sleet in places like New York City and Washington, he said.
We got maybe an inch in the Virginia suburbs of DC where I live (I hasten to add, my neck of the woods had some of the lowest snowfalls in the area; other parts fo Fairfax County got nearly 3 inches) and even less further south in Quantico, where I work. Because the temperatures dropped so much overnight, it's likely to be more dangerous driving today than it was yesterday.
While I understand the NWS decision, I think it's short-sighted.
Television meteorologists and politicians and other officials already have every incentive to hype snow forecasts. The former, obviously, because it draws eyeballs. The latter, because the costs of being wrong in underprediction are far lower than the reverse. If we close schools and warn people off the roads and then get a modest snowfall, people will grumble and make fun of you for overreacting. If we decide to operate under normal conditions and get people stranded on the roads or at school—or worse, get people killed on slick roads—it's a catastrophe.
We don't need to add further incentive to be overcautious by sticking with forecasts that the experts believe to be exaggerated. The key, I think, is dialogue with the public about the variables:
"The nature of the beast is that there's always uncertainty in every forecast and we have to get better at describing that," Carbin said.

The right amount of precipitation fell, but it came down as rain and sleet because the rain-snow line moved inland, according to Carbin and private forecasters.
The NWS forecast should simply provide the best estimate that the model can provide and it should be presented as a range reflecting the uncertainty that comes from even small changes in temperature and wind direction. TV weathermen will still emphasize the high end of the range and politicians will likely lean in that direction as well—but we won't add to that trend by presenting the high end as the baseline.