NY GOP Candidate Exploiting "Ground Zero Mosque" Issue, But Getting No Traction
Rick Lazio is running for Governor of New York and he's found an issue in the so-called "Ground Zero Mosque," but it doesn't seem to be helping him in the polls.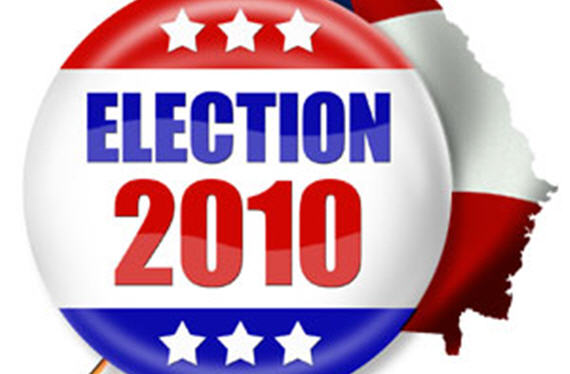 Rick Lazio is running for Governor of New York, and he's found an issue to run on in the controversy surrounding the controversy over the construction of a community center in Lower Manhattan:
At an office complex in the faded industrial town of Poughkeepsie, N.Y., recently, Rick A. Lazio, the former congressman from Long Island who is running for governor, had taken a series of standard jabs against political dysfunction in Albany and sky-high tax rates when he suddenly seemed to gain true traction with the crowd.

The issue was not the economy, or even his rival; it was the planned Muslim community center and mosque in Lower Manhattan. "We do not believe in turning our back on the victims of 9/11," he said to enthusiastic applause. As the Republican primary for the governor's race approaches, Mr. Lazio is making his vigorous opposition to the project a centerpiece of his candidacy, assailing it on the campaign trail, testifying against it at public hearings, denouncing it in television commercials and even creating an online petition demanding an investigation into the center and its organizers. "Defend New York," says the giant headline above the petition on his Web site.

As a dominant New York voice against the center, Mr. Lazio has attracted a burst of public attention to a campaign that had failed to gather much momentum, overshadowed by the money and muscle of his Democratic rival, Attorney General Andrew M. Cuomo.

The occasional voter has now taken to stopping Mr. Lazio in the street to urge him on, and any number of others have stocked his campaign's Web site with letters of support made public by Mr. Lazio's aides. "Rick's got my vote," wrote one New Yorker, after seeing Mr. Lazio's latest commercial about the center.

Mr. Lazio's relentless opposition to the project — he again attacked the imam behind it during an appearance Sunday on NBC's "Meet the Press" — is, above all, aimed at Republican primary voters, analysts say. But it risks alienating moderates who could prove crucial in a general election. And it certainly is infuriating many Muslim leaders, who say he is preying on the worst fears of voters; and provoking a backlash from some influential voices in the community of Sept. 11 emergency workers, who say he is exploiting the tragedy.

Nevertheless, Mr. Lazio is pushing ahead with the strategy, even breaking what has been, until now, something of an unwritten rule of politics in New York: never to use images of Sept. 11 in campaign advertisements.
As I noted on Friday, Lazio is now out with a web ad where he uses 9/11 imagery and goads Andrew Cuomo, his Democratic opponent, to take a stand on the mosque issue. So far, Cuomo has not responded, and there's no indication that Lazio's decision to take up the mosque as a campaign issue has had an appreciable impact on the race:
The first politician for a major elected office who came out against the "ground zero mosque" was Rick Lazio, the man who lost the New York U.S. Senate race to Hillary Clinton in 2000, who's making a comeback bid to run for governor. Lazio asked for a mosque probe more than a month ago, challenged frontrunner Andrew Cuomo to a debate about the mosque — basically, he's milked it for all it's worth.

So what does it mean that this isn't helping Lazio at all?

The new Siena Poll finds that New Yorkers (everyone in the state) oppose the mosque by a 63-27 margin; they defend the constitutional right to build it by a 64-28 margin. At the same time, Lazio trails Cuomo by 34 points. He's down 2 points — within the margin of error, but not what you'd expect if the Great Mosque Debate of 2010 was hitting home.
Indeed not. For the most part, this race is in the same place it's been for months, and nothing Lazio has said regarding the "Ground Zero Mosque" has done anything to change that: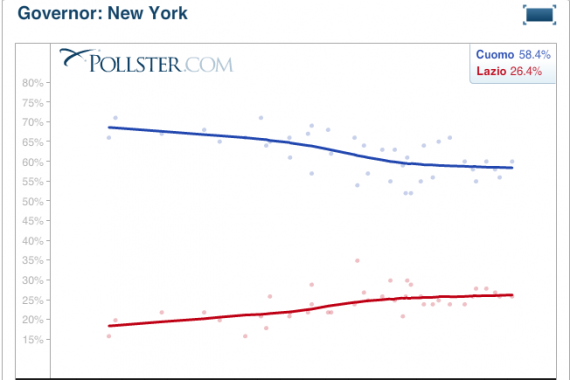 Lazio has a Republican primary to get through before he faces Cuomo in November, but he's leading that race by a fairly health margin and, if anything his stance on the mosque is actually moderate compared to that of his primary opponent, who wants to use eminent domain to take the Park 51 property away from its owners.
No doubt, Lazio will continue demagouging the mosque issue, he really has nothing to lose at this point, but it seems fairly clear that it's providing no benefit to him in the polls. Good.