NYC School Labels 66-Pound Girl 'Fat'
According to the New York City Public Schools, this girl is fat.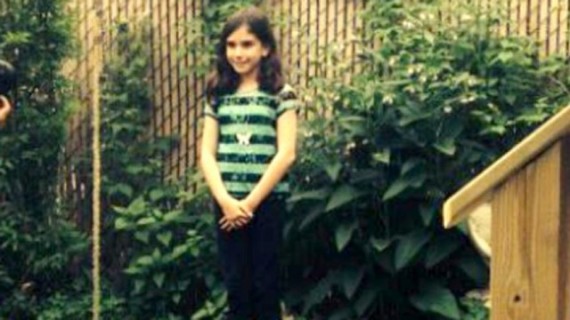 A New York City mother is quite upset with her daughter's school after receiving a letter labeling the child as overweight despite the fact that there's no apparent sign the girl has any weight problem at all:
A New York City mom was fit to be tied Wednesday after her 4-foot-1, 66-pound daughter came home from school with a note calling her fat.

Eight-year-old Gwendolyn Williams is anything but fat, but her mom worries that the school's note, citing her body mass index, has left her daughter confused about her body.

"My daughter is thin; she knows she doesn't have a weight problem, but that night, I caught her grabbing the skin near her waist, and she asked me, 'is this what they were talking about?"' Laura Bruiji Williams, the girl's mom, told FoxNews.com. "It was awful to see."

Gwendolyn, along with her classmates, were handed a "Fitnessgram" sealed with a sticker at her public school in Brooklyn. The class was told not to open the letters, issued by the New York City Department of Education, but like most of her friends, she couldn't resist and read it.

"Some of her friends found out they were obese," her mom said. "They were crying."

The New York Post first reported that Williams approached the school's principal to complain about the letter. The principal was sympathetic, but reiterated that students were given the instructions not to read the letter.

The so-called "Fitnessgrams" are issued annually in New York City by the department. They are intended to assess students from grades K-12 to help support lifelong health, according to the department's website. About 870,000 students each year take home these reports.

"With body image such an issue, it's amazing to me that these letters weren't mailed to parents," she said. "What kid's not going to open that?"

The BMI report value in assessing health has been criticized. Gwendolyn is 4'1 and weighs 66 pounds.
Oddly, according to this BMI calculator available online someone who is 4'1" and weighs 66 points has a BMI of 19.3, which is on the lower end of what is considered "normal weight." So, unless there is some different method of calculating BMI for children, there doesn't even seem to be any basis under the so-called "science" of BMI for calling this girl overweight in any sense of the word. Beyond that, though, this incident strikes me as nuts for two other reasons.
First of all, the idea that kids wouldn't open a report like this given to them to give to their parents is simply absurd. Kids are naturally curious and, given a note their told not to open on a subject that many of them no doubt consider intensely personal even at that young age, they're going to open it. Exactly how a school district bureaucrat thinks it would be a good idea for a kid to see an official pronouncement from the government that they're fat is beyond me. If they wanted this to be private, then they should have emailed or mailed it to the parents directly.
Second, I'm not really sure that it's appropriate for schools to be making pronouncements like this in the first place. The question about the health of a child, and whether or not they are a healthy weight, is more appropriately a discussion between parents and pediatricians, not parents and school bureaucrats. Yes, it is true that there are childhood obesity problems, especially in low income neighborhoods, and that many of these kids don't have regular doctor's visits. However, it seems to me as though this is yet another example of how educators are being forced by government to move beyond their traditional and appropriate role of, well, educating children, and being turned into agents of the Nanny State. At the very least, putting them in that role turns the relationship between parents and schools into one that is potentially far more adversarial than it needs to be, and that can't be good for the children involved.
In any case, though, I think we can all agree that school districts shouldn't be telling children directly that they're fat, even if they are, and that in this particular case the idea that Gwendolyn is fat in any sense of the word is just utterly absurd.
H/T: Jazz Shaw