NYC Taxis Disappear at 4
Defying logic, New York City taxis are least available when they're most needed: as people are getting off work.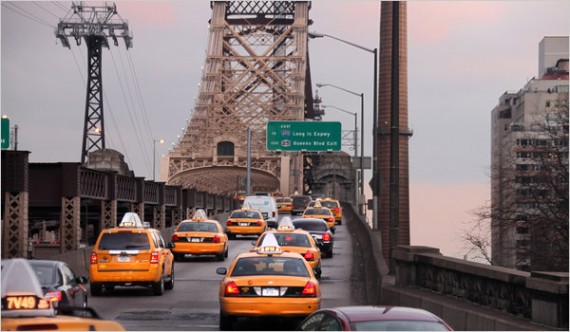 Defying logic, New York City taxis are least available when they're most needed:  as people are getting off work and ready to go home.   Michael Grynbaum for NYT:
There is new data to confirm what generations of New Yorkers have long known in their bones: just as the afternoon rush is about to begin, the taxicabs disappear by the hundreds.

From 4 to 5 p.m., the traditional hour for cabs to change shifts, the number of active taxicabs on the streets falls by nearly 20 percent compared with an hour before, according to a city review of GPS records taken from thousands of cab trips over the past year.

In fact, the number of cabs that pick up at least two fares during that taxicab witching hour is the lowest of any hour between 7 a.m. and midnight, the data show. This vanishing trend turned up in the data regardless of time of year or day of the week.
So, why on earth would they do the switchover at such a maddening time?  Indeed, why not have overlapping shifts this hour, increasing the supply of cabs when demand is at its peak?
The explanation for the 5 p.m. dip is steeped in the history and economics of the taxi industry. Many taxicabs are used by two drivers a day, each working a 12-hour shift. To ensure that each leg is equally attractive, taxi owners schedule the shift change in the middle of the afternoon, so each shift gets a rush hour.

But the switch cannot happen too early, either: a 2 p.m. changeover, for instance, would require a day driver to start his 12-hour shifts in the wee hours of the morning. And cabbies say the midafternoon offers brisk business not evident 12 hours later, when fares mainly consist of late-night revelers.

Hence the 5 p.m. compromise. When the changeover became standard, its timing did not pose a big problem for passengers. Many taxi garages were situated on the Far West Side of Manhattan, requiring cabs to make only a short trip to 11th Avenue before heading back to Midtown with a fresh driver.

But in the 1980s, as commercial rents rose, taxi fleets began migrating across the East River, particularly to Long Island City, Queens. The 5 p.m. shift change now included a journey over the often-packed Queensboro Bridge, not to mention the return slog to the city. Drivers started going off duty between 4 and 4:30 p.m., to ensure that they had enough time to make it to the garage; even today, tardy cabbies can be hit with a $30 fine.

If the system changed, "I'd be very upset," Youssef Kamel, 34, a day driver from Brooklyn, said the other day. Mr. Kamel was at the BP station on Houston Street, which is among several places that serve as transfer points for driver-owned taxicabs, unaffiliated with a fleet. The gas station gets so busy after 4 p.m. on weekdays, with dozens of cabs gassing up and changing drivers, that managers wave off private automobiles, asking them to return after 5.
Fascinating.  Here, the free market provides maddeningly suboptimal service for customers.  Not because greedy businesses are screwing them but because it's in the best interests of the employees.
Apparently, the trend is easing as more taxis become driver-owned and thus not shared.