Obama Administration: Buffett Rule About Fairness, Not Budget
The Obama administration admits its push for the "Buffett Rule" is not about dealing with our budget woes.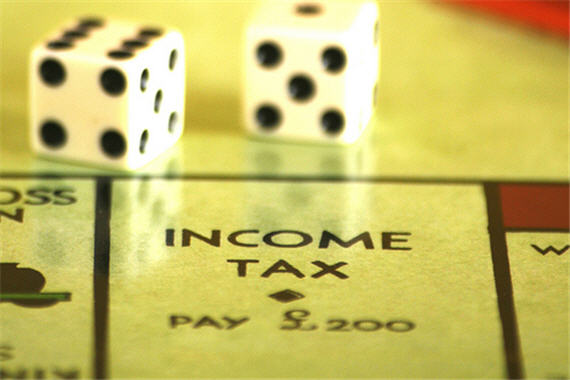 The Obama administration admits its push for the "Buffett Rule" is about "fairness" rather than dealing with our budget woes.
Politico ("Buffett rule not solution to debt, W.H. says"):
The Obama administration is emphasizing "fairness" over deficit reduction in its renewed pitch for the "Buffett rule" ahead of next week's scheduled Senate vote.

Introducing a minimum 30 percent income tax on millionaires "was never our plan to bring the deficit down and get the debt under control," Jason Furman, the principal deputy director of the White House National Economic Council, told reporters on a conference call Monday afternoon. "This is not the president's entire tax plan. We're not trying to say this solves all our economic problems, all our budget problems."

Making the argument for the rule based on billionaire investor Warren Buffett's argument that it's wrong for him to pay a lower tax rate than his secretary, President Barack Obama said in the State of the Union address in January that paying the "fair share of taxes" was necessary for a "sense of shared responsibility. That's how we'll reduce our deficit."

[…]

Republicans have dismissed the proposal as a crass campaign stunt, because it won't raise much revenue to pay down government debt after three straight years of deficits exceeding $1 trillion.

Sen. Orrin Hatch (R-Utah) slammed the bill late last month, after the congressional Joint Committee on Taxation estimated the rule would generate $46.7 billion in revenues over the next decade. "It was designed for no other reason than politics — there is no economic rationale for it," Hatch said in a statement. "I hope the president will stop the class warfare and start leading by putting out real proposals to bring down our debt."
While $46.7 billion is real money, an additional $4.67 billion a year in revenues won't cover the Pentagon's toilet paper expenditures.* So, yes, this is about political symbolism moreso than fiscal responsibility.
As to the symbolism, it strikes me as pretty silly. I actually agree with the president and Warren Buffett that Warren Buffett (and Mitt Romney!) are taxed too little. But that's a function of stupid rules in our tax code–granted, rules for which people like Buffett and Romney lobbied–not an overall policy.
A post-hoc rule that says that, if your gross revenue exceeds a given threshold, you owe the federal treasury 30 percent of your gross revenue strikes me as unfair. While our tax code is far too complex and contains far too many loopholes, many of which are a direct result of rent seeking, it seems reasonable that everyone should be treated equally under the code. So, if a person making $30,000 a year is eligible to deduct mortgage interest on his primary residence, the cost of college tuition for his kids, and so forth, so should a person making $300,000 a year or even $300,000,000 a year.
The reason that Buffett and Romney pay such a small percentage of their income in taxes is because we've chosen to tax capital gains differently and, more perniciously, allow those in the finance sector to treat their investment of other people's money as if they were risking their own money. It would be much more honest–if perhaps not as good a campaign stunt–to propose changing those rules and then debate that over the next several months.
UPDATE: Josh Barro decries "The Arbitrariness of the Buffett Rule." The upshot is that it doesn't even achieve what it sets out to do: ensuring that people who earn a ton of money pay 30 percent of their wages into the Federal Treasury.
Imagine that you're a rich person who owns a bunch of income producing real estate. Your income from this real estate is several million dollars a year. Maybe you own the properties directly, or maybe you hold shares in a Real Estate Investment Trust. Either way, your real estate holdings are taxed on a pass-through basis: no income tax is paid at the property level, and you pay personal income tax at ordinary income rates. Since you make so much money, you're paying tax on that income at the top rate of 35 percent. The Buffett Rule doesn't affect you.

Now imagine that you own a successful medium-sized business, with several million dollars a year in net income. Because you own this business by yourself (or with just a handful of partners) you have organized it as an S-corporation, which is a pass-through entity. The business pays no corporate income tax, and you pay personal income tax on your share of the profits at ordinary income rates. Again, you're taxed at 35 percent, and the Buffett Rule doesn't affect you.

Or imagine that you own a really large business, but you've found a way to organize it as an S-corp. Maybe you're Sam Zell, in an alternate universe where the Tribune Company acquisition wasn't a disaster. You also pay tax at 35 percent and have no Buffett Rule concerns.

But now imagine that you own a large chunk of a C-corporation. Your profits are taxed twice, but at lower rates. Over the last ten years, federal corporate income tax collections have amounted to 21.8 percent of corporate profits, as measured by the Bureau of Economic Analysis. Then, when you realize those profits (either as dividends or as a capital gain on sale) you will have to pay a further 15 percent in tax. These combine for an effective tax rate of 33.5 percent, very close to the above situations, and your slight federal tax advantage is likely offset by a disadvantage at the state level.

But unlike your rich friends above, the Buffett Rule would turn your world upside down. Raising your personal income tax rate on dividend and capital gain income to 30 percent increases your effective tax rate to 45.3 percent. The Buffett Rule isn't just a big tax increase on the rich, it's a big distortion against corporate equities and in favor of other kinds of capital that rich people might own.
Again, the problem is that our tax code is ridiculously complicated. Some of the complication is part of rational public policy choices; most of it is a combination of rent seeking and policies that made sense in a different era but are now just loopholes to be exploited.
___________
*A bit of hyperbolic humor there but it's probably not that far from the truth. The only Pentagon line item under $4.67 billion is Family Housing, which is $3.1 billion a year, down 20 percent from the previous year. We spend nearly $2 billion a year de-commissioning old chemical munitions.