Obama And Putin's Awkward Encounter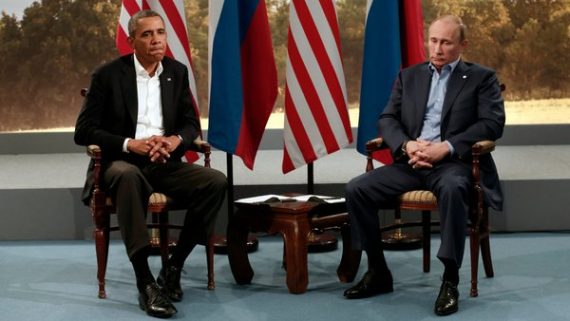 With Vladimir Putin in France along with other world leaders to mark the 70th anniversary of the D-Day Invasion, there was much speculation about whether or not he and President Obama would end up meeting at some point. Based on how things are going so far, I wouldn't be too optimistic:
The leaders were attending a luncheon hosted by French President Francois Hollande after the morning's D-Day ceremonies. The two leaders were "at times close enough to touch but did not speak with or acknowledge each other in the pool's presence," according to a White House pool report.

Obama and Putin were separated by just three people when all the leaders attending the lunch gathered for a family photo, according to the report. Their lack of interaction became even more pronounced as the leaders shuffled around for a re-shoot. Here's the scene:

After the photograph, everyone began moving off but for some reason they got called back to reassemble in the same positions and take it again. Potus made a point of jovially greeting other leaders, kissing Merkel on both cheeks, but he and Putin seemed to go out of their way not to encounter each other. As the leaders began making their way toward the chateau, Potus lingered to make sure Queen Elizabeth was okay while Putin moved ahead chatting with Hollande. At one point as the crowd moseyed slowly toward the building, Obama was right behind Putin and could have tapped him on the shoulder if he wanted to but instead focused his attention elsewhere as if not noticing who was there.
As it turns out, Obama and Putin did meet later during the luncheon, sort of:
President Barack Obama and Russian President Vladimir Putin shared what the White House called "an informal conversation" Friday on the sidelines of a Normandy lunch marking the 70th anniversary of D-Day.

The brief talk, which lasted 10 to 15 minutes, according to deputy national security adviser Ben Rhodes, was the first face-to-face meeting the two have had since the crisis in Ukraine frayed already tense ties between the United States and Russia.

Rhodes described it as "an informal conversation — not a formal bilateral meeting" and said that the White House would later provide a readout of the discussion.
So they talked, but they didn't really talk-talk.