Obama Awards 24 Medals Of Honor To Overlooked Veterans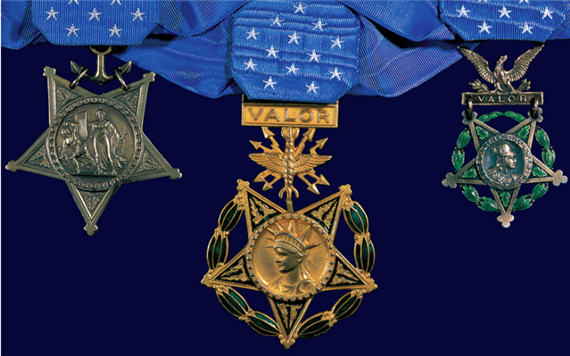 Today at the White House, an historical error is being corrected:
At the White House today, 24 people, three of them living, are receiving the Medal of Honor for their valor in wars of past decades.

President Obama will present the awards in recognition of their actions in World War II, Vietnam and Korea. The Medal of Honor will be presented posthumously to the families of 21 soldiers who have died.

Each of the soldiers previously received the Distinguished Service Cross, the nation's second highest military award. That award will be upgraded to the Medal of Honor in recognition of their gallantry, intrepidity and heroism above and beyond the call of duty.

Congress, through the Defense Authorization Act, called for a review in 2002 of Jewish American and Hispanic American veteran war records from WWII, the Korean War and the Vietnam War, to ensure those deserving the Medal of Honor were not denied because of prejudice.

During the review, records of several soldiers of neither Jewish nor Hispanic descent were also found to have criteria worthy of the Medal of Honor. The 2002 Act was amended to allow these soldiers to be honored with the upgrade, in addition to the Jewish and Hispanic-American soldiers.
Details on each of the 24 recipients can be found at the link, including details of the engagements for which they are receiving their long overdue recognition.