Obama Campaign Raises $42,000,000 During Final Quarter Of 2011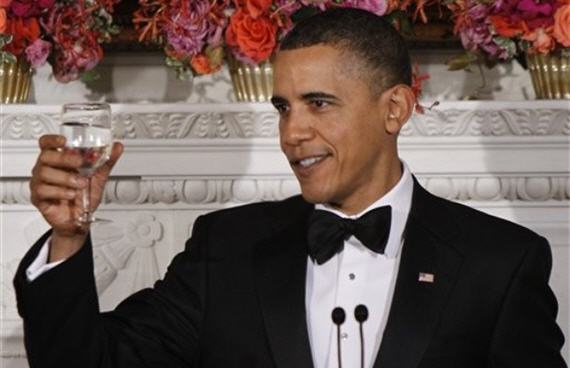 The Obama Campaign nearly doubled the fundraising haul of the Republican frontrunner during the final quarter of 2011:
WASHINGTON — President Obama's presidential campaign raised $42 million during the final three months of 2011, giving him what his campaign manager called a "pretty good quarter" going into his re-election year.

In an e-mail to supporters Thursday morning, Jim Messina, the campaign manager, reported that the Democratic National Committee also raised an additional $24 million for a total of $66 million that can be used for the presidential campaign.

"That's a pretty good start," Mr. Messina said in a video on the campaign's Web site. He added that 583,000 people donated to the campaign in the quarter, including more than 200,000 who had never contributed to the president in the past.

The contributions are helping to finance a huge, national campaign infrastructure that the president's team is building even as the Republican contest to pick a nominee is now fully underway.

At a fund-raiser in Chicago Wednesday night, Mr. Obama told donors and supporters that "I'm going to need all of you just as much now, more now than I needed you in 2008."
That brings the total combined fundraising haul for Obama 2012 and the DNC in 2011 to $222 million, impressive but short of the record set by Bush/Cheney and the RNC in 2003:
The Obama campaign and Democratic National Committee raked in a combined $68 million in fourth quarter, bringing its total 2011 haul to $222 million — an impressive take, but not quite up to the blistering pace set by the Bush-Cheney reelection machine over the same period.

The contributions exceed the $60 million number floated by campaign officials but represent a small drop-off from the $70.1 million Obama-DNC receipts collected in the previous three months.

Of the October-to-December cash, $42 million went to Obama's coffers, with $24 million headed to the DNC — a bit less than the $70.4 million raised by the Bush-Cheney-RNC campaigns in late 2003.

(…)

In 2003, Bush-Cheney, combined with the Republican National Committee, took in about $239 million, not adjusted for inflation.
Clearly, Obama and the DNC are going to end up raising more money than their Republican rivals by the time this race is over. In the era of SuperPAC's though, one wonders how much it matters.