Obama Continues Slipping In Public Opinion Polls
Time to start talking about lame ducks?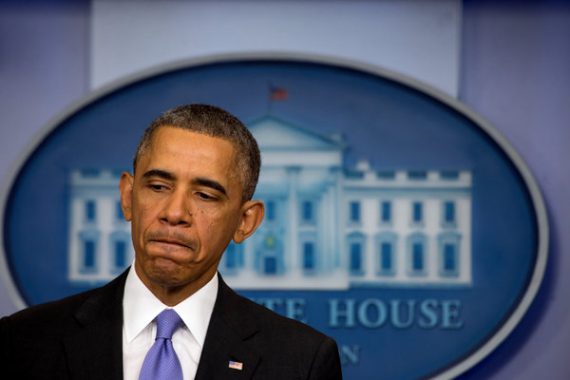 As I've noted before, President Obama's approval and favorability numbers began taking a serious dive after reports of the error filled roll out of the Affordable Care Act, and related issues such as the large number of people receiving notices that their individual health insurance policies were being canceled, began to fill the media airwaves after the government shutdown ended in mid-October. Of greatest concern to the President in many of those polls wasn't just the fact that his job approval numbers were hitting new lows, a problem he'd faced before and which all Presidents tend to face at one or more points during their Presidency, but also the fact that polling was indicating that the public was beginning to doubt his trustworthiness and leadership skills. Historically, those numbers have proven far more difficult for Presidents to turn around than simple job approval and, once lost, they tend to cause problems not just for the President's agenda, but also for his political party as it heads into the last midterm elections of his time in office. To a large degree, of course, this was all tied into the problems that his signature legislation was facing and the conventional wisdom has been that the President could make up some of this dip if things started turning around with regard to the implementation of the PPACA. Based on a new series of polls, though, there doesn't seem to be any evidence yet that things are significantly turning in the Presidents favor.
First up, there's a new Quinnipiac University poll showing President Obama's job approval hitting a new low:
President Barack Obama's job approval among American voters drops to a new low, a negative 38 – 57 percent, as the outlook for Democrats running for Congress and the U.S. Senate fades also, according to a national poll released today. He even gets a negative 41 – 49 percent among voters 18 to 29 years old and a lackluster 50 – 43 percent approval among Hispanic voters.

The president's job approval compares to a negative 39 – 54 percent score in a November 12 survey by the independent Quinnipiac (KWIN-uh-pe-ack) University.

Today, Obama gets negative scores of 6 – 92 percent among Republicans, 30 – 62 percent among independent voters, 31 – 64 percent among men, 44 – 49 percent among women and 29 – 65 among white voters. Approval is 76 – 18 percent among Democrats and 85 – 9 percent among black voters.

American voters say 41 – 38 percent that they would vote for a Republican over a Democrat for the U.S. House of Representatives, the first time this year the Democrats come up on the short end of this generic ballot. Independent voters back Republican candidates 41 – 28 percent. Voters also say 47 – 42 percent that they would like to see Republicans gain control of the U.S. Senate and the House. Independent voters go Republican 50 – 35 percent for each.
The new NBC News/Wall Street Journal poll also puts the President's job approval at a new low:
A new NBC News/Wall Street Journal poll finds that more Americans disapprove of the president's job performance than ever before; half say they're either disappointed or dissatisfied with his presidency and 54 percent believe he's facing a long-term setback.

Perhaps more significantly, Obama has seen a drop in key presidential attributes.

Just 28 percent give the president high grades for being able to achieve his goals (down 16 points from January); only 37 percent give him high marks for being honest and straightforward (down 5 points from June); and 44 percent give him high marks for being able to handle a crisis (down another 5 points since June).

"These are tough and sobering numbers for the president and his administration," said Democratic pollster Fred Yang, who conducted the survey with Republican pollster Bill McInturff.

While the past year has presented Obama with several different challenges – the political targeting scandal inside the Internal Revenue Service, the leaking of National Security Agency information, the government shutdown in October – the main culprit for his current woes has been the troubled launch of his signature health care reform law, the Affordable Care Act.

Indeed, for the first time in the poll, a majority now views the health law as a bad idea instead of a good one."Make no mistake, the president has been weighed down by one issue: his health care law," Yang adds.

(…)

According to the poll, Obama's overall job-approval rating stands at 43 percent, up 1 point from the previous NBC/WSJ survey conducted in late October, his lowest showing ever in the poll.

But 54 percent say they disapprove of his job, which is the highest mark in his presidency.

In addition, for the second straight survey, Obama's favorable/unfavorable score is a net-negative (42 percent positive, 46 percent negative).

And a combined 50 percent say they are either "disappointed" or "dissatisfied" with the president, versus a combined 28 percent who are "proud" or "satisfied."

Another 22 percent say they're mixed.

McInturff, the GOP pollster, compares these declining numbers to what happened to George W. Bush after his administration's failed response to Hurricane Katrina, explaining that Bush experienced a similar drop in job approval, in his favorable/unfavorable rating and in key presidential attributes.

"We have a long way to go in [Obama's] presidency," McInturff says. But he calls Obama's current poll numbers "a very critical inflection point."
Additional bad polling news can be found in newly released polls from Bloomberg News, the Associated Press, and McClatchy/Marist College, all of which show the President hitting the lowest numbers of his Presidency in job approval and other measurements. However, the news isn't all bad for the President. The Daily Tracking Polls from Gallup and Rasmussen show the President's job approval numbers as being slightly better than other polls do, although it's worth noting that Rasmussen's poll is a poll of "Likely Voters" while most of the other polls are polls of "Adults." Additionally, the new New York Times/CBS News polls shows a slight rebound for the President at least as measured by that poll:
WASHINGTON — President Obama's approval ratings, which hit his all-time low last month, have returned to where they were before the rollout of the health care law's enrollment process, but Americans still lack confidence in the White House's management of the Affordable Care Act, according to the latest New York Times/CBS News poll. The public's opinion of the law itself has improved after repairs to the enrollment website.

According to the poll, 42 percent of Americans now approve of Mr. Obama's overall performance, and 50 percent disapprove. That is not exactly good news for the president, but is better than his numbers in mid-November, after he admitted he had fumbled the rollout of the health care law's website. Then, just 37 percent approved and 57 percent disapproved in a CBS News poll.

The findings suggest that for Mr. Obama, the political fallout from the website's start-up might be over. The White House says the website, HealthCare.gov, is now functioning smoothly for most users.

But Americans do not appear to be convinced that the problems have been fixed. Just one in six Americans in the poll said the online insurance enrollment process was going very well or somewhat well.

And while more than a third perceived the website as having improved, a larger number — 44 percent — said it was neither getting better nor worse.

The success of HealthCare.gov — an online marketplace where consumers are supposed to be able to shop for insurance coverage, compare prices, determine if they are eligible for subsidies and enroll in plans — is crucial to the success of the Affordable Care Act.

Americans seem to be giving Mr. Obama a pass for the website's technical problems after it opened to the public on Oct. 1, according to follow-up interviews. Both Democrats and Republicans interviewed did fault Mr. Obama for what they viewed as flawed management decisions.

"I don't really put all the blame on the president," said Pete Brown, 56, a Republican from Edelstein, Ill., who said he disagreed with the health law's concept. "I mean, Obama isn't in the day-to-day activities. But he didn't put the right leadership overseeing it to get it into place. If it was going to be done, then it should have been done well."

Lise Colgan, 60, a Democrat from Cottage Grove, Ore., who approves of the health law, agreed. "I think the president could have been a little more hands-on with the botched rollout," she said, "but I don't blame him for technology failures."

The law itself remains unpopular; half of the respondents disapproved of the Affordable Care Act, while 39 percent approved, the poll found. But Americans seem to view the law more favorably now than a month ago, when 61 percent disapproved and just 31 percent approved.

(…)

Among Democrats, support of the president's performance of the issue jumped by 11 points from last month. Young people also appear to have returned to prior levels of support, with approval of his handling of health care up 14 points since last month among those ages 18 to 29.

Yet the troubles with the law's rollout may have wounded the president. About half of Americans say Mr. Obama is honest and trustworthy, a substantial drop from September 2012 and a figure unchanged from three weeks ago, when the website's problems dominated news reports. And about four in 10 say Mr. Obama shares their priorities for the country, a drop from when he first took office and also unchanged from three weeks ago.
The USA Today/Pew Research poll also shows the President's numbers seeming to stabilize, but the numbers for the PPACA continuing to slide:
A year-end USA TODAY/Pew Research Center Poll chronicles what a drag the Affordable Care Act has become on Obama's reputation, helping to drive down his standing as a trustworthy leader and one who can get things done to the lowest levels of his presidency. Disapproval of the health care law hits a new high.

In one of the few bright spots for the president in the survey, approval of his handling of the economy has surged by 11 percentage points in the space of a month, albeit to an anemic 42%. The improvement presumably reflects reports in recent days that the nation's jobless rate has declined, economic growth has picked up, and the stock market has soared.

The slide in Obama's overall job approval rating in the past five Pew polls has been stemmed, now at 45% approve-49% disapprove — not great, to be sure, but better than before.

(…)

In the poll, 54% disapprove of the health care law, 41% approve — the worst rating for the Affordable Care Act since it was enacted three and a half years ago. Some of the key groups that supporters hoped would rally behind the law aren't doing so, at least not yet. Forty-five percent of those without insurance approve of the law. Among those with incomes under $30,000 a year, the group most likely to qualify for federal subsidies, 43% approve. Forty-one percent of those under 30 and 44% of women approve.

What's more, Americans are inclined to view the problems the law has faced this fall as long-term problems that show fundamental flaws (50%) rather than short-term problems that can be resolved (44%).a

Rhetoric and public relations won't be enough to build support for Obamacare, cautions political scientist Jeffrey Cohen of Fordham University. "What will save Obamacare as a policy is its effectiveness, and nothing Obama says can do much about that."

(…)

Fifty-one percent of Americans say Obama is not a good manager. He receives the lowest ratings of his presidency on being able to get things done (43% say he can, down 14 points since the beginning of the year) and for being trustworthy (52%, down 14 points).

Though most Americans continue to call him a good communicator and someone who "cares about people like me," he has dropped on both measures. Only the judgment that he stands up for what he believes hasn't been dented.
Taking all of this together, we see that the RealClearPolitics average of the President's Job Approval shows him at 53.3% Disapprove and 42.3% Approve, precisely an 11 point margin. This is actually a slight improvement from the week before Thanksgiving, when the average showed nearly a 14 point gap between disapproval and approval. Nonetheless, the number of polls that show the President's numbers at record lows is quite extraordinary and, as noted above, the fact that each of these polls, even those that show slight improvement in job approval from their last iteration, also shows that respondents are expressing doubts about the Presidents trustworthiness and his leadership abilities, which suggests that the impact that the initial roll out of the Affordable Care Act had on that part of his legacy will be harder to heal than just a matter of getting a website to work right. Once voters start doubting that the President is telling them the truth, or that he isn't completely up to the task of leadership, it becomes difficult or that to be fixed easily and it has the potential to be a constant thorn in the side for the rest of a President's time in office.
The President, of course, doesn't need to directly worry about his job approval numbers at this point in his Presidency. He's not going to be running for reelection again, and he's going to be President until January 20, 2017 regardless of what his job approval numbers are at any given point in time. At the same time, though, the President's numbers are important to the extent that he wishes to advance his agenda to any significant degree over the next three years. In that regard, his primary concerns are both what impact his personal relationship with the public has on his party's fate in the upcoming midterm elections, and what impact that relationship might have on his ability to influence what happens on Capitol Hill even if his party manages to maintain control of the Senate. In that regard, it's worth noting that the Generic Congressional Ballot, which just two months ago and for most of the past year was showing a Democratic advantage, now shows a GOP advantage by 2.6 points: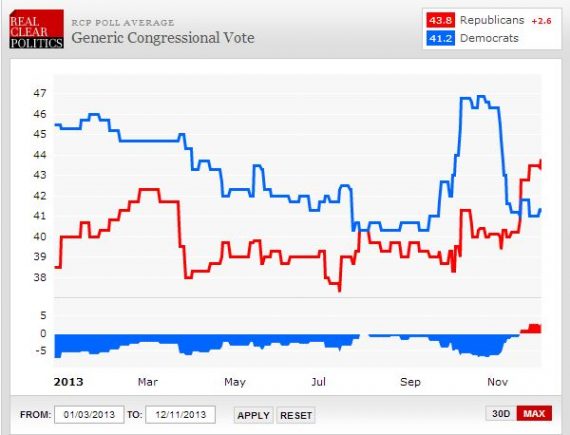 Now, as I've noted before, the Generic Ballot isn't always a good predictor of how the midterms will turn out, especially this far in advance. However, it's rather apparent that there has been a serious impact on the Democratic advantage in the generic ballot. Obviously, a great deal of the drop in support for Democrats can be attributed to the Obamacare roll out, but the President's job approval also plays a role here because it tends to influence how Democrats up for reelection are likely to approach their own relationship with the President. For example, it was already unlikely that the incumbents running in states that Mitt Romney won in 2012, such as Louisiana, Arkansas, Alaska, West Virginia, Montana, Nebraska, and South Dakota, were going to be emphasizing their ties to President Obama to begin with. If his job approval's continue at their current level as we get closer to the election, that becomes even more likely, and it opens up the possibility that Democrats in other states, such as Virginia, New Hampshire, and North Carolina, will seek to distance themselves from the President. Whether it will work or not is an open question, but we may find as we get closer to Election Day 2014 that the President will be doing most of his campaigning in states and districts friendly to Democrats rather than in states that lean Republican where Democratic incumbents may be in trouble.
In addition to having a potential impact on the midterm elections, a President with weakened poll numbers is also likely to find his ability to influence events on Capitol Hill to be severely limited. There comes a point in every two term Presidency, of course, when the man sitting in the Oval Office becomes a "lame duck." Eventually, attention begins to shift to the race to pick the two people who will stand for election to succeed the sitting President and legislators in both parties shift their own attention to preparing for another round of elections. At that point, the President's ability to achieve anything that requires Congressional cooperation becomes severely diminished, even if his own party has control of one or both Chambers of Congress. It has happened to every two term President since the ratification of the 22nd Amendment, and it will happen to Barack Obama at some point as well, the only question is when. If it turns out that his job approval and related numbers have entered a state of permanent decline, or even just stagnation, that day will come much sooner than it otherwise would have. When other President's have reached this point in their Presidencies, they tend to shift their attention overseas and into the foreign policy area, where they have much more freedom to operate independent of the need to obtain Congressional cooperation.
Could President Obama turn all of this around? Of course he could, as I've noted many times before polls like these are just snapshots in time and there's always a chance that there will be some kind of major event that shift public opinion. In fact, that's happened several times already during the President's time in office. It's worth noting those, that the boosts in job approval that come at those times tend to be temporary at best. For the most part, it seems likely to me that the job approval and other numbers that the President is seeing today are likely to remain fairly stable for the rest of his Presidency, which means that he has likely reached the peak of his influence over domestic politics and it's all downhill from here.