Obama Donor Dropoff
87% of those who gave at least $200 to Barack Obama in 2008 have not yet done so in 2012.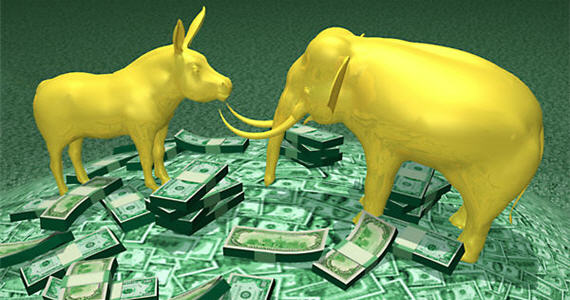 Barack Obama is still raking in the big bucks but most of the small donors from 2008 have not re-upped this cycle, BuzzFeed reports.
In 2008, more than 550,000 gave more than $200 to Barack Obama, entering their names in the longest list of individual donors ever seen in American politics.

That list was a snapshot of the hope Obama inspired in a cross sections of liberals, young professionals, African-Americans, and Democrats who saw in him a generational and historic moment. But now, as Obama struggles to keep pace with his 2008 fundraising clip, that list offers a cross-section of Democratic disappointment and alienation. According to a BuzzFeed analysis of campaign finance data, 88% of the people who gave $200 or more in 2008 — 537,806 people — have not yet given that sum this year. And this drop-off isn't simply an artifact of timing. A full 87% of the people who gave $200 — the sum that triggers an itemized report to the Federal Elections Commission — through April of 2008, 182,078 people, had not contributed by the end of last month.

Interviews with dozens of those drop-off donors reveal the stories of Democrats who still plan to pull the lever for the president, but whose support has gone from fervent to lukewarm, or whose economic circumstances have left them without money to spare. The interviews and the data are the substance of an "enthusiasm gap" spurred by the distance between the promise of the campaign and the reality of governing, one that has begun to deepen Democratic gloom about this November's election.
While the 87% number is eye-popping, the enthusiasm drop-off really isn't. Aside from Ronald Reagan's re-election in 1984, I've never been particularly enthusiastic about a sitting president's re-election bid. And 1984 was the first election in which I was eligible to vote and I was still a teenager, so I'm not sure that counts. Additionally, Obama engendered absurdly high expectations with his 2008 campaign; people were bound to be disappointed. Especially given how lousy the economic recovery has been.
I'm not really sure what to make of the accompanying map:
The caption explains: "Donors who gave $200 to Barack Obama in 2008 but have not yet in 2012, by location. The darkness of the dot corresponds to the number of drop-off donors in that zip code." Offhand, though, this just looks like a map of the richest, most populated areas. Much more useful would be a mapping of percentages of drop-offs, not raw numbers.
While "enthusiasm" is always talked about, it's been of especial interest this cycle. On the Republican side, there's been a real question of whether die-hard conservatives will show up to vote for Mitt Romney. On the Democratic side, there's some rumbling that progressives are throwing their hands up, figuring that Wall Street and Big Business win either way.
My guess is that there will be very little positive enthusiasm this November, so both sides will concentrate their get-out-the-vote efforts on convincing their partisans that things will be worse if the other guy wins. That's going to make for a depressing few months and a rather lackluster kickoff to the next presidential term, regardless of who wins.
UPDATE: A couple of commenters have noted that the BuzzFeed stat and graphic elide a rather critical point: Obama isn't facing a significant primary battle this cycle.  That's a fair point, especially considering that he didn't officially clinch the nomination until well into June of 2008.