Obama Ending 2013 On A Rough Note
For a year that seemed to start out so well, 2013 has been among the President's worst of this five years he's been in office.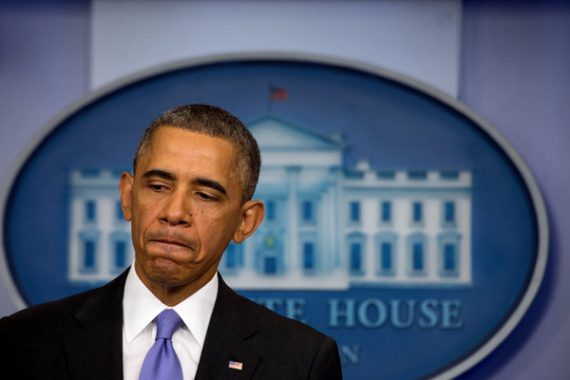 When it started, 2013 seemed like it was going to be a good year for President Obama. Just two months previously, he had been re-elected by a health margin in both the popular vote and the Electoral College, the first Democrat to get more than 50% of the popular vote in consecutive elections since Franklin D. Roosevelt did it from 1932 through 1944. His part had not only held on to the United States Senate, but actually gained seats thanks largely to Republican missteps, and Democrats had even managed to pick up a few seats in the House of Representatives. In the election itself, the American public seemed to wholeheartedly endorse his fiscal and economic policies over those of Republican nominee Mitt Romney as well as his foreign policy record. On the polling side, his job approval was at nearly 54%, among the highest levels it had been since he took office in January 2009. Everything seemed to indicate that, at least for this first year of his Second Term, President Obama would have a distinct advantage over the Republicans in Congress when it came to pushing his agenda.
Reality, of course, has proven to be quite different. Even with the enhanced Democratic control of the Senate, the President was unable to advance even legislation that had the support of the majority of the public, such as Universal Background Checks for gun purposes. Many of his most controversial nominees languished in the Senate until Senate Leadership decided to take the extraordinary step of revising the cloture rules last month. Immigration reform, which passed the Senate with a bipartisan majority, albeit one smaller than originally hoped for, is essentially stalled and seems unlikely to move significantly during the upcoming election year. And, most importantly, a series of "bad news" events conspired to push the President's agenda into the background.  Among the first of those stories was the revelations of targeting of conservative organizations applying for 501(1)(c)(4) status with the Internal Revenue Service. Shortly after that, Edward Snowden fled the country as the news media began publishing reports based on the information he provided regarding the massive data collection practices of the National Security Agency. The Republican House, meanwhile, took up significant time investigating things such as the September 11, 2012 attack on the U.S. diplomatic outpost in Benghazi and the BATF's "Fast & Furious" gun running program that led to guns ending up in the hands of Mexican drug gangs. There were victories, of course, such as the outright victory the President had in the shutdown showdown in October, but to a large degree that political victory has been overshadowed by the disastrous roll out of the Affordable Care Act.
Now, with the year winding to a close, The Washington Post's Dan Balz and Scott Clement point to the results of a new ABC News/Washington Post Poll that shows just how rough a year it has been for a man who, twelve months ago was basking in the glow of an electoral victory that even Bill Clinton could not achieve:
President Obama is ending his fifth year in office matching the worst public approval ratings of his presidency, with record numbers of Americans saying they disapprove of his job performance and his once-hefty advantages over Republicans in Congress eroded in many areas, according to a new Washington Post-ABC News poll.

His position is all the more striking when compared with his standing a year ago, as he was preparing for his second inauguration after a solid reelection victory. That high note proved fleeting as the president faced a series of setbacks, culminating in the botched rollout of his Affordable Care Act two months ago.

Approval rates of both parties in Congress remain worse than Obama's. Still, it is the president who has suffered the most damage from his administration's self-inflicted wounds and a year of partisan conflict that included a partial shutdown of the government.

Obama's standing is of particular concern to congressional Democrats as they look to next year's midterm elections. Parties that control the White House suffer — sometimes significantly — in midterm campaigns when the president's approval rating is below 50 percent.

White House officials think that since the health-care Web site (HealthCare.gov) is now working better than it was in October and November, they have an opportunity to regroup. The results of the poll offer some hope for the White House, but in general the findings reinforce the perceptions of a president in trouble.

On several key measures, Obama has lost significant ground to his Republican opponents in Congress. On the question of who is seen as better able to handle the country's main problems, Obama and Republicans are tied at 41 percent. A year ago, the president's advantage was 15 points and at this stage in 2010 it was still five points.

Obama also has lost the lead he enjoyed on who could better deal with the economy. Today Republicans are at 45 percent to Obama's 41 percent. Last year at this time, it was Obama at 54 percent and congressional Republicans at 36 percent. A 26-point Obama advantage a year ago on who would better protect the middle class has fallen to just six points in the latest survey.

He has lost ground on these measures among women, liberals and younger Americans — key members of his winning electoral coalition.

The president's overall approval rating stands at 43 percent, while disapproval is at 55 percent. Those numbers are virtually identical to a poll taken a month ago. At this time last year, 54 percent approved of Obama's overall performance and 42 disapproved. Even after the huge losses his party suffered in the 2010 midterms, Obama's approval rating was higher, at 49 percent, than it is today and was slightly more positive than negative.

Obama ends his fifth year in office with lower approval ratings than almost all other recent two-term presidents. At this point in 2005, for example, former president George W. Bush was at 47 percent positive, 52 percent negative. All other post-World War II presidents were at or above 50 percent at this point in their second terms, except Richard M. Nixon, whose fifth year ended in 1973 with an approval rating of 29 percent because of the Watergate scandal that later brought impeachment and his resignation.
The one glimmer of good news for the President is that public opinion on the Affordable Care Act seems to be leveling off:
Public opposition to the new health care law has eased in the past month, enough to help level off Barack Obama's falling popularity – but not to turn it around.

Fifty-five percent of Americans in a new ABC News/Washington Post poll disapprove of the president's job performance overall, unchanged from last month's reading as the worst of his career. Forty-three percent approve, a scant percentage point from 42 percent in November.

Better for the president is an easing of opposition to the Affordable Care Act, with attitudes back to a close division on the law; 46 percent of Americans support it, with 49 percent opposed. Opposition is down from a record 57 percent last month amid the new system's troubled rollout.
Some of this may be due to the fact that, since December 1st, the Federal Exchange and other aspects of the PPACA signup process seem to be operating better than they were the previous two months, and that the number of people who are able to access the site and successfully setup a plan has increased significantly in just the past two weeks. Whether this is a sign that the poll numbers on the PPACA will start to turn around, and that they will have an impact on the President's numbers, is something that only time will tell us. As far as the PPACA specifically is concerned, there are plenty of other unanswered questions regarding implementation, and plenty of other things that could potentially go wrong over the coming months. For that reason alone, it's far to early to say that the PPACA, or the President, are out of the woods as far as the poll numbers go just yet.
As far as the poll numbers go, this poll is just another example of the impact that the past year has had on the American public's view of the President, something that can clearly be seen in this RealClearPolitics chart of the President's job approval going back to the beginning of the year: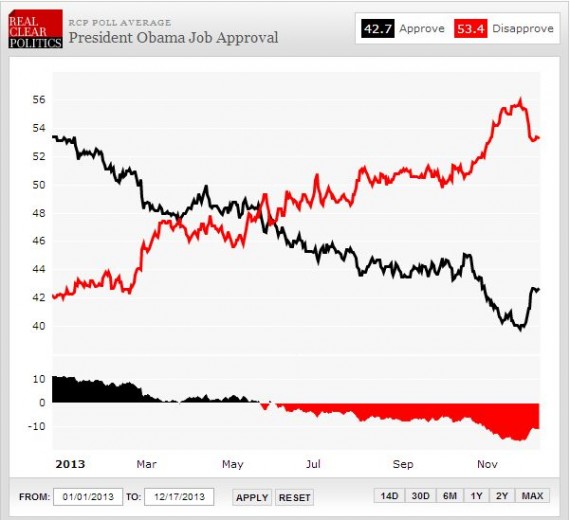 If you go back further in the history of the President's Job Approval polling, you'll see that he's ending his fifth year in office, which may well be the final year in which he is likely to have the ability to significantly influence the country's domestic policy agenda depending on how the midterm elections turn out, in far worse shape than he ended any previous year in office. More importantly, as has been noted, the recent polling has shown significant drops in the public's trust in the President and in their confidence in his leadership. As both Democratic and Republican pollsters have pointed out, these are numbers that seldom bounce back to where they were before very easily, especially this late in a Presidential term. Given this, it seems unlikely that the President's numbers will improve significantly over the coming year and, unless his party manages to grab control of the House back, which seems fairly unlikely at this point, he's going to find himself getting the "lame duck" label pretty quickly. Instead, soon after the 2014 elections, attention will turn to the 2016 nomination races in both parties and Congress will likely trudge along, hopefully being able to accomplish basic things like passing a budget and such other routine matters, but unlikely to act on issues like immigration reform, tax reform, or the much talked about, but always elusive, "grand bargain" that fiscal policy wonks insist we need to solve our problems. Instead, what we'll see will be both parties positioning themselves on those issues for 2016 while the President, most likely, turns his attention to areas where he can act without Congressional involvement, such as foreign policy.
As always, of course, this could all change if circumstances change. As things stand right now, though, one can correctly characterize 2013 as the President's annus horribilis, and it doesn't look like the remainder of his Second Term is going to be all that much better.