Obama Following Bush Path to Second Term Collapse?
Ron Fournier sees major similarities but ignores key differences.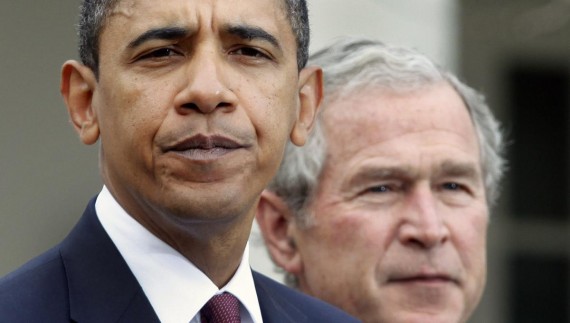 In, "This Is the End of the Presidency," Ron Fournier argues that President Obama's second term is headed for the same sort of disaster that characterized his predecessor's and for many of the same reasons. Most notably, he argues that "Both men convinced themselves that they were reelected because of their agendas, rather than because of negative campaign strategies that essentially disqualified their rivals" and consequentially both over-reached and acted with arrogance that would result in bitter backlash from an already-polarized opposition party.
It's an interesting argument and one that's reasonably well-argued. At the same time, however, Fournier minimizes the differences.
As controversial as ObamaCare has been from the beginning, and as flawed as the website roll-out has been, equating it with the debacle that was the Iraq War is silly. The latter—which I supported—is orders of magnitude higher on the scale of presidential miscues. Similarly, while the response to the Benghazi attack was horribly botched, it's not exactly Hurricane Katrina. To be sure, Obama's problems have been almost entirely of his own making whereas Bush's were mostly thrust upon him; but they're nonetheless of completely different magnitude.
Additionally, while it's true that both presidents faced tremendous pressure from both the most rabid elements of their base and an opposition party fueled by levels of animus not seen in living memory, Bush got far more cooperation than Obama, even in their first term.  Bush benefited from a rally effect after 9/11 and managed to generate considerable Democratic support for not only his domestic agenda (notably the ruinously expensive prescription drug benefit) but also for the incredibly controversial Iraq War.
Interestingly, however, Obama actually has a lower approval rating than Bush did at this same point in his tenure:
Just 43 percent of Americans currently approve of the president's job performance, down 11 points from this time last year, according to a new Washington Post-ABC News poll. Disapproval is 55 percent, up from 42 percent last year. A CBS News/New York Times poll released last week showed Mr. Obama with a 42 percent approval rating and disapproval at 50 percent.

The president's approval rating is even lower than it was – 49 percent – when his party suffered a bruising loss in the 2010 midterms , and puts him lower than almost all other recent two-term presidents at this point in their presidencies.

All post-World War II presidents except for former Presidents George W. Bush and Richard Nixon had approval ratings at or above 50 percent at this point in their second terms. Nixon's fifth year ended in 1973 with an approval rating of 29 percent because of the Watergate scandal, Bush's approval rating was47 percent - above Mr. Obama's current rating - with 52 percent disapproving.
I'm not sure what to make of that, really.