Obama Hits All-Time Job Approval Low In Gallup Poll
We're approaching the point where those job approval numbers start to matter, and President Obama's are heading down again.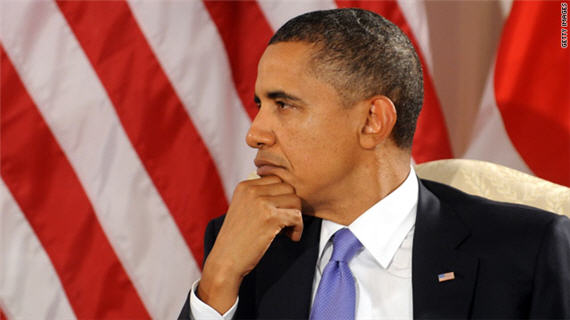 Remember the political boost that President Obama seemed to experience in two months after the 2010 mid-term elections? After a tense but ultimately successful lame duck session of Congress in December, and the President's widely acclaimed response to the tragedy in Tucson, President Obama seemed to have turned a corner. With the economy on the upswing, it seemed like things were looking pretty good for the Obama Administration.
Well, that was then, and this is now:
PRINCETON, NJ – The latest Gallup Daily tracking three-day average shows 41% of Americans approving of the job Barack Obama is doing as president. That ties his low as president, which he registered three times previously — twice in August 2010 and once in October 2010.

The current 41% approval rating from April 12-14 polling includes interviews conducted before and after Obama announced his plan for deficit reduction on Wednesday. It also comes in the same week Congress is voting on the 2011 budget deal reached last Friday. The deal did not seem to have an immediate effect on the way Americans viewed Obama, given his 44% approval rating in the three days prior to the agreement and his 46% rating in the initial days after the agreement.

The economy is likely also a factor in Obama's declining ratings. Though unemployment is improving according to government estimates, the economic recovery remains slow and is being challenged by rising fuel prices. Presidents' approval ratings have historically suffered in times of high gas prices.

The current three-day average finds 50% of Americans disapproving of Obama, two percentage points below his high disapproval rating of 52% from Aug. 15-17 and Aug. 16-18, 2010, polling.
Of more concern to the political operatives in Washington and Chicago, though, is likely to be the mood of the independent electorate:
Obama's approval rating in April 12-14 polling is down most among independents when compared with his 2011 average to date as well as his term average among this group. Currently, 35% of independents approve of the president, nine points off his average from independents this year. Democrats' current ratings are also below what he has averaged thus far in 2011 (down four points), while Republicans' are the same.
This isn't just a quirk in the Gallup poll, across the board it's pretty clear that the post-midterm bounce is gone: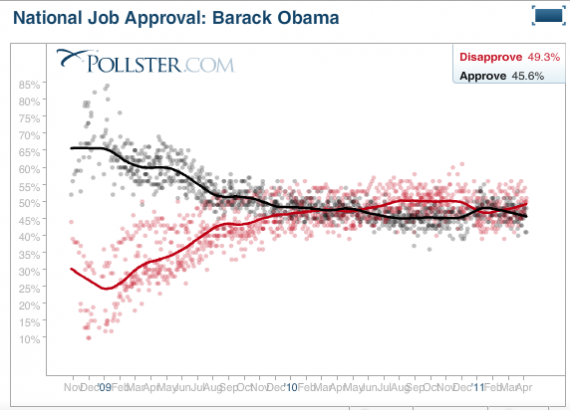 And then there's the problem with Independents: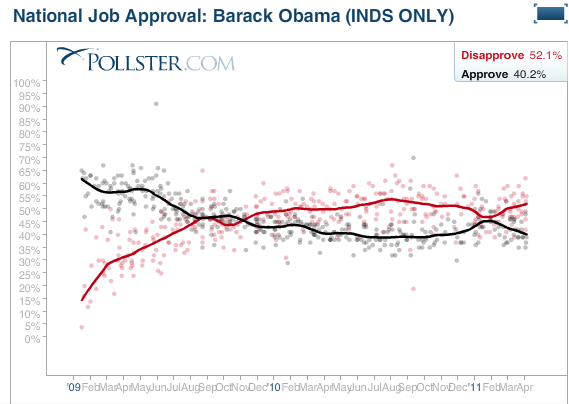 But there's one other poll that poses a bigger problem for the President as we edge closer and closer to the beginning of the 2012 campaign: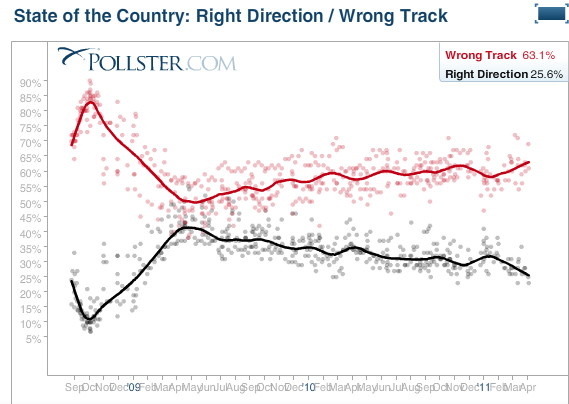 This, I think, is going to be the President's biggest problem between now and Election Day. With the economy in a weak recovery, gas prices rising, inflation seeming to be starting to make a comeback, and the international situation in more chaos than ever, the public is at the point where it's nearly as pessimistic about the direction of the country as it was in the months before the 2008 election, and the trend seems to be getting worse rather than better. If that trend continues, then one wonders how, barring a completely boneheaded move by Republican Party, the President is going to be able to convince the public that he deserves a second term.
Of course, if the last three months teach us anything it should be that these poll numbers fluctuate. By August, President Obama could be "the comeback kid" again, especially if the economy is improving and unemployment is falling. But he's in a very precarious position right now, and it may just take one more thing going wrong for him to fall down into a hole that he won't be able to climb out of .