Obama Nominates Kerry For Secretary Of State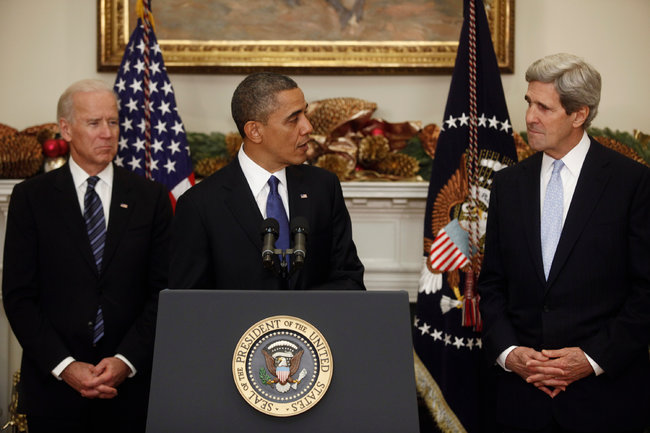 To the surprise off absolutely nobody, President Obama formally nominated Senator John Kerry to be the next Secretary of State:
WASHINGTON — President Obama nominated Senator John Kerry of Massachusetts as secretary of state, choosing an elder of the Democratic Party's foreign policy establishment and a crucial political ally in the Senate to succeed Hillary Rodham Clinton.

"In a sense, John's entire life has prepared him for this role," Mr. Obama said, making the widely expected announcement at the White House. "He's not going to need a lot of on-the-job training."

With Mr. Kerry standing at his side, the president praised Mr. Kerry's combat service in the Vietnam War and his three decades in the Senate, which Mr. Obama said had placed him at the heart of "every major foreign policy debate for the past 30 years."

Mr. Kerry, the president said, had also earned the respect of his Senate colleagues and expressed confidence that he would be quickly confirmed. In recent weeks, Senator John McCain, the Arizona Republican, has jokingly referred to his colleague as "Mr. Secretary."

Mr. Obama's first choice for the job, Susan E. Rice, the ambassador to the United Nations, asked Mr. Obama to withdraw her name last week after Mr. McCain and other Republicans threatened to block her nomination because of statements she made after the lethal attack on the American mission in Benghazi, Libya.

In addition to Mr. Kerry's foreign-policy credentials, Mr. Obama noted that he had supported the president's political career at key moments — not least, he said, by inviting a "young Illinois state senator to address the Democratic National Convention in 2004."

Mr. Kerry, 69, was his party's presidential candidate in that election, losing to George W. Bush. He is chairman of the Senate Foreign Relations Committee and has carried out several diplomatic missions for the Obama administration, helping to persuade President Hamid Karzai of Afghanistan to agree to a runoff election in 2009. Early in the administration, he also tried to engage President Bashar al-Assad of Syria, who has waged a brutal crackdown on his own people as he fights to cling to power.
By all accounts, it seems as though Kerry will pretty much sail through the Senate when his nomination is considered. Ironically, he will first be questioned by members of the Senate Foreign Relations Committee. One presumes he will at the very least step down as Chairman before this occurs. As of now, though, there's no word on when he will officially resign from the Senate.