Obama Osama Speech Photos Faked (As Usual)
The photographs of President Obama that appeared in the papers after the Osama announcement were staged.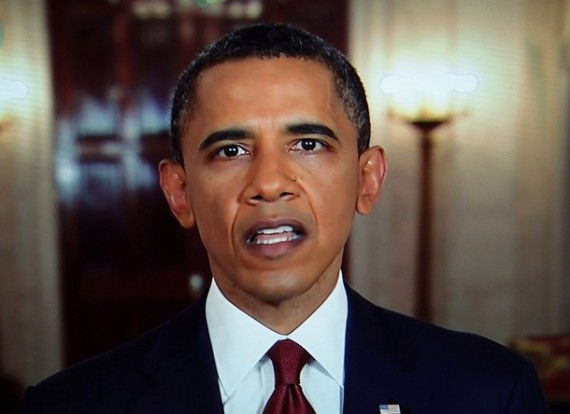 Trending on memorandum this morning is a Poynter story titled "Reuters, AP photojournalists describe staging of Obama photo."
Until Wednesday, the White House debated whether to release photos showing Osama bin Laden's body. In theory, the photos would be proof to any doubters that the terrorist is dead. But not all photos can be believed — not even when they seem to show the president of the United States making a historic speech.

Reuters White House photographer Jason Reed describes how the president made his speech to a single TV camera, then immediately after finishing, he pretended to speak for the still cameras.

Reed writes:

"As President Obama continued his nine-minute address in front of just one main network camera, the photographers were held outside the room by staff and asked to remain completely silent. Once Obama was off the air, we were escorted in front of that teleprompter and the President then re-enacted the walk-out and first 30 seconds of the statement for us."

That means the photograph that appeared in many newspapers Monday morning of Obama speaking may have been the staged shot, captured after the president spoke. This type of staging has been going on for decades.
Yes, folks, it's true: "since the Reagan era (and possibly before) it has been the standard operating procedure that during a live presidential address, still cameras are not allowed to photograph the actual event." Why?
"AP understands why the still photographers are not allowed into the live address area and the captions disclose that these are re-enactment situations as well," says David Ake, the Associated Press' assistant bureau chief for photos in Washington. Because of the noise from the camera shutters and the placement of the teleprompter, "we are not able to photograph those events."
Okay, that makes sense. We don't want a solemn presidential address interrupted by dozens of photographers scrambling to get a shot. There are apparently some technologies that would partially get around these issues but they have yet to be adopted. Some, apparently, are quite upset about this:
But this practice of re-enacting a historic speech flies directly in the face of the National Press Photographers Association Code of Ethics, which includes this relevant passage: "Resist being manipulated by staged photo opportunities."

Harrington says, "I know we are splitting hairs here, but the White House photographers covering those re-enactments did not stage, request or direct them. They are covering an event. They photograph what they are presented with."

Harrington says the re-enactment is an alternative to just handing out a White House photo. "Obviously you should refer to it as a re-enactment in the cutline of the photo; it does need to be disclosed."
It turns out that most papers do indeed put wording to the effect that the photo was after the speech, but some didn't. But Poynter isn't satisfied:
It is time for this kind of re-enactment to end. The White House should value truth and authenticity. The technology clearly exists to document important moments without interrupting them. Photojournalists and their employers should insist on and press for access to document these historic moments.

In the meantime, anyone who uses these recreations should clearly disclose to the reader the circumstances under which they were captured.
On the scale of the ethical problems associated with covering the White House, this doesn't even register in my book. When the president gives a speech on live television, we have a pretty good idea 1) that he gave the speech, 2) actually what he said, 3) the context in which he said it, and 4) what he looked like when he was saying it. I can not think of a reporting circumstance in which reporters and photojournalists are less important. In almost every other circumstance, reporters filter the speech through their own experiences and biases and report a version of the truth; here, we can easily form our own impressions. Similarly, photographers at remote events can very much influence perception by choices of angle, lighting, and so forth. That's much less true with a shared event.
The Reuters photo used atop this post, incidentally, is "taken from video" and thus fully authentic.