Obama Plays 100th Round of Golf as President, Should Play More
Americans should be thankful when our presidents take time off.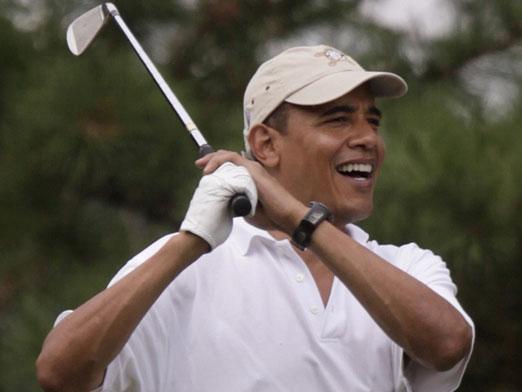 Politico, CBS News, and something called White House Dossier note that President Obama played his 100th round of golf since becoming president Sunday.
As I've noted many times over the years when variations of this controversy arise, Americans should be thankful when our presidents take time off. We've long known that decision-makers need a lot of rest to be at their peak. Military studies have repeatedly shown that, while people can push on to superhuman levels without sleep in doing physically demanding tasks like marching with heavy equipment, they'll become mentally sloppy long before they reach their physical limits.
The same is true for those of us who just sit in front of a computer all day. The New York Times notes that, "A growing body of evidence shows that taking regular breaks from mental tasks improves productivity and creativity — and that skipping breaks can lead to stress and exhaustion."
Mental concentration is similar to a muscle, says John P. Trougakos, an assistant management professor at the University of Toronto Scarborough and the Rotman School of Management. It becomes fatigued after sustained use and needs a rest period before it can recover, he explains — much as a weight lifter needs rest before doing a second round of repetitions at the gym.

[…]

Employees generally need to detach from their work and their work space to recharge their internal resources, he says. Options include walking, reading a book in another room or taking the all-important lunch break, which provides both nutritional and cognitive recharging.
Nobody has to make more important decisions on a routine basis than the person sitting in the Oval Office. Given what's at stake, we should not only not begrudge them taking time off to preserve their sanity, we should encourage if not demand it.
Of course, presidents are never really off duty. While an increasing number of us are tethered to the office via email and smart phones even on holidays, weekends, and vacations, that's true at an extreme level for the president. He doesn't even turn off his electronic devices during take-off and landing.