Obama Ranked Worst President Since World War II In Mostly Worthless Poll
Obama is the worst President since FDR died? Only if you believe a mostly worthless poll.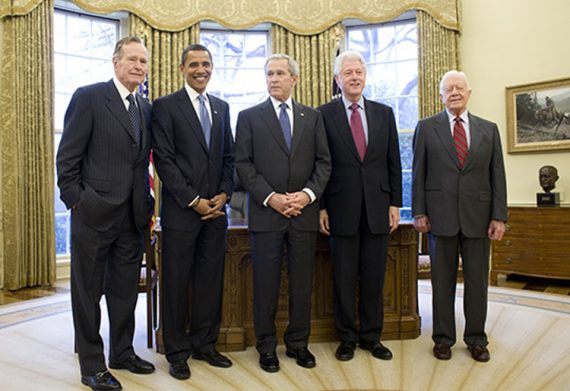 According to a new Quinnipiac poll, President Obama is seen as the worst President in the past seven decades:
(CNN) - President Barack Obama tops the list of the worst presidents since World War Two, according to a new national poll.

And the survey, released Wednesday by Quinnipiac University, also indicates that a plurality of voters nationwide say in hindsight that the country would be better off if Mitt Romney had won the 2012 presidential election.

Thirty-three percent of people questioned in the poll say that Obama is the worst president since the Second World War, with 28% saying George W. Bush was the worst. Thirteen percent picked Richard Nixon, with 8% naming Jimmy Carter.

"Over the span of 69 years of American history and 12 presidencies, President Barack Obama finds himself with President George W. Bush at the bottom of the popularity barrel," said Tim Malloy, assistant director of the Quinnipiac University Poll.

It's important to note that Obama and Bush, his predecessor in the White House, are more in the public conscious than previous presidents, and that both have governed during a time of bitter partisanship that's made compromise between the two major political parties extremely difficult. When Quinnipiac last asked the question, in 2006, Bush topped the list, with 34% saying he was the nation's worst president.

According to the poll, Ronald Reagan (at 35%) tops the list of the best president since WWII, with 18% saying Bill Clinton was best, followed by John F. Kennedy and Obama each at 8%.

Voters are divided on whether Obama's been a better president than his predecessor, with 39% saying he's better than Bush and 40% saying he's worse. No surprise, there's a wide partisan divide on this question.

Bush left office in January 2009 with very low poll numbers. But according to a recent CNN/ORC International survey, his favorable rating now stands at 46%, up 11 percentage points over the past five and a half years. His favorable rating, according to the CNN poll, is now on par with Obama.
Not surprisingly, there's a definite partisan tilt to the poll results:
The results, like those of most questions tracking presidential approval, were highly partisan: 63 percent of Republicans named Obama. Among Democrats, 54 percent chose Bush as the worst, with 20 percent naming Nixon.

Asked specifically to compare Bush with Obama, voters were about evenly split, with 39 percent saying Obama is better, 40 percent saying he is worse, and the remainder saying he is about the same. By contrast, in four surveys taken during 2010 and 2011, Obama was considered the better president by a margin of 6 to 16 percentage points.
Polls like this strike me as being completely worthless in terms of actually telling us anything beyond what the public thinks about the current President's job approval. Quinnipiac does not appear to provide cross-tabs to confirm this, but it isn't too hard to figure out that the vast majority of people polled either were not born when people like Truman, Eisenhower, and even Kennedy were President, or their were children at the time and thus don't really have any direct memory of their time in office. The same is not true, of course, of more recent Presidents such as President Obama and President Bush, or of the Presidents that we've had over the past quarter century or so. Obviously, people are going to have a much stronger opinion about Presidents they remember directly than ones that they learned about either in history class, in media retrospectives, or from family members. Generally, the opinions garnered from anything other than direct experience are going to be more positive than the opinions garnered from personal experience, especially when that experience is heavily influenced by the events and partisan battles of the day.
For that reason alone, I would suggest that even including President Obama, and possibly even former President George W. Bush, in polls like this makes them essentially worthless. We already know that President Obama's job approval numbers are declining and seem likely to stay low for the rest of his Presidency, you can see that in recent polls that I've written about before here, here, and here. We also know that George W. Bush left office in 2009 with one of the lowest job approval ratings in recent memory, and that while his numbers have recovered somewhat in the six years since he left office, he remains very unpopular. Indeed, in another recent poll asking respondents to rank the Presidents of the past quarter century, from which President Obama was excluded because he is the sitting President, Bush 43 ranked near the bottom of the list. Obviously, including both of these men in this poll is going to skew the results to the point where they are rather useless and not indicative of anything other than the fact that people don't like the job the President is doing right now, and they don't like his predecessor very much. But, of course, we already knew that.