Obama Revives The Reagan Doctrine
My latest for The National Interest, "Obama Doctrine, Reagan Doctrine," is out.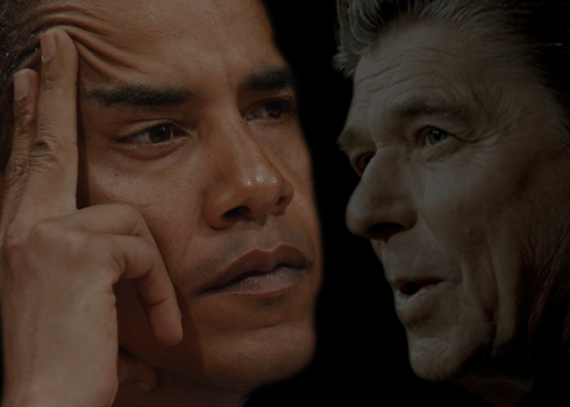 My latest for The National Interest, "Obama Doctrine, Reagan Doctrine," is out. Its core argument:
Charles Krauthammer dubbed this "overt and unashamed American support for anti-Communist revolution" the Reagan Doctrine in a Time magazine essay. Its essence was use of proxies rather than direct American intervention. If a legitimate popular uprising was taking place against a communist regime in the developing world, Reagan reasoned that it was both morally right and in America's interests to help it with arms and material support.

President Obama has quietly adopted a similar strategy, one using NATO allies, France in particular, as a proxy. First, we had the March 2011 intervention in Libya, in which American forces played a heavy role in the initial strikes, providing our "unique capabilities," but then quickly transitioned to a supporting role, providing suppression of enemy air defense; intelligence, surveillance, and reconnaissance; and air-to-air refueling assets to enable the mission. We appear to be on a similar path in Mali, quietly providing combat enablers in a mission with France in the driver's seat.

Unfortunately labeled as "leading from behind" by a staffer during the Libya intervention, critics have charged the president with weakness—ceding America's rightful leadership role to others. Viewed through the lens of the Reagan Doctrine, though, it's prudent risk management.
This isn't, however, a case where following Reagan is unambiguously good. As I note in the piece, "the original Reagan Doctrine was hardly an unalloyed success story. Most notably, the backing of the anti-communist mercenaries known as the Nicaraguan Contras was a disaster militarily and politically." My close:
General Colin Powell, an enthusiastic backer of the Reagan Doctrine as Reagan's national security advisor, famously warned President George W. Bush, whom he served as secretary of state, of the Pottery Barn rule—"You break it, you own it"—during the march to war in Iraq. That surely applies just as well to wars one leads from behind. To the extent that intervention-by-proxy makes interventions less daunting, it will surely lead to more interventions. And to the extent the risk of those interventions is lowered by being in a supporting role militarily, it will surely diminish the focus on the longer-term consequences of said interventions. We haven't done that well in thinking them through—even when we're the main force.
There's quite a bit more in between.