Obama: School Choice For Me, But Not For Thee
President Obama's recent comments about the D.C. Public Schools should raise a few eyebrows.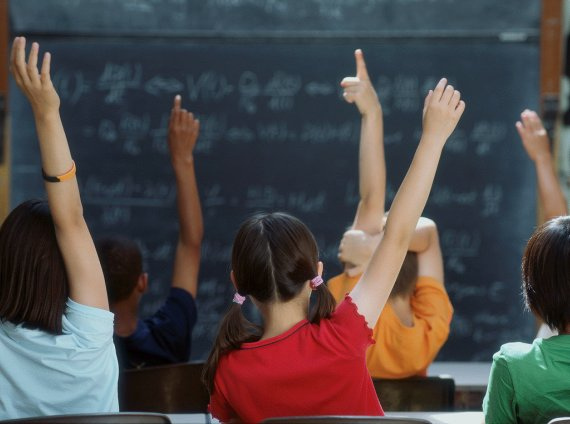 Yesterday during an education forum on NBC's Today Show, President Obama was asked why his children are going to a prestigious private school while most D.C. schoolchildren remain stuck in a school system that is, at best, sub-par:
President Obama reopened Monday what is often a sore subject in Washington, saying that his daughters could not obtain from D.C. public schools the academic experience they receive at the private Sidwell Friends School.

But the city, accustomed to the mantra that its schools need reform, seemed to view the judgment as self-evident.

Obama made his comments on NBC's "Today" show in response to a woman who asked whether Malia and Sasha Obama "would get the same kind of education at a D.C. public school" that they would get at the D.C. private school that has educated generations of the city's elite.

"I'll be blunt with you: The answer is no, right now," Obama said. D.C. public schools "are struggling," he said, but they "have made some important strides over the last several years to move in the direction of reform. There are some terrific individual schools in the D.C. system."
Even the people in charge of the D.C. schools admit that the President is right:
Schools Chancellor Michelle A. Rhee, who recently referred to the primary election loss of Mayor Adrian M. Fenty (D) as "devastating" to the city's schools, did not publicly object to Obama's remarks. She has strongly suggested that she might resign rather than work for Fenty's presumptive successor, D.C. Council Chairman Vincent C. Gray (D).

"In terms of the comment from the president, it is a fair assessment," Rhee said. "We have indeed seen good progress over the last few years, but we still have a long way to go before we can say we're providing all children with an excellent education."

Gray also took no apparent offense. "It would be wonderful to have a president who stood up and said, 'I'm going to demonstrate my commitment to public education by placing my children in public education in the city,' but again, you know, we're all parents at the end of the day, and I'm sure he feels like he and his wife are making the best decision for their children at this juncture," Gray said.
Now, personally, I have no problem with the fact that the President and his wife chose to send their children to Sidwell Friends rather than a D.C. Public School. Quite honestly, given the choice and the resources, it would be incomprehensible to me for any parent not to choose the superior private school over a public school which not only isn't up to par, but also may not be safe. The problem is that President Obama apparently thinks that only wealthy people like him should have the opportunity to make that choice:
Most troubling in the Today interview, though, was the President's failure to even mention school choice – giving parents, not politicians, control of education money — as even a potential means for reforming education.  He did, though, fully embrace his own educational freedom: When asked whether the DC public schools were good enough for his kids, he said no. That's why they go to private school.

Here's where we see the injustice of Obama's  and other like-minded people's "reform" offerings. Rather than giving real power to the parents and kids public education is supposed to serve, they insist on keeping them subject to the authority of politicians and politically potent special interests. They refuse to let all parents make the same choice the President has made, and they continue to force all Americans to hand huge sums of money over to government schools. Indeed, at the same time the President's kids were heading off to private school, he was letting die an effective, popular, school-choice program in DC, a program that enabled poor families to make the same kinds of choices the President did.
At the same time that the President's children were settling into their classes at one of the most prestigious private schools in the D.C. area, the Obama Administration was helping to kill the D.C. Opportunity Scholarship Program, a school choice program that allowed inner city D.C. kids to attend private schools, including the same private school that Barack Obama's daughters attend. As one parent of a child who was benefiting from this scholarship program asked last year, why, Mr. President ? :
The only question that I have after watching this is —- if the D.C. Public Schools aren't  good enough for the President's children, why are they good enough for the Mercedes Campbells of the world ?
H/T: Jason Pye