Obama Sends Apology To Afghan President Over Koran Burning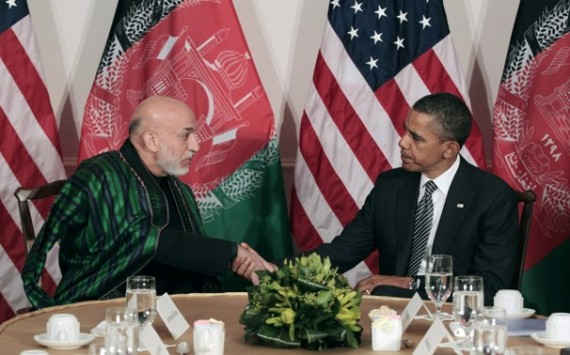 After several days of protests sparked by the burning of several copies of the Koran by American soldiers, capped off today by an incident that resulted in the deaths of two soldiers, President Obama has sent a letter of apology to Afghan President Hamid Karzai:
KABUL, Afghanistan — President Obama apologized on Thursday for the burning of Korans at the largest American base in Afghanistan earlier this week as furious protests raged for a third day and a man wearing Afghan Army uniform turned his weapon on coalition soldiers, killing two of them.

"I wish to express my deep regret for the reported incident," Mr. Obama said in a letter to President Hamid Karzai. "I extend to you and the Afghan people my sincere apologies."

The letter was handed to Mr. Karzai by the American ambassador to Afghanistan, Ryan C. Crocker, on Thursday afternoon in Kabul.

The acting spokesman for the American Embassy in Kabul, Mark Thornburg, confirmed that the letter had been hand delivered by Mr. Crocker to Mr. Karzai.

"The error was inadvertent," Mr. Obama said. "I assure you that we will take the appropriate steps to avoid any recurrence, to include holding accountable those responsible."

The letter, an apparent attempt to quell the ferocity of the protests, followed a third day of angry demonstrations across Afghanistan in which another six Afghans were killed and at least 55 wounded, according to Afghan officials.
This move will no doubt be criticized by many on the right who have spent the last three years claiming that the President has gone around the world apologizing for America, an assertion that is demonstrably false. In this case, though, it strikes me that the President's move here was the correct one. The Koran burning was clearly a mistake, but it has obviously inflamed an already tense situation and, now, it is endangering Americans. If this move can help to calm the situation down, then it will have been worth it.
Photo via The Washington Post