Obama Should Listen to Small Businesses, Not Conservatives
Obama's economic policies are failing because he's listening to conservatives - not small businesses.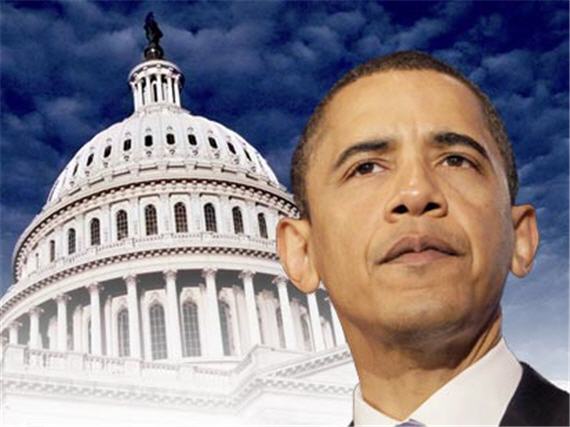 It will pain a lot of folks to understand this, but I don't think you can understand Barack Obama's economic policies without coming to the realization that they are traditional pro-business conservative economic policies. Obama and Congress have worked to cut taxes to the point where federal revenues are at all time lows – in particular, by focusing on tax breaks for the wealthy and upper-middle class. As a result of the ACA, Medicare spending growth has slowed down significantly. He's agreed, as part of the debt deal, to cut spending. He's frozen federal salaries. He's embarked on a huge regulatory review to cut regulations and has fast tracked federal permitting for construction and infrastructure projects. Since he took office, the United States has lost almost 600,000 state, local, and federal jobs.
Less spending. Low taxes. Fast tracking permitting. Reviewing and cutting regulations. Cutting government spending. Firing government employees and freezing the salaries of others. All of these are popular pro-business conservative ideas.
And yet, the economy still flounders. Why? Because these policy prescriptions don't address the root problems in our economy. (That doesn't mean they're all bad, by the way.) The economy right now is not struggling because of uncertainty over what the government's going to do next. It is not struggling because of high taxes or regulatory burdens. It is struggling because there is a lack of demand for goods and services. Don't believe me? Ask small businessmen:
Other small firms say their problem is simply a lack of customers.

"I think the business climate is so shaky that I would not want to undergo any expansion or outlay capital," said Andy Weingarten, who owns Almar Auto Repair in Charlotte. He's thinking about hiring one more mechanic.

Added Barry Grant, the regional president of Meritage Homes Corp., in California, "It starts with jobs. … There's an awful lot of people sitting on the fence; they're waiting for a sign."
The government should be pursuing policies that boost demand for goods and services, whether that demand comes from the public or private sector. Inflation is below targets right now, so if we're careful that shouldn't be a concern. Debt isn't a concern because right now borrowing is cheaper than cash. The Fed should pursue QE3. And the Federal government should commit a strong amount of spending to time-limited projects, particularly fixing up our aging infrastructure. Tax cuts could be part of the mix, too – but they need to be targeted at lower and middle class. A payroll tax holiday could do the trick. Or we could just send every household that files an income tax a $2000 check. It doesn't matter.
The point is that while interest rates for federal borrowing are in the negative, there's no downside to increasing short-term debt. As long as tax cuts and spending have a defined time period where the window closes when the economy picks up, the long-term budget impact should be nil.
In short, we need to stop paying attention to the politicians who claim that government is slowing down business growth, and start listening to the business folks – who say that what they need are customers.