Obama Still Winning Catholics Despite Contraception Coverage Controversy
This past winter's controversy over contraceptive coverage doesn't appear to be hurting President Obama among Catholic voters:
While Catholics — who make up 24% of all registered voters — tilt toward Obama over Romney, their support differs significantly based on how religious they are — just as was the case for Protestants. Very religious Catholics tilt slightly toward Romney, while Catholics who are moderately religious or nonreligious tilt by 13- and 15-point margins toward Obama.
Here are the numbers: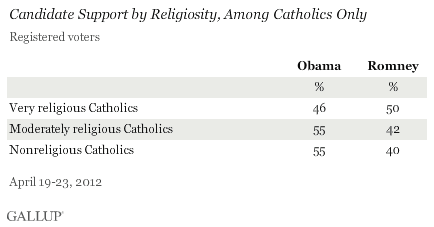 The fact that Obama only has a four point deficit among "very religious" Catholics suggests very strongly that this contraception coverage issue hasn't hurt the President at all.